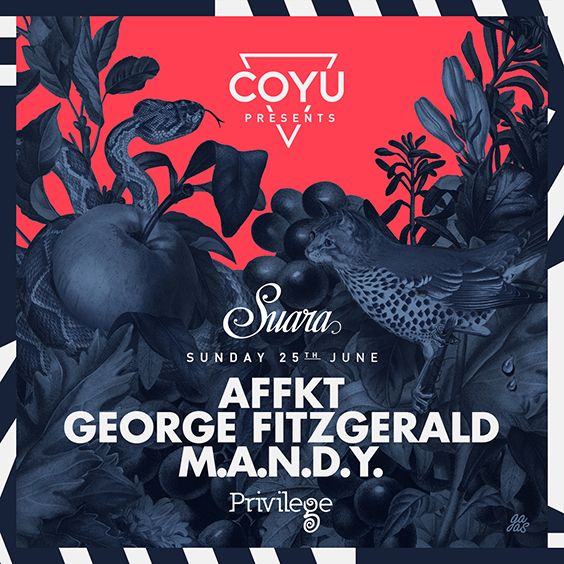 25/06 Coyu presents Suara @ Privilege Ibiza: George Fitzgerald, M.A.N.D.Y. & AFFKT
After ending last Saturday an intense but fabulous Suara week in Barcelona (several events, including the Showroom four days in a row), we already have our eyes on next Sunday night in Privilege, Ibiza.
It will be this Sunday, 25th of June, when three generations of artists of the highest level land in the largest club in the world. First up is George Fitzgerald, a young talent who nevertheless oozes wisdom – not in vain did he grow up working and living the evolution of dance music of the century in the famousBlack Market Records- he's also got some excellent skills on the decks. Since 2010 he hasn't stopped publishing jewels, contributing in this way to revitalize genres such as house. Some of the labels that edit his music are nothing less than Hotflush Recordings, Aus, Secretsundaze o Domino.
Next to him an essential duo to understand the electronic dance music billed in Germany in recent years: M.A.N.D.Y. Patrick Bodmer y Philipp Jung are also well-known DJ's, remixers … and founders in 2002 of the Get Physical. Huge referents.
[M.A.N.D.Y.] Finally… Back once again, the master and head-honcho Sincopat, AFFKT
This week we have Coyu touring the United States, but by the 2nd of July we will have him here once again with three other great artists (all of July's line-up, very soon).