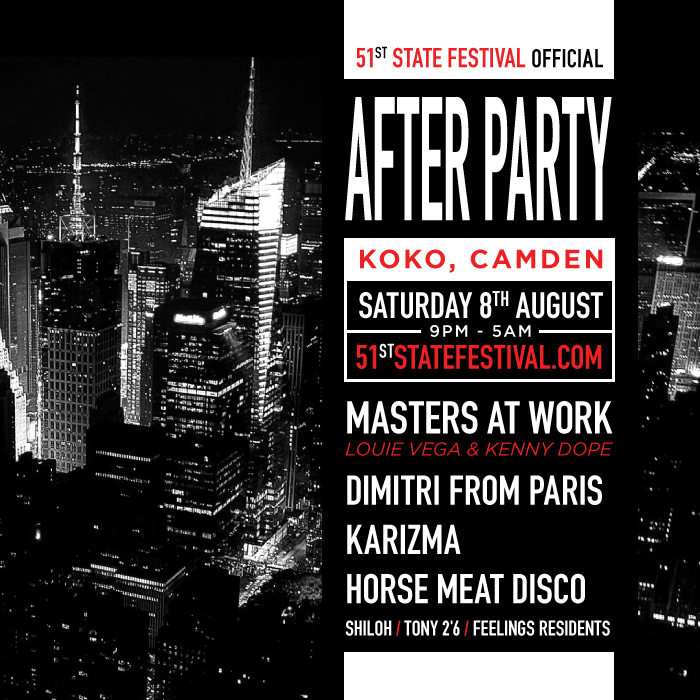 51st State Festival: Official After Party Announced
On Saturday 8th August, Found presents the inaugural edition of 51st State Festival, London's biggest celebration of house music for summer 2015. Over 100 international artists will explore the roots of this incredible genre in the beautiful surroundings of Trent Park, 20 minutes north of King's Cross.

The party will now continue into the night at Camden's KOKO, as Masters At Work (Louie Vega & Kenny Dope) headline the main stage with a select line-up of house and disco stalwarts.

This very special performance sees Masters At Work return to the venue for the first time in over fifteen years. Fresh from their set at 51st State Festival, the pair will resume one of their awe inspiring extended sessions, offering a house education like no other.

Dimitri From Paris joins, laden with his usual array of house and disco cuts, edits and remixes, amalgamated with pure style and class and delivered always with the party in mind, whilst Baltimore's Karizma gets set to bring his equally dance happy set of house, soul and funk classics, guaranteed to deliver the groove.

Horse Meat Disco are present and correct with all manner of dancefloor movers, from classic to cosmic to deep disco, italo, punk funk, house, even techno, electric bangers and just plain old rare oddities. Inspired by the New York club scene of the 80s & 90s, the quartet have been instrumental in their support of the house scene and are well known for instigating parties that have become the stuff of legend.

51st State family Shiloh, Tony 2'6 and the resident squad from London's rising Balearic fiesta, Feelings, will keep it bubbling in room two.

KOKO's grand main room remains one of London's premiere music venues and has played a unique roll in the city's musical legacy, having hosted some of the world's finest rock, pop and electronic talents, not least during its stint as legendary dance institution, Camden Palace. The 19th Century building is an icon on London's musical landscape and at its heart, the impressive main room stays true to its theatrical past and offers uninterrupted, jaw-dropping views of the main stage.


– VIP Box Tickets –

A very limited number of VIP tickets are available, granting priority entry and access to one of two private boxes; The Royal Box or The Directors Box.

VIP Directors Box tickets are priced at £55 per person & include priority entry via the guest list queue and exclusive use of the VIP Directors Box which hosts its own private bar and amazing views over the main room, catering for up to 40 people.

VIP Royal Box tickets are priced at £45 per person & include priority entry via guest list queue and exclusive use of the VIP Royal Box with amazing views over the main room, with an intimate capacity of strictly 20 places.
Tickets an be purchased online NOW at:
www.51ststatefestival.com
+++
LINKS & FURTHER INFO
51st State Festival: Official After Party
Date: Saturday 8th August 2015
Venue: Koko, Camden, London
Doors: 9pm – 5am

WEBSITE:
51stStateFestival.com