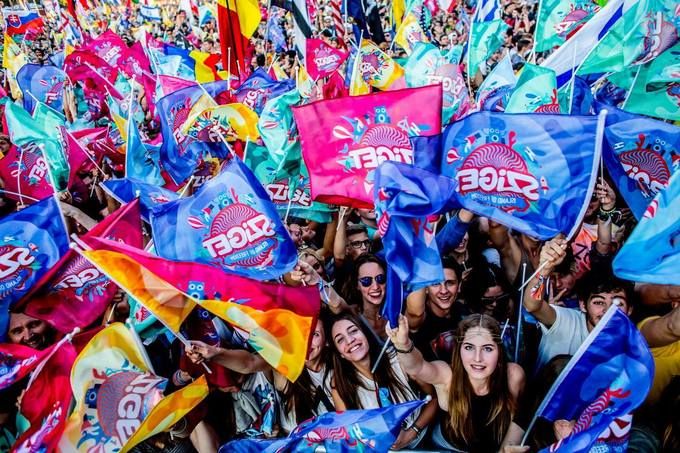 9 things to experience at Sziget Festival – Art, Theatre, Dance, Circus and more
Sziget festival continues to offer one of the most diverse and open-minded programs in the world, making sure that it is much more than 'just' a music festival. The unique atmosphere at the festival has been the essential part of Sziget from the beginning, merging a diverse music line-up with many programs beyond music such as theatre, dance, circus, art and many more. This is all topped with quality services, exciting visuals and spectacular installations.
Here's 9 things not to miss at this years Sziget Festival…
1.Special Parties
Sziget prides itself on being a place where you can be free and meet like minded people from around the world. Make sure you join in the daily parties at the main stage to have fun and make new friends one of these special events – Clapping Stick Party, Ball Party, Flag Party, Colour Party, Birthday Party, Cheer Pom-Pom Party, End show party.
Special Party program here: http://szigetfestival.com/programs#!/p/1788/special-party
2.Giant Street Theatre
This year's Giant Street Theatre act is a unique show, created especially for Sziget as a joint performance of two companies from two different countries. Collectif Arbuste (F) returns to Sziget after last year's huge success, bringing a special version of their show, INSTRUMENTARIUM. They are joined by Aerial Jockey Strada (E) and their jaw-dropping show, ETEREFEEL. Take a trip into the wild and futuristic world of LATALAYA, a collision of spectacular aerobatics and percussion based live-electronic music, spiced with colorful lights, all set on and around an industrial tower-structure.
Street Theatre program here: http://szigetfestival.com/programs#!/p/1575/latalaya
3.Cirque du Sziget & Fidelio Theatre and Dance Stage
Sziget is well-known for hosting the most exciting and most actual performing art shows every year. This year you can enjoy the program of Cirque du Sziget & the Fidelio Theatre and Dance Tent, where you will see spectacular productions from around the world to entertain you – definitely check out the options!
Program Cirque du Sziget: http://en.szigetfestival.com/programs#!/v/66/cirque-du-sziget
Program Fidelio Theatre and Dance Tent: http://en.szigetfestival.com/programs#!/v/67/fidelio-theatre-and-dance-tent
4.Artzone
When it comes to the visual landscape of Sziget, Art and installations are an important part of the festival. ArtZone is a heart shaped lovely venue on the Northern part of Sziget. Here you can dive into a whole different universe and make your own bags, chairs and paintings. So many things to do here!
Find out more here: http://en.szigetfestival.com/programs#!/v/71/artzone
5.Luminarium
Luminarium arrives to Sziget for the fourteenth time this year straight from the UK, inviting you to dive into this 800 square meter inflatable sculpture. This is truly a sculpture, where the artist is the architect and the painting is done by the sunlight. Architects of Air, based in Nottingham (UK), set sail the same year as Sziget Festival and since then more than 8 million visitors have enjoyed this unforgettable experience. The unique labyrinth tunnels and inspiring spacious domes welcome visitors all year round all over the world.
More info here: http://en.szigetfestival.com/programs#!/v/77/luminarium-pentalum
6.Magic Mirror
The tent of Magic Mirror has a wonderful atmosphere, not just hosting -probably- the most amazing parties until sunrise,but also super exciting talks and film screenings. Moreover you can see the record-breaking, award winning show LIMBO that finally makes its debut at Sziget Festival between 10-15 August! This hot and crazy mix of cabaret, circus and acrobatics has already seduced audiences worldwide, now it's your turn to be amazed! A dirty and dangerous circus-cabaret directed by Scot Maidment, LIMBO whisks everyone into a sinister netherworld of jaw-dropping contortion, gut-churning aerial acrobatics, nail-biting stunts and staggering illusions!
Come and join the Magic: http://en.szigetfestival.com/programs#!/v/78/magic-mirror
7.Sziget Beach
This hidden corner of Sziget is a sacred place, where chill music is helping you to relax and get ready for the party. Do some yoga, take part in one of our dance workshops or just sip your cocktail and enjoy your holiday!
Sziget Beach program here: http://en.szigetfestival.com/programs#!/v/79/sziget-beach-cokxpon-chill-…
8.Sport TV Sport Zone
Did you know that you can even do sports at Sziget? Sports: small pitch football, beach volleyball, streetball, table tennis, table football, darts, badminton, table hockey, petanque, frisbee, teqball & fun programs as: BAGJUMP, adventure park, climbing wall, goldsprint, rowing ergometer, billiard football, dodgebow.
Interested? http://en.szigetfestival.com/programs#!/v/107/sport-tv-sport-zone
9.Boart Parties
Everyone loves a boat party and to help celebrate the 25th anniversary edition of Sziget festival you can enjoy a special boat party on the river Danube with DJ's Michael Mayer, Mano Le Tough, DJ W!ld, Gus Gus and Henry Saiz. The elegant pleasure-boat offers something for everyone: be it chilling in bean bag chairs with the Parliament in the background, or going crazy in a pulsing party on board. Party goers can admire the world-famous panorama of Budapest, the bridges as they pass over their heads, or the hundreds of years old buildings lining the riverside while partying all the way through the capital section of the river Danube.
Boat Party program here: http://en.szigetfestival.com/boat-party
If that wasn't enough the artist line up for this years festival is huge with acts including; Alex Clare, Allah-Las, Alt-J, Andy C, Anne-Marie, Bad Religion, Bakermat, Bassjackers, Bear's Den, Biffy Clyro, Billy Talent, Birdy, Breaking Benjamin, Cashmere Cat, Charli XCX, Chef'Special, Crystal Fighters, Danny Brown, De Staat, Dimenson, Dimitri Vegas & Like Mike, DJ Shadow, Don Diablo, Dubioza Kollektiv, Flume, Fritz Kalkbrenner, George Ezra, GTA, GusGus, HVOB, Interpol, Jagwar Ma, Jamie Cullum, Kasabian, Kensington, Leningrad, Leon, Mac Demarco, Macklemore & Ryan Lewis, Major Lazer, Mando Diao, Materia, Maurice West, Metronomy, Nervo, Nothing but Thieves, OH Wonder, Oliver Heldens, PiNK, Paul Van Dyk, PJ Harvey, Rone, Rudimental live, Steve Aoki, Sunnery James & Ryan Marciano, The Courteeners, The Kills, The Naked and Famous, The Pretty Reckless, The Strypes, The Vaccines, Tom Odell, Two Door Cinema Club, Tycho, Valentino Khan, Vince Staples, W&W, Watsky, Weval, White Lies, Wiz Khalifa + many more!
Sziget tickets are selling fast, so visitors do well to buy their passes as early as possible. Sziget Festival takes place in Budapest between 10-17 August.
Tickets and information: www.szigetfestival.com