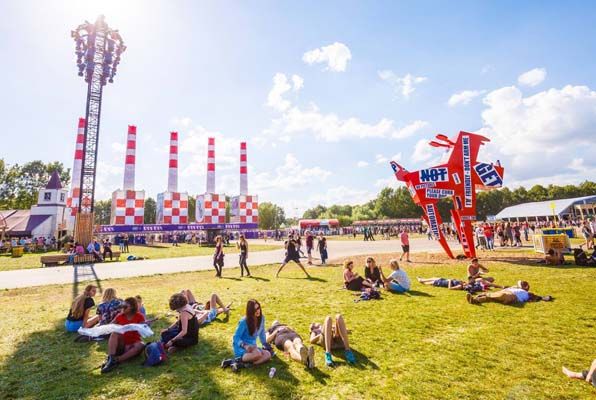 A Campingflight to Lowlands Paradise 2017!
Get ready for A Campingflight to Lowlands Paradise 2017 as they festival prepares to celebrate it's 25th anniversary edition with new additions to the lineup including Bastille, Cypress Hill, London Grammar, Michael Kiwanuka, Architects, Billy Talent, Future Islands, Glass Animals, Nina Kraviz and Robert Hood and many more.
Taking place next to the Walibi Fairgrounds, Biddinghuizen only an hours drive from Amsterdam A Campingflight To Lowlands Paradise is exactly what it promises to be: a true backpacker's Garden Of Eden and Holland's most adventurous cultural outdoor event, offering a cutting edge choice of only the best in alternative music, film, stand-up comedy, visual arts, literature and street theatre.
For three days in August, a township with 55,000 inhabitants arises in the middle of the country. The Lowlands festival features heavyweight headliners, impressive installations including the renowned red and white chimney stacks and no less than twelve stages (among which a cinema and theatre), going by the names of Alpha, Bravo, Heineken, Lima, Juliet, X-Ray, Echo. All stages are covered too, so you can enjoy all the music and entertainment come rain or shine.
As well as all the best alternative music and bands you can also get your fix of the best electronic music at Lowlands with resident advisor number 1 DJ Dixon taking to the decks alongside the likes of Moderat (live), Nina Kraviz, Robert Hood and more.
Lowlands also prides itself in supplying top notch facilities for it's visitors, There's a wellness village with saunas, hot tubs and sports facilities, dozens of restaurants from all corners of the earth, food and drink stalls, a large market with everything from clothes and vinyl stores to a barber's shop, its own currency, a local radio station, a daily newspaper (Dutch only) and, last but not least: seven luxury campsites with flushable toilets hot showers. A Campingflight To Lowlands Paradise really is the ultimate summer holiday extravaganza!
Lineup
Mumford & Sons, The xx, Editors
alt-J, Bastille, Cypress Hill, Elbow, Flume, Iggy Pop, London Grammar, Michael Kiwanuka, Moderat, Architects, Ben Klock, Billy Talent, Cashmere Cat, Dixon, Future Islands, Glass Animals, Mac DeMarco, Mura Masa, Nina Kraviz, Noord Nederlands Orkest, Nothing But Thieves, Robert Hood, Talaboman, Ty Segall, Tove Lo, Baloji, Denzel Curry, Palace, Shame, SMIB
More acts will be announced soon with over 250 acts in total performing at this years event.
Tickets
Tickets are available from ticketmaster.co.uk (direct link: http://www.ticketmaster.co.uk/Lowlands-Festival-tickets/artist/1672455) and include festival entry, camping + shuttle bus from / to railway station or Dronten Lelystad.. 3 days tickets from £150 available at www.lowlands.nl/english
Camping and Glamping
Your festival ticket includes camping at the seven luxury campsites with flushable toilets and hot showers. There are also plenty of affordable camping and glamping options from basic tent packages to teepees, wooden huts or caravans. Perfect if you don't want to carry all your camping gear with you and for a stress free festival experience Book now here: http://gllamcamp.nl/en
Connect
Website: www.lowlands.nl/english
Facebook: www.facebook.com/LowlandsFest
Twitter: @Rapid_Razor_Bob
Instagram: www.instagram.com/lowlands_fest/