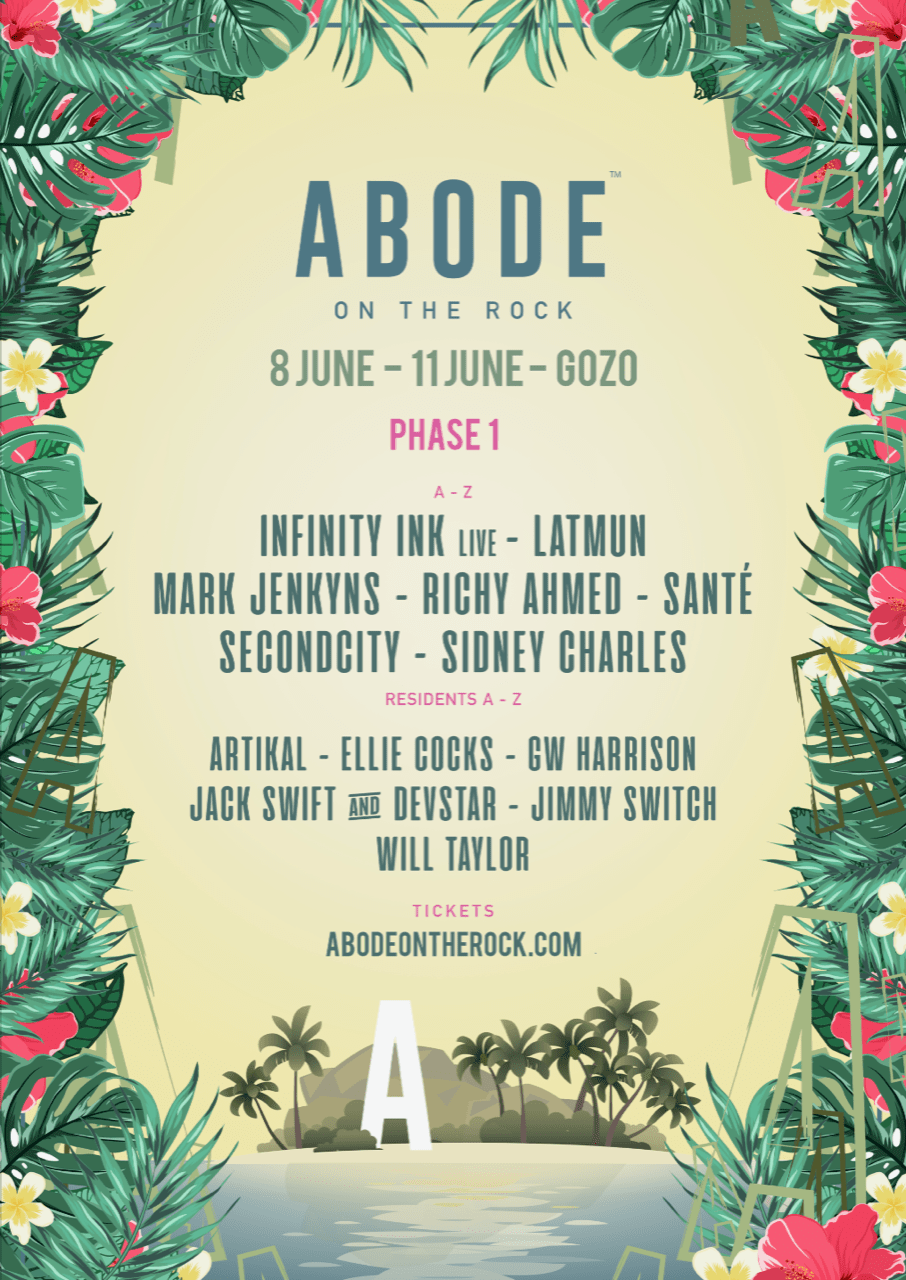 ABODE Announce 3 Day Festival on Gozo Island – ABODE On The Rock
Leading UK club brand ABODE proudly announce they are to take over a whole Mediterranean island and host their own international festival for the first time. Entitled ABODE on the Rock, it takes place from June 8th to 11th 2018 on Gozo, a small and idyllic island of blissful beaches and crystal clear blue waters off Malta. As ever with ABODE, the line-up focuses on close friends, family and the esteemed residents team, and the Phase 1 lineup includes key house and tech tastemakers such as Richy Ahmed, Infinity Ink LIVE, Latmun, Secondcity, Mark Jenkyns, Sidney Charles and Santé, who have all played for ABODE before and part of the wider family of the brand.
It is to be an intimate event with parties on the sand under the baking hot sun, evening parties in a club inside a cave and even a boat party on the glistening waters that surround the island. Resident DJs will be at the heart of the party and a full line up of international star headliners will be announced closer to the time.
Says ABODE's Kai Cant on the festival, "We fell in love with Gozo when we visited it last year, we can't wait to travel there with our extended family for a weekend of sun, sea, sand and music."
ABODE has been running for four years now and has hosted some of the most talked about parties in the capital. In the last 18 months alone, all events at Studio 338, Tobacco Dock, Printworks and even their own ABODE in the Park festival in London sold out well in advance. For the past two seasons, the crew have also hosted a much loved party at Sankeys Ibiza, with dancers appreciating the mix of on point house and tech sounds from a close family of rotating residents and tasteful selection of headliners.
This new festival is the next step and will allow ABODE to expand on their vision for the perfect party, this time in a stunning location. At the heart of it will be residents Ellie Cocks and George Harrison who have now got a reputation on the European stage thanks to heavy support from Radio 1 and Mixmag. Other much loved residents include Jimmy Switch, Jack Swift & Devstar, Artikal and Will Taylor, and they will be joined by plenty of other in-the-know selectors. The whole event will be a close knit family affair as usual from ABODE, so is a perfect musical festival and holiday experience all rolled into one.
ABODE on the Rock takes place on an island with a rich cultural history and one known for its Neolithic Ġgantija Temple ruins, rural hiking paths and scuba-diving sites. It enjoys breathtaking sunset and sunrises each day and has beautiful natural bays, old ports and magical rock formations adding to its character. It is a paradise place to relax, chill and soak up some perfect Mediterranean vibes.
The music will be an extension of the vibe found at ABODE events around the world, with headliners all being regulars at the night and serving up fresh perspectives when it comes to house and tech. The phase 1 lineup includes Richy Ahmed, who runs his own branded Four Thirty Two UK tours and plays everywhere from Berghain to DC10, the much loved Infinity Ink who will be performing LIVE, DJ Mag's Best of British Breakthrough Producer of 2017, Latmun, Relief Records associate and contemporary house trendsetter Secondcity, Hot Creations and Paradise regular Mark Jenkyns, plus Sidney Charles and Santé from labels like Avotre and Ibiza brand Do Not Sleep, who are both known for their chunky productions and rock solid DJ sets and are some of the most charted artists out there.
For this festival, ABODE have partnered with Choice Holidays as official travel provider so you can book everything you need including flights, accommodation and airport transfers in one easy place at www.choiceholidays.eu/?aff=abode. ABODE are also involved in a charity project which sees them invest money you spend on tickets in Africa building schools and orphanages at #TheAbodeProject. It is a noble endeavour that you can learn more about in this film:
https://www.facebook.com/ABODErecords/videos/1424262531033998/
ABODE Lineup
+ Special Guests Phase 1
Infinity Ink LIVE
Latmun
Mark Jenkyns
Richy Ahmed
Santé
Secondcity
Sidney Charles
Residents
Ellie Cocks
George Harrison
Jimmy Switch
Jack Swift & Devstar
Artikal
Will Taylor
*Flights from Southend ONLY £70 at the moment*
——————————-
OFFICIAL WEBSITE
http://abodeontherock.com/
TRAVEL PARTNERS
www.choiceholidays.eu/?aff=abode
SOCIAL LINKS
https://www.facebook.com/ABODErecords/
https://twitter.com/aboderecords?lang=en
https://www.instagram.com/aboderecords/
FACEBOOK EVENT
https://www.facebook.com/events/129756301147048/
#TheAbodeProject
https://www.facebook.com/ABODErecords/videos/142426253103399