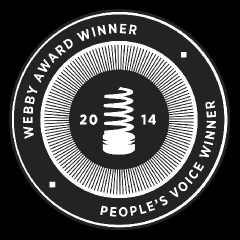 Academy of Electronic Music Wins People's Voice Webby
The winners of the 18th Annual Webby Awards have been announced, and the Academy of Electronic Music was selected as the winner of the People's Voice Award in the category of Arts & Culture.
The Academy of Electronic Music is a collaboration between Amsterdam-based record label Armada Music, Point Blank Music School, Google+, and media partner DJ Mag UK. The goal of the academy is to create a fully social music school to help develop the next generation of superstar DJs and producers, by giving them an online platform and launchpad to bring their music to the world.
The Webby Awards were established in the infancy of the internet (1996) and are dedicated to honoring excellence on the internet. Presented by the International Academy of Digital Arts and Sciences (IADAS), the Webby People's Voice Awards are given based on votes cast by the Web community all over the world.
Over 500,000 fans voted from over 200 countries, and the Academy of Electronic Music was selected to receive the prestigious award.
http://www.webbyawards.com
http://www.academyofelectronicmusic.com