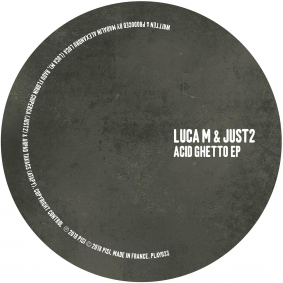 Luca M & JUST2 - Acid Ghetto EP
Play It Say It welcome a trio of top talents in Luca M, JUST2 and Atapy for a new EP featuring four fresh dancefloor tracks that are destined for big things.
Romanian Luca M is a real techno talent who counts mainstays like Marco Carola and Richie Hawtin as fans. From Suara to Terminal M, he has released on the most vital labels and runs his own Get Funky Music in collaboration with JUST2, who he works with here on three of the tracks. A fellow Romanian of equally international repute, he can lock in a dancefloor for hours on end.
The Acid Ghetto EP started in a Frankfurt airport between flights. Say the pair, "grabbing a coke and opening Ableton was the best choice and it's turned out to be the most productive time we spent in an airport. It was a piece of cake finishing the tunes a few days later in our studio from Bucharest."
Opener 'Acid Ghetto' is a masterfully slick house track with electrifying synths and restless, non-stop drums. The whole thing races along and sweeps you up with freaky vocal sounds, whirring machines and bendy pads that are as heady as they are dance friendly. The excellent 'Restore' is a supple groover with an elastic bassline and bright piano chords that will twist and turn the dancefloor out of shape and. Next up 'Bechamel' is more stripped back, with a dynamic deep house feeling permeated by dark chopped up vocals and the sort of slippery rhythm that hypnotises the whole club.
The final track is from JUST2 & Atapy, a producer who has been making his mark since 2010 on the likes of Get Physical and working with artists such as Noir and Louisahhh!!!. Their 'Levels' is a perfectly bumping house track with rich, rubbery drums and tumbling synth chords that bring an off-kilter charm to the driving grooves.
These are four more fantastically functional yet authentic house and techno tracks from the always on point Play It Say It.
Tracklist:
A1 Luca M & JUST2 – Acid Ghetto
A2 Luca M & JUST2 – Restore
B1 Luca M & JUST2 – Bechamel
B2 Atapy & JUST2 – Levels