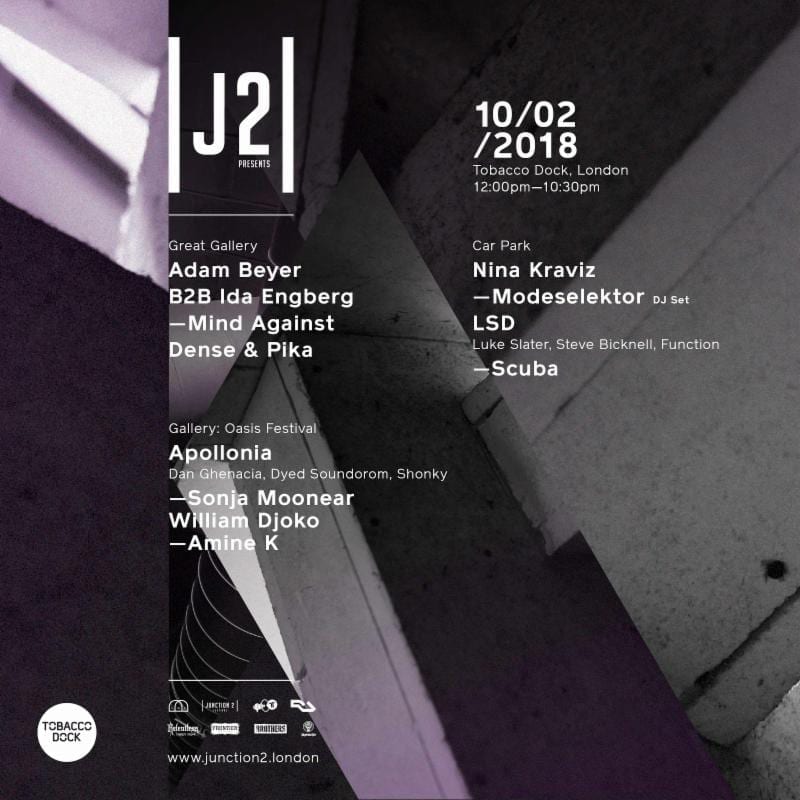 Adam Beyer b2b Ida Engberg and Apollonia complete Lineup for Junction 2 Pre-Party
Completing an outstanding lineup, Junction 2 have revealed sets from Adam Beyer b2b Ida Engbergand Apollonia for their hefty party at Tobacco Dock on Saturday 10th February 2018.
With previously announced acts including the likes of Nina Kraviz, Modeselektor, Scuba, Mind Against, Sonja Moonear and recently appointed LWE residents Dense & Pika and William Djoko, Junction 2 Presents brings one of the biggest lineups Tobacco Dock has seen to date.
Running from midday to 10.30pm, Junction 2's techno spectacular offers a ten-and-half hour dancefloor marathon at one the stunning converted commercial centre with a warren of rooms to be explored.
Exploring techno's many textures, the electrifying show will also provide a tantalising taster for what's to come at Junction 2's third festival edition taking place at Boston Manor Park on Saturday 9th June.
First and second release tickets for the not-to-missed party have already sold out. Remaining tickets can be purchased from Ticket Tannoy.
NINA KRAVIZ
MODESELEKTOR
ADAM BEYER
LUKE SLATER
SONJA MOONEAR
DENSE & PIKA
MIND AGAINST
IDA ENGBERG
WILLIAM DJOKO
PAULA TEMPLE
PLUS MORE…
Saturday 10th February 2018 | Tobacco Dock, London & Motion, Bristol
Ahead of their anticipated return to Boston Manor Park next June, Junction 2 announce two electrifying cross-country, pre-festival parties on Saturday 10th February 2018, taking place at Tobacco Dock in London during the day and Motion in Bristol through the night.
With stand-out lineups for each unmissable show, Nina Kraviz will headline both events; darting from her closing set at Tobacco Dock's daytime party, to play back-to-back with Drumcode head-honcho Adam Beyer at Motion's Marble Factory, as well as topping the main room billing with a solo session.
Unrelenting techno stalwart Scuba will also play across both shows, as will acclaimed duo Dense & Pikawho have been newly revealed as LWE residents for 2018.
Filling Tobacco Dock's cavernous warren of spaces with pulsating beats throughout the day, the remaining lineup features an exceptional selection of artists with the likes of Ida Engberg, Sonja Moonear, Mind Against and Modeselector performing a DJ set, following their recent sell-out show at Printworks London.
Claiming LWE resident status along with Dense & Pika, William Djoko also joins ranks, with further artists still to be revealed for the marathon dancefloor session at Tobacco Dock.
As the final beats ring across London's Tobacco Dock, the party is just getting started at Motion in Bristol. Techno maverick Luke Slater and rising talent Paula Temple, join Adam Beyer, Nina Kraviz, Scuba and Dense & Pika for an impeccable techno showcase at the iconic Bristol venue.
TOBACCO DOCK:
NINA KRAVIZ
A-Z
DENSE & PIKA
IDA ENGBERG
MIND AGAINST
MODESELEKTOR (DJ)
SCUBA
SONJA MOONEAR
WILLIAM DJOKO
PLUS MORE TBA
MOTION:
MAIN ROOM
NINA KRAVIZ
PAULA TEMPLE
LUKE SLATER
MARBLE FACTORY
ADAM BEYER B2B NINA KRAVIZ
SCUBA
DENSE & PIKA
ALL TICKETS AVAILABLE FROM: www.junction2.london