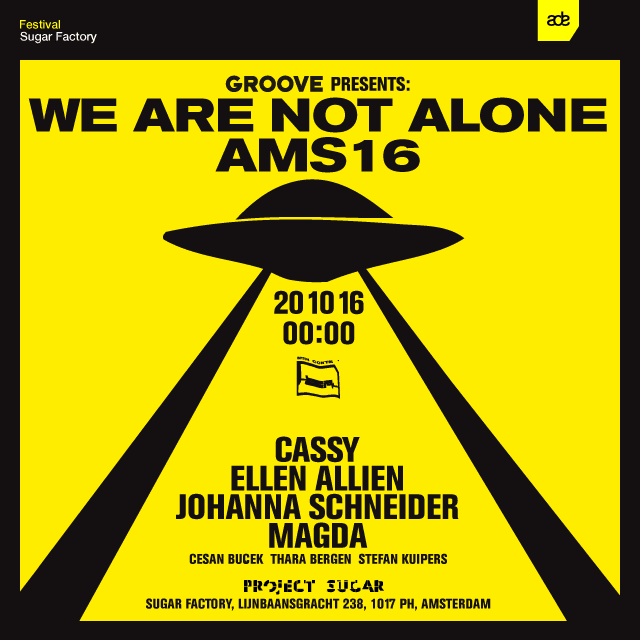 ADE: Ellen Allien, Project Sugar & Groove Magazine Presents: We Are Not Alone ADE Special 2016
On October 20th, 2016 Ellen Allien [BPitch Control], Project Sugar and Groove Magazine presents We Are Not Alone; an event series curated by the BPitch Control label boss herself, at Amsterdam Dance Event [ADE] 2016. This edition of We Are Not Alone will take place at Sugarfactory, a large-scale, creative event space that has hosted a long list of world-renowned DJ's and is an official venue to ADE.
Ellen Allien invites a strong line-up of international talent to join her on the decks with LA house producer and Circoloco resident Cassy, Magda- a product of Detroit's most fascinating techno scene, and lastly, Swedish producer and Bossmusik label founder Johanna Schneider to complete this highly anticipated, female dominant ADE event. Additionally, a panel discussion on the changes within Berlin's vibrant club scene is currently being planned with more information to be announced soon.

A second room will be hosted by local electronic house and techno event specialists Project Sugar. Amsterdam's own Thara Bergen, Cesan Buček and Stefan Kuiper, will bring the Dutch dynamic in a small intimate space all night long. Known for their infamous Thursday night's and afterparties at Sugarfactory, these young but fast rising stars are well on their way. Join us for the We Are Not Alone ADE Special!
Date: Thursday, October 20, 2016
Location: Project Sugar (Lijnbaansgracht 2381017 Binnenstad, Amsterdam)