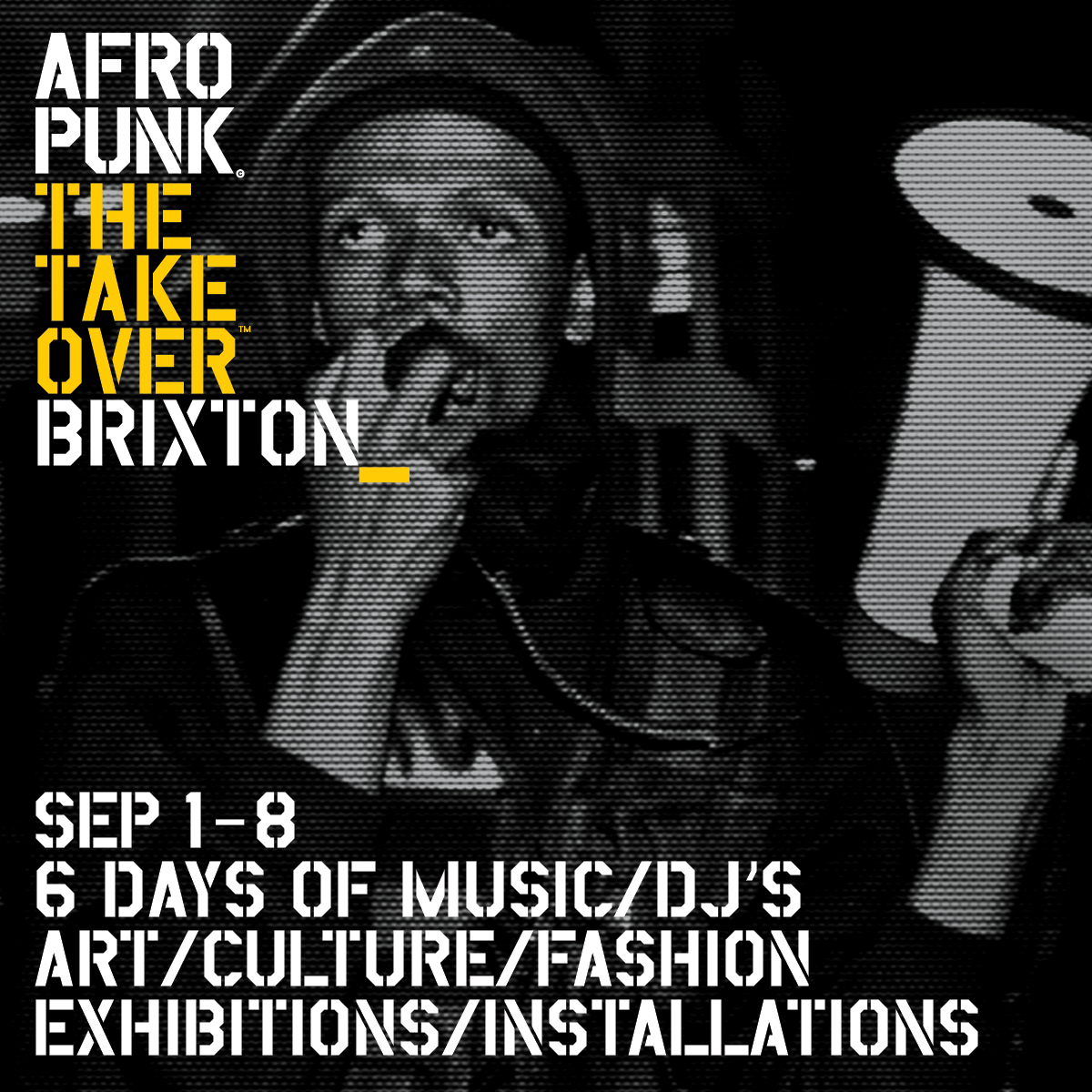 Afropunk – The Takeover
Now entering its third year, AFROPUNK London has evolved with a community focus. This September 1st – 8th, AFROPUNK returns, descending on South London's eclectic hub, steeped in rich history and effervescent with diversity in cultures – BRIXTON. From September 1-8th, Expand your mind and feast your ears and eyes with a whirlwind of inspiring offerings. An art exhibition at 198 Gallery, performances from revered supergroup, August Greene (Robert Glasper, Common, Karriem Riggins), plus DJ sets from Jazzie B, BBZ collective, BORN N BREAD and more are just a few of the events in-store. There's a whole host of talks, workshops, music and film screenings still to be announced. Plus, there'll be food, art, style and the return of Battle of the Bands, all across Brixton's most loved venues – the Ritzy, The Department Store, POP Brixton, BCA to name just a few.
PRICES TBA. More info and full programme to come soon.
– WHAT'S ON –
Taking the reins of many local arts venues, AFROPUNK encourages new relationships between people, places and spaces, drawing on its culturally rich tapestry. Thoughtful curation sees an incredible programme from 1st – 8th September with an Art Exhibition, Talks, Live Music, DJs, Film Screenings and more across The Ritzy, Pop Brixton, Black Cultural Archives, 198 Gallery, Electric Brixton, O2 Academy Brixton and the Department Store.

Musically, it's a melting pot of vintage sounds and new-gen energy, with a programme spanning classic hip-hop, rap, soul, jazz, afrobeats and beyond. Friday 7th September is a club-ready shake down as Electric Brixton host AFROPUNK mainstay, Soul II Soul's Jazzie B, local heroes, BBZ, and party crew, BORN N BREAD (NTS). With a very special guest still to be announced, it's good-times guaranteed.
Saturday 8th September sees a soulful, sonic journey as supergroup, August Greene (Robert Glasper, Common, Karriem Riggins), take to the O2 Academy Brixton. The inimitable jazz, hip-hop and r&b collective promise magic moments drawing on decades of working with pioneering artists across the globe. The incredible mind behind 2012's Black Radio and Black Radio 2, multi-award winning Robert Glasper, will flex the creative hand behind the works of Kendrick Lamar, Mac Miller, J Dilla, and Mos Def to name but a few. Chicago's hip-hop legend, Common, also joins, the MC still sounding as fresh as day dot, alongside Detroit's renowned beatmaker and producer, Karriem Riggins. A nod to all that AFROPUNK stands for, the trio have become synonymous with politically charged, emotive sounds through this collaboration. Produced in association with Metropolis Music, with very special guests still to be announced, don't sleep on this. Tickets and info here: https://www.metropolismusic.com/artists/afropunk/
– TALKS, FILM AND ART –
Outside of all of this, there's a lot more to find and do. Monday 3rd September marks the beginning of a week-long Art Exhibition in the 198 Gallery, plus 6 nights of insightful talks at the Department Store. The vibrant open space will be filled with a host of guest speakers exploring what it means to be Black, covering issues from mental health, and gender to entrepreneurship and beyond. BBZ and gal-dem discuss all things LGBTQIA, with a post-discussion dinner on Wednesday 5th September. The anticipated return of the Battle of the Bands also returns, with the final set to shake Pop Brixton to the core on 5th September. Eyes peeled for the full programme.
Visual arts fans will revel in screenings of seminal films, in the Ritzy cinema. Plus, the festival's Black in the Day exhibition looks through the history of AFROPUNK, just a stone's throw away in the Black Cultural Archives; a one-of-a-kind venue dedicated to preserving, collecting and celebrating Black heritage. Right on Windrush Square, the exhibition and location are an important acknowledgement of Brixton and its history.
Attendees are encouraged to become a part of the AFROPUNK community through the event – checking out the offerings throughout the duration of the week and long after. It's about creating an extended family of AFROPUNK, with a united voice to be heard. Celebrity speakers, special guests, live music, DJ sets and more film screenings are still to be announced in the coming weeks.