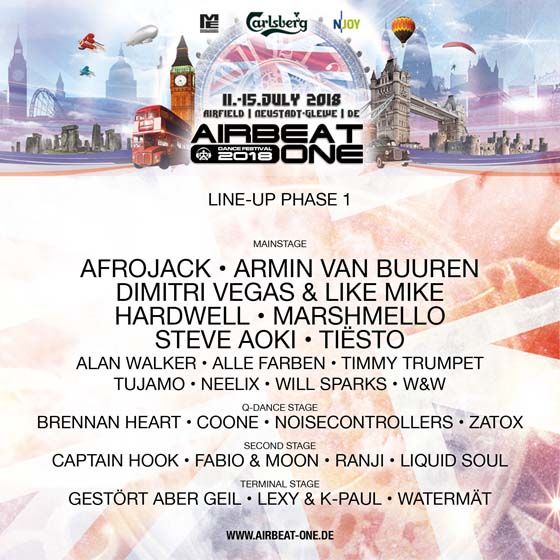 AIRBEAT-ONE Festival 2018 -Phase 1 line-up completed
Phase 1 line-up completed – Another blockbuster musical extravaganza expected.
With appearances by Afrojack, Alan Walker, Alle Farben, Brennan Heart, Dimitri Vegas & Like Mike, Armin van Buuren, Gestört aber GeiL, Hardwell, Marshmello, Steve Aoki, Tiësto, Timmy Trumpet and W&W now confirmed, the Airbeat-One festival is set for its biggest-ever line-up!
A little under six months to go until the 17th edition of AIRBEAT-ONE, northern Germany's biggest electronic music festival, and already the event scheduled for 11th – 15th July in Neustadt-Glewe promises to be unprecedented in scale and quality. After securing seven of the top ten acts listed in the DJ Mag Top 100 for 2018 – Afrojack, Armin van Buuren, Dimitri Vegas & Like Mike, Hardwell, Marshmello, Steve Aoki and Tiësto –, the festival organisers have now added Alan Walker, Alle Farben, Neelix, Ostblockschlampen, Timmy Trumpet, Tujamo, Will Sparks and W&W to the phase-one line-up of main-stage artists. The list of stars will be updated every Friday at 1pm on facebook.com/airbeatone.
The Q-Dance Stage will be another visual highlight of Airbeat-One 2018, with the stage design due to be unveiled next week. Fans of the »harder styles in music« can look forward to megastars Brennan Heart, Code Black, Coone, Noisecontrollers and Zatox.
Germany's figurehead DJ pair, Gestört aber GeiL, are confirmed for the Terminal Stage. As in previous years the boys will be blowing the top off the tent. Another duo, Lexy & K-Paul, are returning to the Airbeat-One festival after a break of several years. Watermät will be joining them, adding to the impressive Terminal line-up.
There is also news from the Second Stage, which will be featuring Blastoyz Captain Hook, Fabio & Moon, Ranji and Liquid Soul, among other acts, for the delectation of all Goa fans.
A very special Airbeat-One debut will be made by TRANSMISSION, which will be hosting a floor at the festival for the first time. For two days the brand-new 5,000-m2 "Arena" floor will be the setting for the world's finest trance acts as they present their sounds to the assembled masses. The first acts will be announced shortly.
Northern Germany's biggest electronic music festival will run from 11th to 15th July 2018 at the airfield outside the idyllic town of Neustadt-Glewe in the state of Mecklenburg-Western Pomerania. Every year the site is decked out for the occasion, with previous designs evoking the Inca empire and Ancient Rome. In 2016 it went post-modern with gigantic digital advertising screens reminiscent of central Tokyo. Last year the crowd pulsated in front of a backdrop representing the Capitol in Washington D.C. This year the festival gets very British, with everything revolving around the United Kingdom. Let's see what they come up with!
Airbeat-One tickets are already being snapped up. The first two phases of pre-sales are over, with all those tickets sold out. Ticket Phase 3 has just opened, with Full Weekend Passes available from www.airbeat-one.de for €119 plus booking fee and VIP Full Weekend Passes selling for €199 plus booking fee.
For fans who can't wait for summer to roll round, there's the Snowbeat in Wittenburg on 3rd February 2018. This sideshow laid on by the Airbeat-One organisers in the Alpincenter will feature Gestört aber GeiL, Tujamo, Mike Perry, Bass Modulators, Wildstylez and many more besides.
AIRBEAT-ONE 2018
Phase 1 line-up
MAIN STAGE
Alan Walker
Alle Farben
Afrojack
Armin van Buuren
Dimitri Vegas & Like Mike
Hardwell
Marshmello
Neelix
Ostblockschlampen
Steve Aoki
Tiësto
Timmy Trumpet
Tujamo
Links:
http://www.airbeat-one.de/
facebook.com/airbeatone
twitter.com/airbeatone
youtube.com/airbeatone00
instagram.com/airbeatone