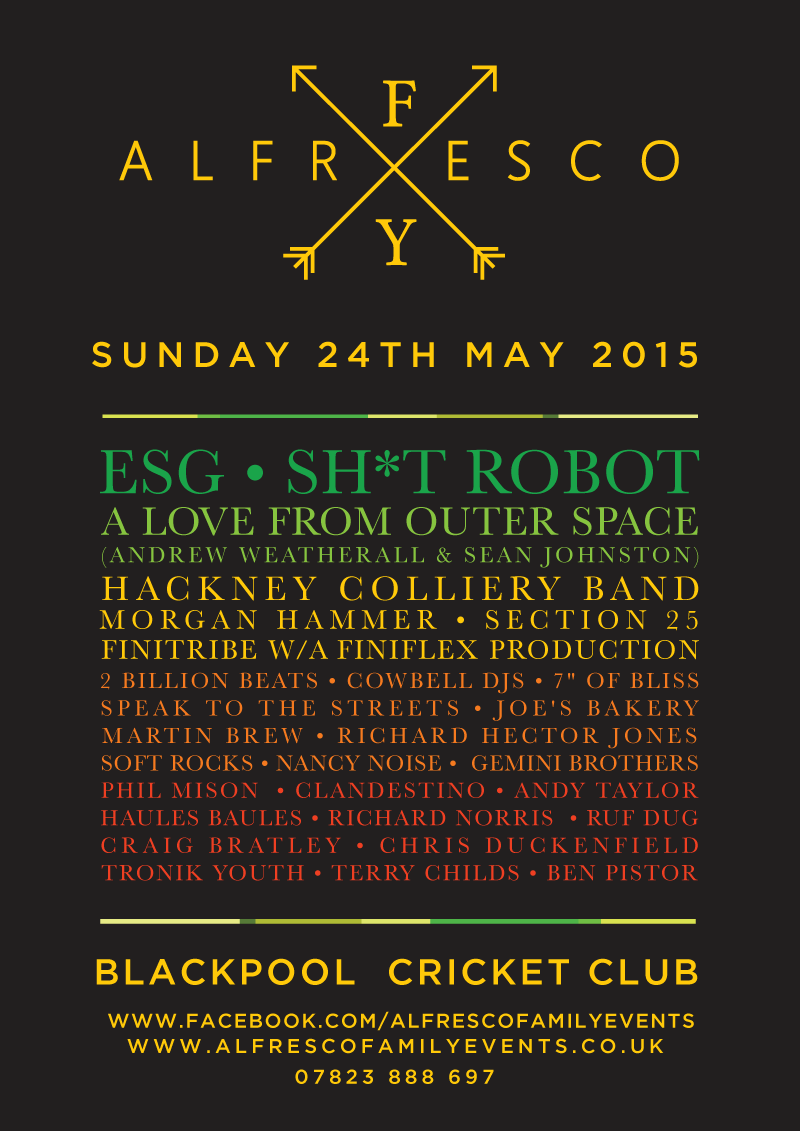 ALFRESCO FESTIVAL takes over Blackpool on Sunday 24 May
Alfresco returns with its fifth year hosting the most experimental and intimate festival Blackpool as ever seen. Four enclosed stages, housed in and around the infamous 120 year old Cricket club, situated in the grounds of national award winning Stanley Park. Previous years have seen the likes of A Certain Ratio, Mr Scruff, Andrew Weatherall and Section 25 …….. this year has stepped up with plenty of kids' activities inclusive of one ticket price. The event will cater for on site camping with hot showers, affordably priced cuisine, extensive drinks menu, keeping the cost of this family all day festival very low http://bit.ly/1xLNKoF
The main stage will be in the marquee featuring 12 hours of diverse acts. A balearic stage hosted by We Are The Sunset featuring a conveyor belt of DJs. Igloo tent with a capacity of 350 that will feature underground electronic acts from Nein Records.
A family tent will showcase 8 hours of non stop quality entertainment. There will be theatre shops, singers, circus schools, science workshops and even a life size baby T-Rex robotron! As well as arts, crafts and much more. The AAA ticket includes the ALFOS after party, on two floors in the Cricket Club itself.
ESG, Sh*t Robot, A Love From Outer Space, Hackney Colliery Band, Morgan Hammer, Section 25, Finitribe are some of the stand out acts, who will be taking over Blackpool for The Alfresco Family Event this May.
Follow Alfresco on social media for your chance to win tickets, and to keep up to date with news announcements. http://bit.ly/1xLNKoF
ALFRESCO
Sunday 24th May 2015
Blackpool Cricket Club
ESG
Sh*t Robot
A LOVE FROM OUTER SPACE
Hackney Colliery Band

Morgan Hammer, Section 25, Finitribe w/a Finiflex Production, 2 Billion Beats, Cowbell DJs, 7" of Bliss, Speak to The Streets, Joe's Bakery, Martin Brew, Richard Hector Jones, Soft Rocks, Nancy Noise, Gemini Brothers, Phil Mison, Clandestino, Andy Taylor, Haules Baules, Richard Norris, Ruf Dug, Craig Bratley, Chris Duckenfield, Tronik Youth, Terry Childs, Ben Pistor.