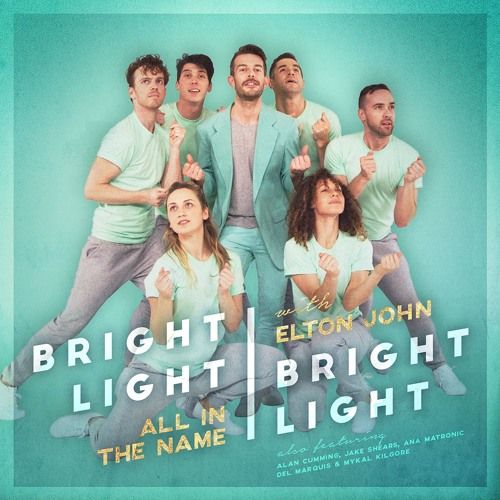 Bright Light Bright Light ft. Elton John - All In The Name (Soul Seekerz Extended Remix)
Bright Light Bright Light announces his highly anticipated third album 'Choreography', released on July 15. The culmination of every colour, shade and glistening hook refined by Rod Thomas aka Bright Light Bright Light over his two studio albums to date, 'Choreography' truly is his first major pop opus.
The Welsh musician moved from London to New York three years ago and on 'Choreography' he makes peace with this great personal shift. The title, Rod explains, came from "dance and how good it makes you feel and choreographing my life in London and New York."
Following a worldwide tour with his long time friend and mentor Sir Elton John, Rod began work on Choreography in January 2015. Immersing himself in his favourite movies from Flashdance and Footloose to French new wave and independent shorts was to prove a catalyst. Hollywood musicals and Little Shop Of Horrors influenced 'All In The Name" featuring Sir Elton and the scorchingly sensual Kiss For Kiss featuring Jake Shears inspired by Alien: Resurrection. Joining this roll call of vocalists are Ana Matronic, Del Marquis, Mykal Kilgore – and Alan Cumming.
Bright Light Bright Light and Sir Elton showcase 'All In The Name,' on tonight's Graham Norton show, their first national TV appearance together. His most balls out 3.30 minute pop moment yet All In The Name, Rod explains, "is a comment on modern day behaviour – about working relentlessly to make something of yourself, and about how people are obsessed with others following, liking and idolising them (social media / celebrity). As someone who uses the socials in a work capacity it's very topical for me. The song is intended to be tongue-in-cheek not scathing….it's something we can all fall into"
Multi TONY, Laurence Olivier and Drama Desk award-winner Steven Hoggett, the most in-demand theatrical choreographer and movement expert working on stage today, worked with Rod to choreograph a video concept spanning all three singles. "He's a smart guy, with killer tunes," says Steven of Rod. "He had a tonne of ideas and had a great time referencing a load of shapes from 80s and 90s videos. He inspired me no end. I love the guy and he worked his ass off in an environment he had no previous experience in."
"I was kind of terrified that I'd be really shit at dancing," Thomas laughs. "I had to up my game and use my brain in a very different way. This is exactly what the whole album has been about. Each new album should be a new challenge. With this one, for the first time I got to make the album exactly as I wanted to, shoot the videos exactly as I wanted them, with exactly the people I wanted to work with. How brilliant is that?"
Bright Light Bright Light plays three shows ahead of the album's release in Cardiff and London along with an appearance at Bristol Pride. Tickets for his July tour are on sale from 10am on May 27th
July 9 – Bristol Pride
July 23 – The Gwyn Hall, Neath
July 25 – Hug & Pin – Glasgow
July 26 – Sound Control – Manchester
July 28th – Oslo, London
Bright Light Bright Light – Choreography Tracklisting:
1. All In The Name (feat. Elton John, Alan Cumming, Jake Shears, Ana Matronic, Del Marquis & Mykal Kilgore)
2. Symmetry Of Two Hearts (feat. Elton John)
3. How Does It Feel
4. Running Back To You (feat. Elton John)
5. Kiss For Kiss (feat. Jake Shears)
6. I Only Want To Please You (feat. Ana Matronic)
7. Into The Night
8. Home (feat. Alan Cumming)
9. Little Bit
10. Careful Whisper
11. Won't Do (feat. Mykal Kilgore)
12. Where Is The Heartache