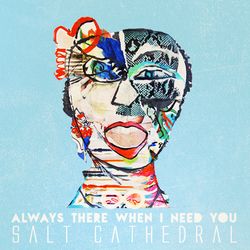 Salt Cathedral - Always There When I Need You
'Always There When I Need You,' the first track to be released from rising Colombian duo Salt Cathedral's forthcoming debut album Big Waves // Small Waves debuts today—listen here. The new album is set for release this autumn.
Big Waves // Small Waves was written and recorded over the course of 2016 at the band's Brooklyn studio. The self-produced record began with sampling sessions in an effort to bring folkloric sounds into the band's pop writing. After sketching out their song ideas, the band fleshed out and recorded, keeping most of the original demo vocals. The Jamaican rapper Assassin, reggae legend Lee "Scratch" Perry and longtime friend and collaborator Matisyahu each lend vocals to tracks on the album.

Salt Cathedral's first full-length follows their 2014 EP Oom Velt, released to critical acclaim from the likes ofPitchfork, The Guardian, The Fader and Consequence of Sound. The band has toured extensively in North and South America as well as Asia, and has shared stages with the likes of Mitski, Christine & The Queens, Hundred Waters, Cibo Matto, Tei Shi and many more.

Salt Cathedral is the duo of Juliana Ronderos and Nicolas Losada, born in Colombia and now based in Brooklyn, New York. Their name is taken from the fabled Salt Cathedral of Zipaquirá, a church built inside a salt mine in their native country. Formerly members of Il Albanico, Ronderos and Losada formed Salt Cathedral to experiment with their Caribbean and various world music influences and inspirations, as well as to explore their more existential songwriting leanings. Salt Cathedral traffics in concepts and ideas like individuality, identity and experience.