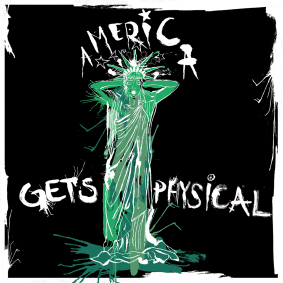 Various Artists - America Gets Physical Vol. 1 – Mixed and Compiled by m.O.N.R.O.E
The mighty Get Physical march on with another carefully curated compilation, this time featuring 12 exclusive tracks from mainly American artists, curated by m.O.N.R.O.E.
m.O.N.R.O.E. is American Jordan Postrel, a Miami based DJ who has released on labels like Kindish, Viva Music and Saved Records and has previously put together a number of compilation for Get Physical. He has a fresh take on tech house that has seen him become a well-established DJ back home, and the perfect person to represent his homeland's underground sound.
Featuring a mix of artists old and new, this is a great window into the ever more essential American underground that proves fresh new talent is always coming up and Get Physical know about them before anyone else.
The mix kicks off with the driving Dance Spirit track 'Music Is Life' with its fluttery flutes, before m.O.N.R.O.E himself offers the loose and dreamy deep house of 'Refresh.' Adisyn then gets cosmic with a swirling deep house number that is coloured with lovely neon pads, and Daniel Dubb hypnotises with his dubbed out roller 'Blast'.
Long time scene stalwart Robert Babicz goes for a more edgy and sharp tech house tune with acid bass and arpeggiated synths that reach to the skies and m.O.N.R.O.E appears again to remix the opening track into something perfectly smooth and zoned out. The likes of Casah, martinek and Enio Skoto then keep things richly atmospheric and deep with cavernous cuts that work on the mind as much as the heel and range from house to minimal. Lastly, Michael Gin rounds out what is a heady mix in real style with 'Y=X', a deep cut with swirling techno pads and icy hi hats.
This is an excellent showcase of the contemporary American underground compiled perfectly by m.O.N.R.O.E and Get Physical. The album will also be a supported with a tour of America, including a number of key cities south of the border and will feature key artist line ups playing alongside m.O.N.R.O.E.
Tracklist:
01 Dance Spirit – Music Is Life
02 m.O.N.R.O.E. – Refresh
03 Adisyn – Drifter
04 Daniel Dubb – Blast
05 Morpei – Kimsa Inti
06 Robert Babicz – We Dream
07 Dance Spirit – Music is Life (m.O.N.R.O.E. Remix)
08 Casah – Nowhere
09 mart nek – Jusst
10 Ennio Skoto – SP1
11 Avstin Frank, Cisco – Wake Up Call
12 Michael Gin – Y=X