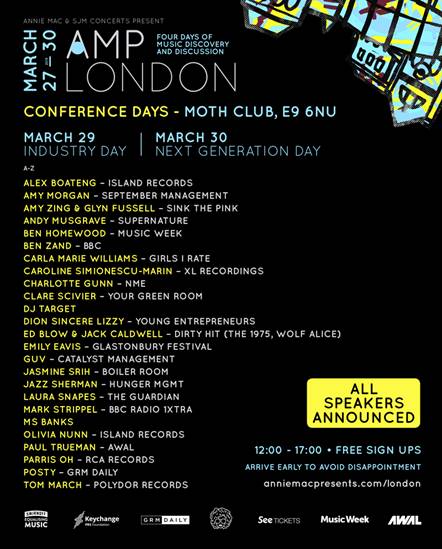 AMP London Conference lineup announced.
Britain's premier music tastemaker Annie Mac announces full details of the AMP LONDON Conference Days, held from 12 noon to 6pm at Moth Club in Hackney on Friday 29th March for 'The Industry'day and Saturday 30th March for 'The Next Generation' day.
Encompassing debate and discussion around the future and evolution of today's music artists and industry, the AMP LONDON Conference Days aim to provide a welcoming hub for all those engaged and interested in music, inspire conversations about how the landscape of the business is changing, and highlight what's going on behind the scenes that will shape the future.
Annie Mac says: "The AMP Conference Days are a really exciting development within our AMP brand. After spending the last 15 years curating music both recorded and live, to be able to curate discussions has been so fascinating. I wanted to create discussions that I really wanted to hear, involving voices that I really want to hear from. The themes are all subjects I was personally keen to explore, and we have meticulously chosen people in the industry who we think will bring a unique perspective to those discussions. I love that the conference will take place at Moth Club, which is essentially an old working man's club, with big booths and a bar. It makes for a more informal, fun atmosphere."
The first conference day on Friday 29th March will be dedicated to current discussions within 'The Industry', in partnership with Music Week, the leading weekly magazine for the UK music industry. Each conversation will be introduced by Annie, who will explain why she feels it's important to highlight. Topics addressed by leading industry figures on the day will include:
"Where Are All The Female Bosses?" In Association with Smirnoff Equalising Music
12:00pm – 1:00pm
Carla Marie Williams, Songwriter / Founder, Girls I Rate
Charlotte Gunn, Editor, NME
Emily Eavis, Co-Organiser, Glastonbury Festival
Olivia Nunn, Co-Managing Director, Island Records
Moderated by Annie Mac
"Cancelling Artists: Should The Industry Play Judge & Jury"
1:15pm – 2:15pm
Ben Zand, Journalist / Documentary Maker, BBC
Laura Snapes, Deputy News Editor, The Guardian
Moderated by Ben Homewood – Music Week
"Playing The Playlist Game: How Do You Break Artists in 2019?"
2:30pm – 3:30pm
Jasmine Srih, Music Programmer, Boiler Room
Mark Strippel, Head of Content commissioning, BBC Radio 1Xtra
Tom March, Co-President, Polydor
Paul Trueman, General Manager, AWAL
Moderated by Annie Mac
"Breaking Down Barriers: How Black British Artists Are Storming The Charts" In Association With GRM Daily
3:45pm – 4:45pm
Alex Boateng, President of Urban Division, Island Records UK
Andy Musgrave, Founder, Supernature
Clare Scivier, Founder, Your Green Room
Parris Oh, Senior Urban Artist Manager, RCA Records
Posty, CEO, GRM Daily
Moderated by DJ Target
The second conference day on Saturday 30th March will focus on inspiring 'The Next Generation'. All panels will be moderated and led by Annie herself. Topics addressed by leading industry and youth culture figures include:
Bossing The Algorithm – Harnessing Social Media for your Career with Dirty Hit
12:00pm – 1:00pm
Ed Blow & Jack Caldwell – General Manager & Head of Digita
Managing Your Future: The Managers That Changed The Game
1:15pm – 2:15pm
Amy Morgan, Artist Manager, September Management
Guv, CEO, Catalyst Management
Jazz Sherman, Founder, Hunger MGMT
How Will The Female Voice Impact Rap Music in 2019?
2:30pm – 3:30pm
Caroline Simionescu-Marin, A&R Manager, XL Recordings
Dion Sincere Lizzy, Entrepreneur, Young Entrepreneurs
Ms Banks
Taking The Alternative Route, in Conversation with AWAL & Annie Mac
3:45pm – 4:45pm
Speakers to be Announced
Self Made Story: Sink The Pink in Conversation with Annie Mac
5:00pm – 6:00pm
Glyn Fussell & Amy Zing, Founders, Sink The Pink
Accompanying the two daytime conferences are four days of unmissable live shows carefully curated by Annie Macherself. From 27th March to 30th March, AMP LONDON will take over the UK's capital with an unprecedented line-up ofover forty live music acts playing across fourteen different venues.
Showcasing a broad range of the hottest upcoming and established artists and bands, across multiple genres (from Dancehall to Punk), AMP LONDON will encompass a series of underplay shows with acts playing in venues far smaller than their usual tour stops. Artists featuring on these shows include: Sam Fender, Mahalia, Theophilus London, Amyl & The Sniffers, Rina Sawayama and Puma Blue alongside Jimothy Lacoste, Koffee, Kojey Radical and Annie Mac herself. AMP LONDON also boasts the (already sold out) Printworks rave, in addition to an Oval Space take-over featuring Two Door Cinema Club and Circa Waves and a closing party at The Hackney Empire (proceeds from which will be donated to London based charity, Art Against Knives).
AMP LONDON will prove a vital music event for 2019. Tickets for the AMP LONDON live shows are available here: http://gigst.rs/AMPLondon. Entry to AMP LONDON Conference, will be via free signs, so arrive early to avoid disappointment. To sign up for 'The Industry' Conference Day on Friday 29th March and the 'Next Generation' Conference Day on Saturday 30th March go to http://gigst.rs/AMPLondon.
For more information on Annie Mac Presents visit:
www.anniemacpresents.com
www.twitter.com/amp
www.instagram.com/anniemacpresents
www.facebook.com/AnnieMacPresents