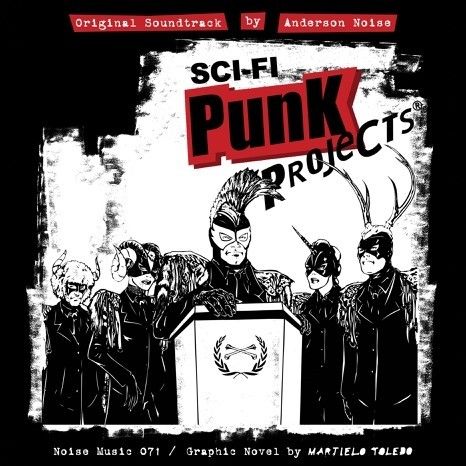 Anderson Noise – SCI-FI Punk Projects
With worldwide release scheduled for April 2015, the album "Sci-Fi Punk Projects" contains the soundtrack that Brazilian DJ/Producer Anderson Noise has produced for the graphic novel of the same name, written by fellow Brazilian the Mineiro designer Martielo Toledo http://www.martielotoledo.com/scifi2.html The album will coincide with a major exhibition for the book in Brazil.
The album is released on Anderson's Noise Music label and shows the disparate facets of artistic creation of the top techno DJ – from the artist who played alongside a famous classical conductor to writing the music for this current multi-media challenge, he demonstrates his versatility, creating an intriguing album that relies on dense ambience and idealized noisy textures to give the ideal futuristic atmosphere that will engage with the graphic novel reader.
"Sci-Fi Punk Projects" has tracks named to recall the symbols contained in the chapters of the saga, such has "Martian Secret Society", "The Lost World of Z", and one that takes the name of the campaign that the heroes use to warn humanity about the imminent dangers of mass extinction, in this case, "Your Mind Is A Battleground". There are also special interludes baptized with key words, full of mystery and mysticism, to give the investigative and playful tone to readers – such as the opening "Melchizedek" and others, such as "Colonel Fawcett", "UFO", "Annunaki" and "Madame Blavatsky."
The plot of the graphic novel mixes UFO references, revelations of Theosophy, scientific discoveries that NASA made on Mars, and the shamanic culture of the indigenous people of the Amazon region in northern Brazil. It is also apparent that the aesthetics of the characters are inspired by punk bands of the 1970s such as: The Sex Pistols, The Clash, Ramones and The Misfits.
The Mineiro saga was transformed into reality in 2003 through a line of t-shirts created by Martielo and has been developing for over ten years through various types of media. In an increasingly interactive and convergent world, the fact is that this legacy of national sci-fi will conquer the electronic language taken by the hand of the biggest Brazilian DJ.