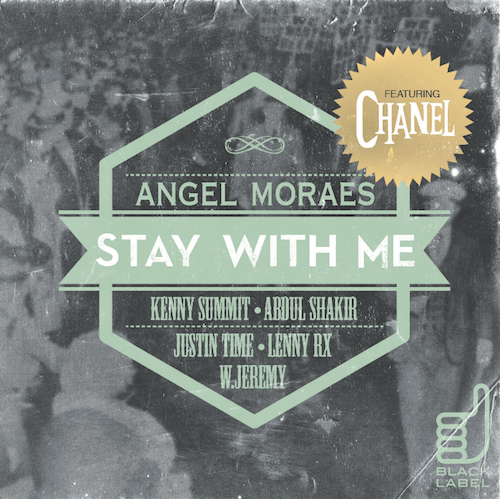 Angel Moraes ft. Chanel – Stay With Me
Kenny Summit & Lenny RX continue to dish out the audible surprises on their new GFY Black Label with their second release coming from NYC House music legend, Angel Moraes! 'Stay With Me' comes with distinctive 90's piano house feel and features the lovely soulful vocals of Chanel, backed by dreamy synth sweeps and a catchy bass groove over pressure beats. Kenny Summit & Abdul Shakir get creative on a West Coast deep vibe, throwing a smoking male spoken word into the mix, creating a whole new story! Also on the package Lenny RX & Justin Time opt for an atmospheric melancholic vibe delivering a Deepah Dub laced with dark synth washes and percussive tribal beats and topping off the package, W. Jeremy takes us back to the old school with his techy Dub Dance Mix.
Angel Moraes is one of the best DJs and greatest underground dance music producers from NYC. A regular at both Jellybean's Fun House and Paradise Garage parties, Angel immersed himself on the the scene at a young age. Upon meeting Victor Simonelli who invited him to the studio, he decided to quit his day job to make music and the rest is history!.. Angels shining career saw him launch Hot n Spycy Recordings with partner Jeffrey Rodman (Sound Factory Bar and Twilo) releasing early works from 'Release Yourself' and 'The Cure' to making the now classics 'Welcome To The Factory', (dedicated to Junior Vasquez), 'Music Is Your Life', 'Shakedown', 'Magic Carpet' and more recently 'A Stereo Tribute'. He also worked on projects for The Pet Shop Boys, KD Lang, Jamie Myerson, Jocelyn Brown, Loleatta Holloway a nd Roy Davis Jr., among others.
"GFY Black Label is the first sub label of Good For You Records. When I started GFY in 2012 it immediately dawned on me that I would soon have to start a sister label to not only help balance out our release schedule, but also shed light on some of the producers who have influenced me over the years as well as open the public's eyes to some emerging artists in the dance music community" – Kenny Summit
Good For You Records boss, DJ and Producer, Kenny Summit, continues to focus on quality underground music. The releases on GFY along with his stable of artists speak for themselves: hiphop legends like Grand Puba and The Artifacts to house legends like Frankie Knuckles and Todd Terry, all present. In 2012 Kenny's reputation as a producer finally caught up with him as his 'Loving You' with Frankie Knuckles and Eric Kupper went to #1 on international house charts (and stayed there for over 2 months). Since then Kenny has released a string of underground goodies that have been embraced by house heads worldwide. New York native Lenny RX, the Co-founder of GFY Black Label with Kenny Summit, has been a staple in the underground dance scene in the NYC area for over a decade. Having recently discovered Angel Moraes' Stay With Me' on Soundcloud, Lenny convinced Angel to sign the song and release it with GFY Black Label – Lenny's first A&R project for the lane in the bagl! Forthcoming releases on GFY Black Label include Angel Moraes, J Paul Getto, Terrence Parker, Eddie Amador, Tedd Patterson, JR From Dallas, Lenny Rx and Kenny Summit – stay tuned!.. W. Jeremy is a NYC based DJ/Producer and is co-owner of the Get Up Recordings music label. He has produced under the moniker House of Stank with label partner, Christy Love, as well as independently. He has produced remixes for JD Samson's band, MEN, and The Cucarachas. Abdul Shakir, originating from the US East Coast, is now one of the East Coast's hottest house DJ's, holding down many residencies in his home town of LA.
TRACK-LISTING
1 Stay With Me (Original)
2 Stay With Me (Kenny Summit & Abdul Shakir's Ridiculous Mix)
3 Stay With Me (Lenny RX & Justin Time's Deepah Dub)
4 Stay With Me (W. Jeremy's Dub Dance Mix)
http://www.GoodForYouRecords.com
https://www.facebook.com/goodforyourecords
https://soundcloud.com/kennysummit
https://www.facebook.com/DJAngelMoraes
https://www.facebook.com/GfyBlackLabel