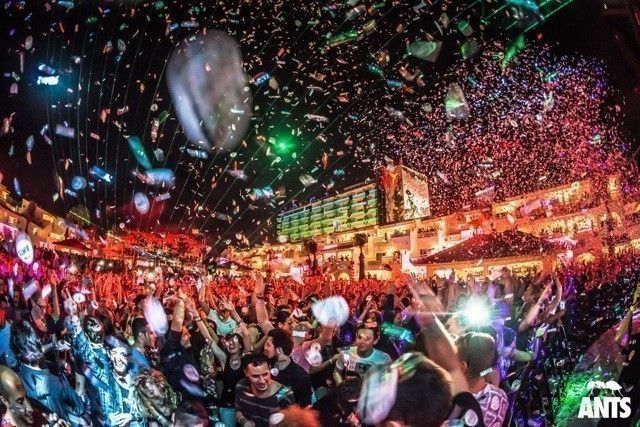 ANTS announce full season line-ups at Ushuaïa Ibiza
Having rocked the white isle for the first month of the season already, details are emerging from the Colony that ANTS have completed their full season line-up. Showcasing the world's best underground house and techno artists at open air venue Ushuaïa Ibiza, ANTS looks set to complete another incredible season for 2014.
Mixing old faces with the new in a melee of underground talent, the Colony have invited a plethora of the scene's biggest stars to take centre stage in the robotic ant every Saturday for the rest of the summer, culminating in a closing party set to go down in Ibiza history.
Those attending ANTS will not only instantly become part of the Colony, but also receive full indoctrination to La Familia, a new party concept developed by pioneering DJ duo and old friends Joris Voorn and Nic Fanciulli. Both of which have embarked on several past missions with the Colony individually before joining forces at their new Ibiza stronghold Ushuaïa Ibiza.
Another exciting edition to already stand out party line-up is a highly anticipated collaboration with premier Italian power club Cocorico. A right of passage in every credible underground artist's career, Cocorico has been playing host to the world's most seminal artists for the past twenty-six years. Representing Cocorico is Illario Alicante, Ralf and main resident Leon.
Joining ANTS residents Andrea Oliva, Los Suruba and UNER are several new additions including pioneering duo Blond:ish, Pleasurekraft, Javi Bora, Noir, Ralph Larwson, British techno staple Simon Baker and fellow stand out Brit Ben Pearce. Another exciting addition to the line-up are Dense + Pika. The hotly tipped duo have been causing a massive stir on the techno scene over the past year, dropping stand out productions including last year's club anthem 'Colt'.
Other returning guests set to make appearances during the remainder of the season having left a lasting impact on the ANTS crowd previously include Danny Daze, Deetron, Lee Curtiss, Hot Since 82, Kölsch, Magda, Maya Jane Coles, Nakadia, ONNO, Stacey Pullen, Tapesh, Technasia, The Mekanism, and Timo Maas.
Venue: Ushuaïa Ibiza
Times: 3pm – Midnight
5th July: Deetron // Kölsch // Tapesh // The Mekanism // + Special Guest
12th July: Blond:ish // Javi Bora // Los Suruba // Noir // Ralph Lawson
19th July: ANTS Presents La Familia
Joris Voorn B2B Nic Fanciulli // Matthias Tanzmann // Secondcity // UNER // Yousef
26th July: Andrea Oliva B2B UNER // Magda // Nick Curly // Timo Maas // + Special Guest
2nd August: Andrea Oliva // Blond:ish // Los Suruba // Nakadia // UNER
9th August: Kölsch // Pleasurekraft // Simon Baker // Tapesh // Tube & Berger
16th August: ANTS meets Cocorico in association with La Familia
Ilario Alicante // Ralf // Andrea Oliva // Leon //
La Familia – Joris Voorn b2b Nic Fanciulli
23rd August: Andrea Oliva // Nick Curly // The Mekanism // UNER // + Special Guest
30th August: ANTS Presents La Familia
Joris Voorn b2b Nic Fanciulli // Stacey Pullen // Timo Maas // Ben Pearce // Alex Tepper
6th September: Maya Jane Coles // Dense & Pika // Hot Since 82 // UNER b2b Technasia // ONNO
13th September: Andrea Oliva // Danny Daze // Lee Curtiss (Visionquest) // Los Suruba // Timo Maas
20th September: Andrea Oliva // Deetron // Tapesh // The Mekanism // + Special Guest
27th September: Andrea Oliva b2b UNER // Deetron // Los Suruba // Tapesh // + More to be announced