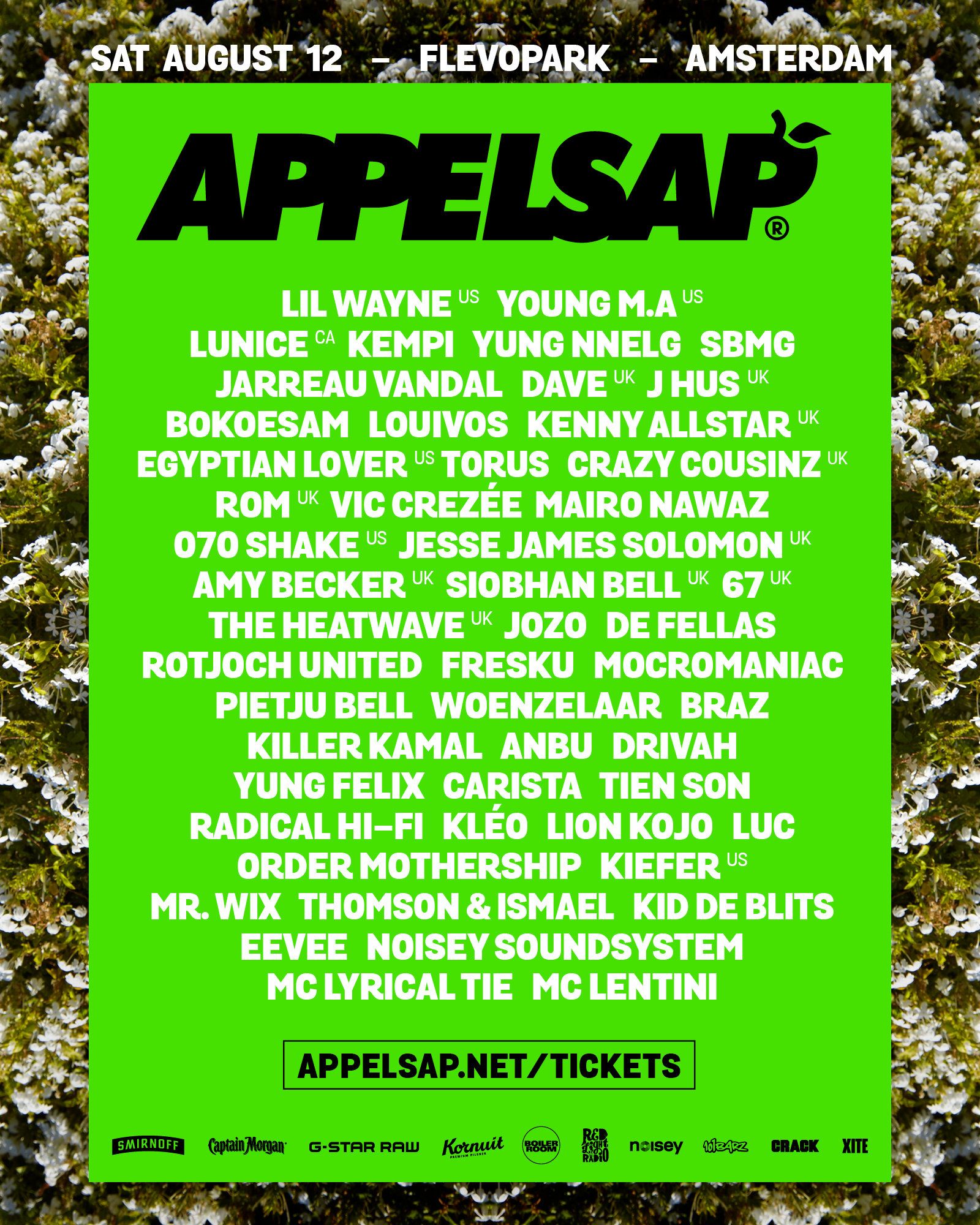 Appelsap Fresh Music Festival: Full Line-up Revealed
Appelsap Festival 2017: Crazy Cousinz, Egyptian Lover, Jesse James Solomon, Kenny Allstar and more round off 2017's line-up, plus stage splits announced.
The countdown to Appelsap is on, with just under one month to go, the festival have announced the final names for this years festival. On Saturday 12th August, Amsterdam's Flevopark sees a huge bill of homegrown talents and international artists take to four stages across the one-day event. Completing this years line-up, Appelsap are pleased to announce Egyptian Lover, The Heatwave, SBMG, ROMderful, Jesse James Solomon, Kenny Allstar and more for 2017's edition. This adds to the already stellar roster of Lil Wayne, Young M.A, J Hus, Dave, 67, Kempi, Yung Nnelg and more… Tickets are dwindling on final release, so snap one up and join the Appelsap family.
---
Heading up the main stage is the iconic Lil Wayne, bringing his inimitable flow to the Dutch capital, plus the full Rotjoch United crew, including SBMG and Kempi. Yung Felix, Bokoesam and Patta Soundsystem's very own Lion Kojo are all on hand to get the party started, plus Appelsap's Fresh Talent slot is taken up by newcomer ANBU – definitely one to watch.
Noisey are bringing a distinct flavour of the UK with men of the moment Dave and J Hus,Radar Radio's very own Amy Becker, and serious selector Siobhan Bell joining South London drill team 67. In addition, New Jersey newcomer 070Shake heads across the pond for the one day soiree, plus Dutch talents Vic Crezee, Kid de Blits and Mairo Nawaz will be providing vibes from early doors.
Expect high energy from the off on the Boiler Room stage, with new addition and 'voice of the streets' Kenny Allstar, UK funky heroes Crazy Cousinz, and soulful rap moments from Jesse James Solomon. Soulection affiliate Jarreau Vandal adds eclectic mixes, with headliner Lunice on hand to get the crowd hyped.
The fourth stage will be hosted by Amsterdam's very own Red Light Radio. Known for their genre spanning roster, this years stage sees legendary LA vocalist Egyptian Lover play alongside the smooth selections of Mr Wix, carnival energy from The Heatwave and many more…

With fast, affordable flights between the UK and most major European airports, there's no excuse not to join the Appelsap crew for the iconic festival's 16th edition in the city's picturesque Flevopark. An annual sell out, tickets are already on final release so don't sleep on it, grab a ticket with accomodation here. Growing from a free block party jam for friends and fam in 2000, Appelsap is unstoppable and 17 years on, it's the most important date in the Dutch hiphop calendar.
Appelsap Fresh Music Festival
Saturday 12th August
Flevopark, Amsterdam.
appelsap.net/tickets
?
Mainstage
Lil Wayne – Young M.A – Rotjoch United: Kempi, Fresku, Mocromaniac, Pietju Bell, Woenzelaar, Braz, SBMG, de Fellas, Louisvos, Jozo, Drivah – Bokoesam – Yung Felix – Lion Kojo – Luc – ANBU
Noisey Stage
Dave – J Hus – 070 Shake – Yung Nnelg – 67 – Amy Becker – Siobhan Bell – Vic Crezée – Mairo Nawaz – Thomson & Ismael – Carista – Kid de Blits – Noisey Soundsystem
Boiler Room Stage
Lunice – Jarreau Vandal – Crazy Cousinz – Kenny Allstar – ROM – Kiefer – Jesse James Solomon – EEVEE
Red Light Radio Stage
Egyptian Lover – Mr. Wix – The Heatwave – Torus – Kléo – Tien Son – ORDER Mothership – Radical Hi-Fi