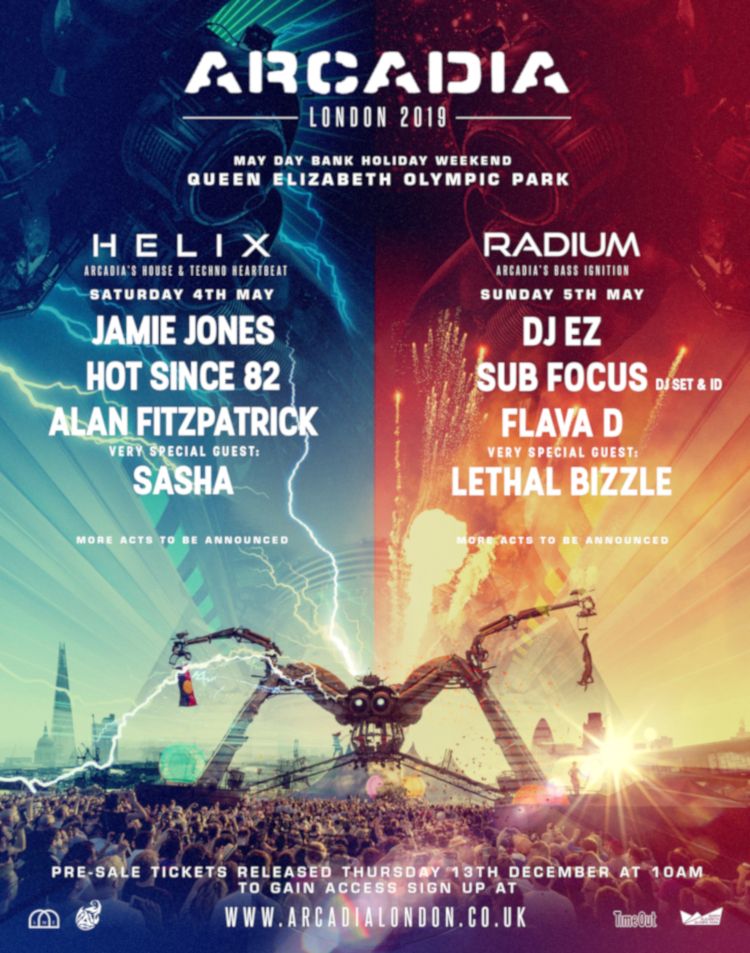 Arcadia London 2019
Lineup so far…
SATURDAY 4TH MAY: HELIX
Jamie Jones
Hot Since 82
Alan Fitzpatrick
Very special guest: Sasha
+ many more to be announced
SUNDAY 5TH MAY: RADIUM
DJ EZ
Sub Focus (DJ set) & ID
Flava D
Very special guest: Lethal Bizzle
+ many more to be announced
After a sun soaked weekend of magic in 2018, Arcadia are back in London to kick the summer off in epic style next May Day Bank Holiday.
Racking up 4 award nominations, Arcadia London is a uniquely immersive festival where monumental performance, spellbinding spectacle and high octane dancefloors bring tens of thousands from all walks of life together on a giant wave of celebration.
London will see the iconic Spider's only UK stop, the only UK performance of the evolving Metamorphosis show, a brand new incarnation of The Reactor – Arcadia's 360 degree immersive indoor experience, the 6 wheeled amphibious Bug rolling out the carnival spirit, new sculptures, new installations and a fresh wave of ground breaking performance alongside the world's greatest electronic music artists.
The weekend will also mirror the success of last year's two-day format where the Saturday featured a house and techno heartbeat while Sunday's bass explosion brought the fire.
Arcadia London will be the only event held at Queen Elizabeth Olympic Park in 2019 as East London is transformed into a mythological landscape for an accelerating future. As strange creatures converge on Stratford, giant flames erupt across the skyline, lightning bolts crackle through the city, animatronic sculptures glint against the skies and technology's cutting edge is unleashed through the Reactor, Arcadia harness energy in its most visceral forms to create an unforgettable experience.
The London festival is the heart of a web that takes Arcadia to far flung places around the world – and they will be collaborating with the cultures they meet on inspirational rituals, songs and spectaculars to create new experiences in the capital – from ancient rites of celebration to the newest ideas shaping our future. Last year's collaboration with an Aboriginal nation, the Whadjuk Noongar was a highlight of the event, and as the web grows, so will the extraordinary performances.
Fusing a global community ethos, immersive storytelling, thumping dancefloors and the unified spirit of thousands – this is Arcadia London.