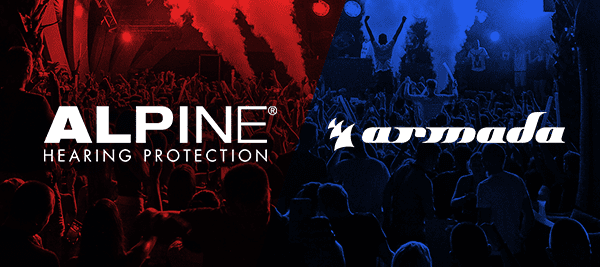 Armada Music And Alpine Hearing Protection Launch New Earplugs
In an attempt to both raise awareness and actively protect the hearing of music lovers around the world, Armada Music and Alpine Hearing Protection have joined forces. Their collaboration kicks off with a brand-new earplug. The Alpine PartyPlug Armada Edition is not only available for purchase online in the Armada Music Shop, but will also be sold at A State Of Trance 800 Utrecht, the biggest Trance event in the world.

The decision to join forces was a definite no-brainer. Recent numbers show that in the Netherlands alone, over 20,000 young adults damage their hearing every year. The main cause of this problem is that those very same people neglect to protect their hearing even though the volume at an average concert or festival could cause irreparable hearing damage within 15 minutes of exposure.

Alpine Hearing Protection: "We're glad that people have become more aware of the dangers and risks of loud music, but we still have a long way to go. People often think earplugs take away from the experience, even though this has been a thing of the past for a long time now. In fact, the Alpine PartyPlug Armada Edition comes with a special acoustic filter, which not only upholds the quality of the music, but also makes it so much easier to indulge in normal conversation without having to guess what the other person is saying. There are simply no cons to wearing hearing protection."

With their earplugs, Armada Music and Alpine Hearing Protection hope to decrease the amount of people suffering from hearing loss due to insufficient protection. Now it's up to the people themselves to take matters into their own hands.

For more information about Alpine or hearing protection in general, please visit www.alpine.eu.