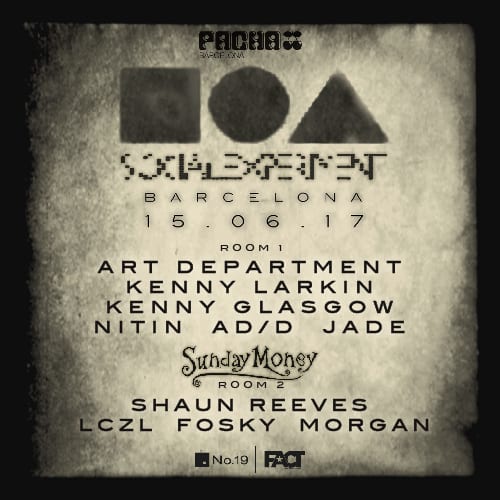 Art Department and Social Experiment arrive to Pacha Barcelona
On Thursday 15th June Social Experiment, Art Department´s event brand, will be landing in Barcelona during Off Week.
Art Department is the headliner of an outstanding line-up formed by Kenny Larkin, Kenny Glasgow, Nitin, AD/D, Jade, Shaun Reeves, LCZL, Foski and Morgan.
Pachá Barcelona is working on a new event for Off Week. This time the date will take place on Thursday 15th June and Social Experiment, the successful and international event brand created by Art Department will be the protagonist.
Jonny White, the Canadian artist hidden behind Art Department, is one of the most prolific and dynamic minds in the electronic industry. He has an impeccable career as a DJ but also he has developed an excellent job as a producer. White is the creator of No.19, which he has used as a platform to create the brand Social Experiment and the sub-label Sunday Money. In all of these projects Art Department unleashes its most casual talent in which the transgression of limits is the only and genuine sign of identity The Canadian will be surrounded in Room 1 by No.19´s most distinguished faces like the American Kenny Larkin, who doesn´t need any presentation as he's one of the most relevant and influential figures in the scene, Kenny Glasgow, who shared the Art Department project with White for 5 years until he came back to his consolidated career, Nitin, who has managed to mix Indian an electronic music in a perfect harmony, and the also Canadians AD/D and Jade, who has developed all of her skills under White´s wing.
Meanwhile in Room 2 Sunday Money´s representatives will be the ones who take control of the dance floor. We are of course referring to Shaun Reeves, pioneer figure in the Cosmic House and Techno scene who created Visionquest with Ryan Crosson, Lee Curtis and Seth Troxler, and LCZL, Fosky and Morgan.
On Thursday 15th Pachá will give us a night of electronic music without any limits, restrictions or boundaries.