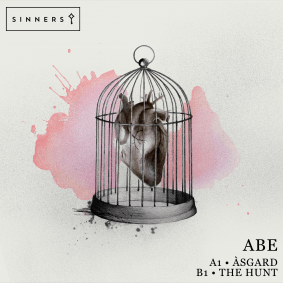 Abe - Asgard
Abe return to their SINNERS imprint this March with another emotive two tracker entitled 'Asgard'.
Launched in October of 2017, SINNERS has established itself with authority, gaining support from the likes of M.A.N.D.Y., Guy Mantzur, Marcus Worgull and Agoria to name just a few across its first two releases. Guided by Abe, an anonymous duo based out of Europe, the label has become the home of a series of dark yet dynamic self released EPs, and this third release sees the duo continue in a similar vein to deliver two further striking and vibrant productions.
'Asgard' opens proceedings to reveal a slow blooming, emotive production that's guaranteed to draw in listeners. It is these qualities that Abe love to explore and distort, resulting in vivid, rich melodies, whilst sculpting a production effortlessly balanced in both suspense and emotion.
On the flip, 'The Hunt' establishes an equally familiar aesthetic as we see the duo return to the peak time, unleashing a series of driving basslines, howling synths and scintillating arpeggio's over murky percussion shots and hypnotic yet subtle background nuances throughout.
Abe 'Asgard' is out on SINNERS on 23rd March 2018.
https://www.facebook.com/abenorthernmusic/
https://www.facebook.com/sinners.ltd/
https://soundcloud.com/sinnersltd
Tracklist
1. Abe – Asgard
2. Abe – The Hunt