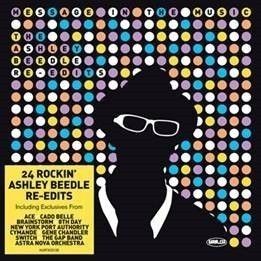 Ashley Beedle – Message In The Music
Harmless records present 'Message In The Music' – an astonishingly great journey through soul, disco, boogie, funk, rock, prog and post punk, all reshaped by the influential dance music veteran Ashley Beedle.

Although the tracks have been on the chopping board to ensure maximum dancefloor stealth, they're way more than perfunctory, with the end result being a cross between re-edits, re-works and remixes, with additional production and parts played by Ashley and long-term musical partner Darren Morris.

CD1 romps across a broad spectrum of sounds, from the greasy funk rock of Family's cult classic 'Burlesque', blue eyed soul gem 'You're All That I Need' by Ace, Ruth Copeland's raunchy take on 'Gimmie Shelter', Bill Withers' sublime 'Railroad Man' to the curveball inclusion of The Fall's classic 'Touch Sensitive' . Also seriously present and correct are a wealth of rhythmic and percussive rare dance classics from Panama, New York Port Authority, Los Africanos, the 8th Day and Cymande.

CD2 is an equally inspiring selection or mainly soul, funk and rare-groove, ranging from Gene Chandlers' none truer anthem 'All About The Paper', Donna McGhee's life affirming disco opus 'I'm a Love Bug' and the pure joy of The Three Pieces' 'I Need You Girl', The Gap Band's 'Keep Holding On' and Kylie Auldist's 'In A Week, In A Day'. Every track is a highlight, but others of note include 80s boogie nugget 'Keeping Secrets' by Switch, and 'Watcha Gonna Do', by Heaven And Hell Orchestra, which is already a 2013 dance floor favourite following its special 12" release for Record Store Day.

'Message In The Music: The Ashley Beedle Re-Edits' must hold the world record for being the longest-ever time that a compilation has been in development. The project first began way back in November 2009 and has mutated every year since, until Mr Beedle and Harmless' Ian Dewhirst finally got the album they wanted to release.

Within the previous four years Harmless had to deal with missing master tapes, companies changing ownership, deals finishing and other wrangles, so the track-listing evolved organically, which was exactly right for the project.

Many of these tracks are appearing on CD for the first time and, as usual, Ashley's superbly wide-ranging taste in music has delivered a project which is jam-packed with innovation and experimentation.

Each and every tune has the usual sure-fire signatures of a top-notch Ashley Beedle re-edit and is set follow the recent successes of Ashley's 12" releases, 'Yardism 1& 2' – both of which garbnered DJ magazine's Record of the Week accolade.

Also included within the package, is a bonus DVD featuring a full Ashley Beedle interview detailing the making of 'Message In The Music' with a track-by-track analysis that grills Ashley about his studio work and how he became one of the worlds' foremost re-edit experts. Also included in the package is 20 page booklet with sleeve notes by Ben Murphy plus exclusive photos.

After 4 years in the making, Harmless are delighted to see this album finally reach the public and we're sure you'll agree – the wait has been worthwhile.
Ashley Beedle – a biography
You can't talk about UK dance culture without mentioning Ashley Beedle. He's done it all. And he's still doing it. A true polymath, it's harder to find an element of good music that this Bajan-British legend hasn't been involved in. A DJ, producer, remixer, label owner and re-edit king, he's been fighting for the good groove cause since his musical career began in earnest in the '80s. For Ashley, notions of genre mean little. He's got a deep knowledge of every style under the sun. Be it house, hip-hop, reggae, punk, symphonic soul or raunchy '70s rock, what matters more is if it sounds right and has the passion, intensity, funk and flavour to light up an Ashley Beedle DJ set.

Foremost an aficionado of funk, disco and house, his first forays into production got him noticed, with house/garage classics like 'Give Me Back Your Love' co-produced in 1988 as part of Boyz In Shock, or the later neo boogie explosion 'New Jersey Deep' with Black Science Orchestra making huge dents in dancefloors. But he's also cut blissful drum & bass with Ballistic Brothers ('I'll Fly Away'), techno with former protégé and Hollywood film soundtracker David Holmes as Disco Evangelists ('De Niro'), even proto-dubstep as Jamayka Boys ('Rastaman'). In love with all (quality) music, his productions have been a characteristic blend of his many influences, a patchwork reminiscent of his famously diverse DJ sets, which he continues to perform all across the globe.

Best known as part of pioneering house team X-Press 2, Ashley hit big with house classics 'Muzik X-Press' and 'London X-Press' and later, with former Talking Heads singer, the incomparable David Byrne, 'Lazy', which smashed the charts in the US (No.1 in the dance chart) and UK (No.2 national chart).

Ashley's crafted Afrobeat electronics as Black Jazz Chronicles, soundsystem dancehall and hip-hop as Warbox, cosmic krautrock flavours as Ralph und Beedle alongside Mark Ralph of Filthy Dukes, country-soul as Mavis with folk like Lambchop's Kurt Wagner and gospel-soul hero Candi Staton, and an incredible hook-up with reggae crooner Horace Andy for a whole album in the 'Inspiration Information' series for Strut.

Mr. Beedle's had his hand in more than a share of compilations too. The last one, 'Grass Roots' — held in very high esteem by fellow DJs and fans — saw him delve into those dusty vinyl shelves to uncover a list of personal favourites, with everything from jazzman Freddie Hubbard and soul don Willie Hutch to obscure hip-hop unit Son of Bazerk and Balearic disco fave Will Powers.

Ashley's latest excursion — for the first time using his own name — is a series of rough, raw and bashy house EPs, 'Yardism', on Toddla T's Girls Music imprint. Inspired by the new school of sub-injected house music in the UK, he's taken shards of funky, garage and soundsystem bass vibes and refracted them through his unique production prism, attracting a fresh audience.

The latest installment of 'Yardism' will see Ashley collaborate with versatile 'Neighbourhood' producer Zed Bias, while his galactic disco project Darkstarr, with The Loft/Classic Album Sundays' DJ Cosmo and diverse house heads Yam Who? goes from strength-to-strength, fresh off the back of an epic remix of NYC punk funk maestros The Rapture.

Remixing and re-editing is another key part of Ashley's formidable skill set. As well as a formative early 1990s collabo with DJ Harvey re-editing The Police's disco deviation 'Voices Inside My Head', and a super-hit in his 2003 funked-up reform of Elton John's No.1 Philadelphia soul tribute 'Are You Ready For Love?' he's put out club-ready versions of tons of disco, house, Balearic and funk cuts under monikers like Heavy Disco Revue, Afrikanz On Marz and Yambee (with Yam Who?), on a succession of his own labels. The most recent of which, Modern Artifacts, has been very active since its birth in 2010 with version excursions on everyone from Curtis Mayfield to Kate Bush, and most notably the zero-gravity cosmic lament of his re-lick of the sadly departed Gil Scott-Heron's 'New York Is Killing Me (Ashley Beedle's Space Blues Rework)'.

There's been more brilliant remixes of musical giants, too, including a wicked version of Bob Marley & the Wailers' evergreen 'Get Up Stand Up' — which saw the original vocal ride a dubbed out skank using portions of Damian Marley's modern dancehall classic 'Welcome to Jamrock', and got the official seal of approval from the Marley family, as well as a Jamaican release via Tuff Gong — and a rare, official remix of the Rolling Stones ('Rain Fall Down'), that garnered praise across the board. And who can forget those classic remixes of The Streets' 'Weak Become Heroes' Manic Street Preachers' 'Roses in the Hospital' (his first big official remix), or Bent's 'Always'?

These remixes and particularly, special re-edits play a key part in Ashley's DJ sets. In the grand tradition of DJs that go the extra mile, each set from him is largely composed of fresh re-rubs and club-ready tweaks, tunes that are often cut exclusively for that particular appearance, dubplate fashion. For him, it's not just playing tracks; his personality and passion is poured into each appearance, making it more like a set of his own productions than a standard DJ set.

Producing for other artists is yet-another string to his bow. Having lent his considerable studio abilities to great vocal talents like Shara Nelson and Gabrielle, he's currently working with the Latin guitar genius behind classic covers like 'Golden Lady' and 'California Dreaming', Jose Feliciano.

And his DJing – the thing that started his career on his inimitable path – continues on unabated, across the UK, Europe and beyond, while a much-anticipated new album under his own name is in the works. It seems there's little Ashley hasn't already done, then. But he'sbound to keep surprising us.