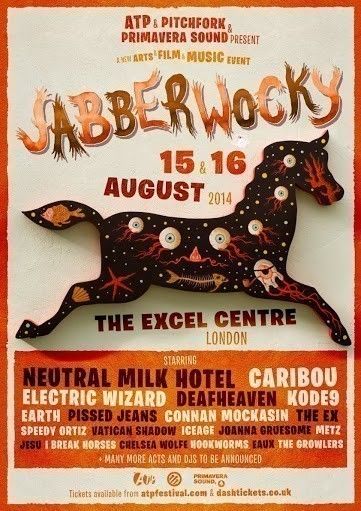 ATP, Pitchfork and Primavera present Jabberwocky
Jabberwocky, the poem in the wonderful 1871 Lewis Carroll book 'Through the Looking Glass' is firstly a brilliant word and also the origin of the word portmanteau. In it, Humpty Dumpty eloquently explains that in a portmanteau "there are two meanings packed up into one word." Jabberwocky thus gives us words such as "chortled" a combination of 'chuckle' and 'snort' and "frabjous" a blend of fair, fabulous, and joyous.
Jabberwocky, the festival, is thus an elegant way to package up this collaboration of these 3 pioneering companies. ATP, Primavera and Pitchfork come together with a lineup of a calibre all too lacking in the UK summer calendar. Brilldy. (That's a cross between bloody and brilliant by the way).
Set in the ExCeL Centre, this will be a welcome addition to the London summer calendar and a great chance to see those acts you rarely see programmed at other UK festivals. Soon to be announced is the cinema programme and other extra-curricular activities. At a very keen £35 a day or just £60 for 2 days, it's a win/win for lovers of music that pushes against the flow.

And what of the partners in Jabberwocky? They are all major players in their own right.

Founded in 1999, All Tomorrow's Parties was created as an alternative to the corporate festival circuit, an oasis of great acts and discerning music fans coming together to make something truly special. Through their world renowned, artist-curated Camber Sands weekenders, ATP records and worldwide 'I'll Be Your Mirror' events ATP has built a reputation as one of the most incredible live promoters in the world.

For over a decade, Barcelona based music promoter Primavera have introduced unmissable events to the world. Their events have provided audiences with eclectic, innovative lineups, showcasing a range of newly established and internationally renowned acts. Primavera most notably host their annual festival, Primavera Sound, held usually early June and across the year they have also established a range of other big events like Primavera Club and Portugal's Optimus Primavera Sound.

Pitchfork has, since its beginnings 1995, achieved the status of being one of the world's most respected online music platforms. Constantly on the cutting edge of new music and having branched out and become a mixed media destination for all things alternative and underground, Pitchfork truly are tastemakers. Their unrivaled video content, features and annual festivals in both Chicago and Paris are absolute musts for enlightened musos across the world.

With Jabberwocky being programmed by these 3 cultural mainstays it's little surprise that the talent on offer across this 2-day show is of the highest quality.

Neutral Milk Hotel
The cult status of enigmatic headliners Neutral Milk Hotel is a testament to the power and longevity of their music. Their seminal 1998 masterpiece 'In The Aeroplane Over The Sea' is a record held in legendary regard by so many and with good reason. The emotionally visceral, fuzzy, freakish folk found within defies categorization and famously reclusive frontman and centerpiece Jeff Mangum's lyrics explore history, faith and spirituality with an eloquence that remains unparalleled. Following a long, self-imposed period of inactivity, this year sees the lineup of Mangum, Scott Spillane, Julian Koster and Jeremy Barnes finally reunited.

Caribou
Electronic pop auteur Dan Snaith is best known for his pioneering work under the stage name Caribou. Mixing a blend of transcendent sonic synths and primal break beat patterns, Caribou creates a truly mesmerising live set. In 2010 Caribou released Swim, one of his best-received albums to date. The album encompasses Snaith's eclectic, psychedelic electronica with influences from deep house and minimal techno.

Deafheaven
Deafheaven's critically acclaimed second album and modern classic 'Sunbather' took them into album of the year list territory, placing them as far more than just another metal band. Their intense, shoegaze and post rock tinged black metal is cinematic in its scope, huge soundscapes punctuated by the primal screams of vocalist George Clark cascade and crescendo into a beautiful, dense and ultimately cathartic listen.

Electric Wizard
Dorset doom metal legends Electric Wizard are responsible for the genre defining 'Dopethrone' and whilst continuing to push their stoner and sludge influenced wall of noise they stand head and shoulders above their contenders.

Iceage
Despite their youth, Danish punk band Iceage's thrilling live shows and two critically acclaimed albums have positioned them as one of the most compelling alternative bands in existence. Last years 'You're Nothing' was an incredible slice of brittle, chaotic, classic punk.

Pissed Jeans
Four albums into their career, Pennsylvania's Pissed Jeans have continued to refine their incredibly loud, dirty punk rock. The almost confrontational honesty of Matt Korvette's lyrics cut through a wall of feedback and fuzz, dragging you in and then spitting you out again.

Earth
Led by Seattle native Dylan Carson, Earth's drone based post rock has, since their inception in 1989, taken them from distorted walls of repetition through to a sound incorporating country, jazz and folk.

Joanna Gruesome
The music of edgy and intense Welsh five-piece Joanna Gruesome is a masterclass in controlled aggression. Their debut album 'Weird Sister' is rammed full of hook-ridden punk attitude and snarling, fuzzy indie pop.

Chelsea Wolfe
Californian songwriter Chelsea Wolfe's recent album 'Pain is Beauty' brought a new sense of grandeur to her beautiful, layered black metal influenced goth-folk. Her startlingly beautiful voice creates an austere and atmospheric listen. Emotionally direct and powerful Wolfe's music is continues to progress and Pain Is Beauty reflects this.

The Growlers
Derived from Dana Point, California, The Growlers are garage rock/psychedelic band and even came up with their own genre for their sound 'Beach Goth'. The Growlers have toured with the likes of The Black Keys, Devendra Banhart and Julian Casablancas and their live shows are known to always pull in a very theatrical audience, usually involving wigs, heavy make up and assorted props. Not to be missed.

Vatican Shadow
The controversial Dominick Fernow is known for often pushing harsh noise to dangerous and defiant extremes, however with his latest solo project, under the alias of Vatican Shadow he takes more of an 'eerie electronic' route. Renowned for never sticking to the norm, Fernow is never obvious but the overall sound is intriguing and beautiful.

The Ex
The underground, Netherlands-based band The Ex formed in 1979, just as original punk exploded onto the scene. They took punk and made it their own, incorporating free jazz and styles of folk music from all over the world. This is one adventurous and innovative band that never fail to put on one hell of a show.

Jesu
The post-metal, shoegazing, ambient, electronica, drone metal band Jesu formed in 2003 by Justin Broadrick and has always ensured that the music can never be pigeon-holed into just one genre. Jesu's fifth full-length Everyday I Get Closer To The Light From Which I Came, continues to follow what Broadrick set out to do from day one. Make sure to catch his wide-angle vision of a melodic yet abstracted amalgam of industrialized metal and time-lapse shoegaze live at Jabberwocky.

I Break Horses
Maria Linden and Fredrik Balck make up the Indie, Swedish I Break Horses. Formed in 2008 the duo have toured with M83 and received high praise from their second album Chiaroscuro which was released this month.

Speedy Ortiz
Massachusetts noise-pop quartet Speedy Ortiz' 2013 sophomore effort 'Major Arcana' built on Sadie Dupuis' sublime lo-fi solo debut and transformed the band into a louder, gnarlier and far more noisy prospect without compromising any of the fiercely personal and compelling subject matter. This is indie-rock firmly in the Dinosaur Jr and Pavement camp with a personality all of its own, Speedy Ortiz manage to wear their love of the 90s on their sleeves whilst separating themselves from their heroes.

Hookworms
Leeds-based Hookworms most recently released their swirling psychedelic album Pearl Mystic in March 2013, which received a well deserved 10/10 from Drowned in Sound. They have been compared to the likes of TOY and have toured with the likes of Wooden Ships and Peaking Lights. Don't miss MJ, MB, SS, JN and JW at Jabberwocky for a live performance that'll be long remembered.

Connan Mockasin
In an age of over familiarity, New Zealander Conan Mockasin's brand of lush, fuzzy, psychadelic pop takes the listener to truly unknown sonic spaces and places him as a welcome true eccentric in the modern music world. Last years full length 'Caramel' was a sensual and off-kilter journey through a vast array of offbeat soundscapes and a true highlight of 2013.
Metz
Formed in 2010, this noise rock/hardcore punk band from Canada have taken Britain by storm, creating a return for everything that's good about loud, ecstatic live music and gaining critical acclaim for their debut album METZ, receiving an 8.5 on Pitchfork in their Best New Music section in 2012. This will one of the loudest, most textured performances of the whole festival.

Eaux
Despite their name, the 3-piece are from London, and armed with an elegant darkness, this trio are sure to bring a dramatic theatrical quality to their Jabberwocky performance.

Kode9
Glasgow-born, London-based electronic DJ Steve Goodman draws on dub reggae for his alias Kode9. Other influences for include Dancehall, Indian classic, old-skool jungle and 2-step to create an unmissable experience live.

Tickets on sale at 9am tomorrow (Friday 14th Feb):
http://www.atpfestival.com/events/jabberwocky2014/tickets.php