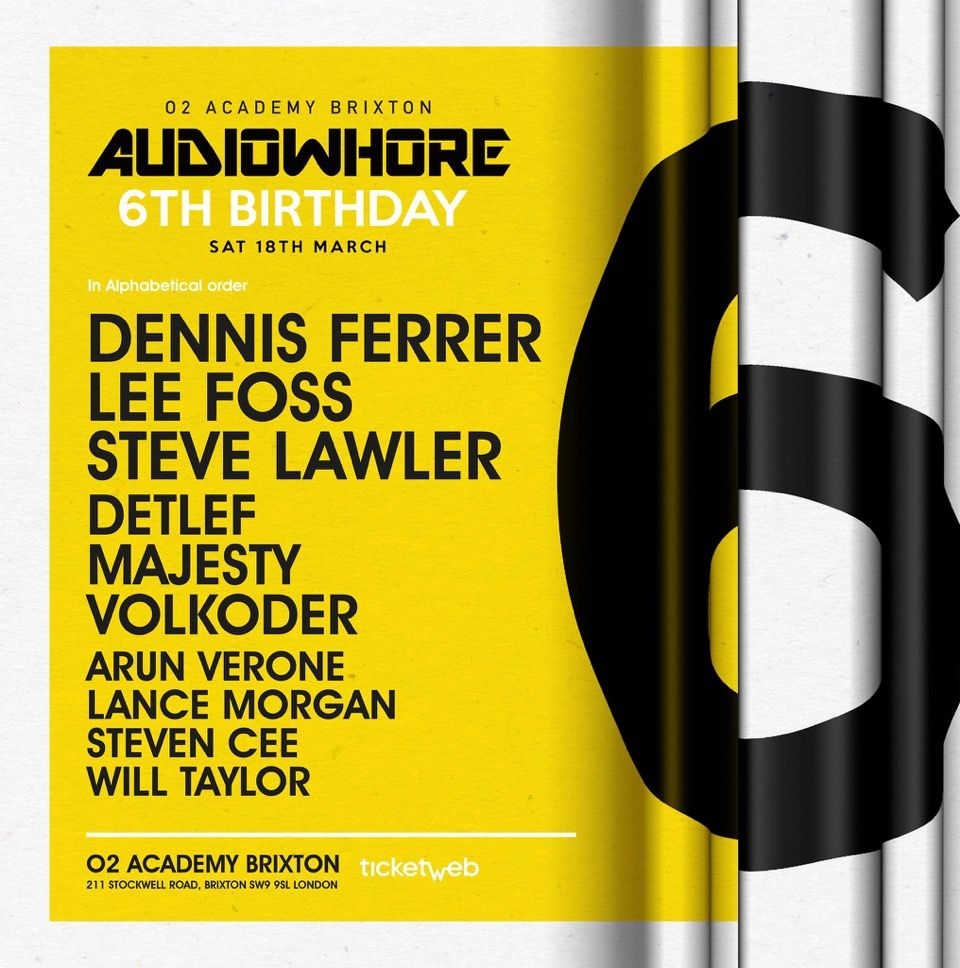 AUDIOWHORE 6th BIRTHDAY
Leading underground house party crew Audiowhore is delighted to announce the mouthwatering details for their 6th birthday party on Saturday 18th March.
Taking place at the legendary Brixton Academy in London, the party boasts exactly the sort of fresh line-up that has made it such a favourite with real house lovers everywhere over the last six years: VIVa boss Steve Lawler, US pioneer Dennis Ferrer and Hot Creations champ Lee Foss all play with Detlef, Majesty, Volkoder and more.
The focus at Audiowhore parties- whether in Leeds, London or Ibiza- is always on the music, on a pristine sound system and on absorbing atmospheres complete with light boxes, giant LED walls and flame jets that suck you in and keep you locked 'til dawn. As such, the night- and associated label of the same name- has long been the cherished preserve of people who really know their house. It is known for having thrown much talked about and sold-out warehouse parties for more than 2000 people at places like Suffolk Street Warehouse, with never less than huge and totally on point headliners, and a dedicated and friendly following at each one.
This birthday will be no different, with great production and mesmeric lights and sound, as well as a sure to be sensational set from Objektivity boss and accomplished house producer and DJ Dennis Ferrer the first to bring the beats. His long time contribution to the scene cannot be under estimated, and it is the same case with Steve Lawler. The globetrotting UK DJ has been at the sharp end for decades, and his label VIVa is well known for putting out the freshest house and tech from big names both old and new. One of those names, Detlef, also plays alongside him. Then there is Lee Foss, the contemporary hero who has been behind the biggest house movement of recent years with Hot Creations. His creamy, emotive sound always fills the dance floor.
Add in accomplished DJs and Audiowhore favourites like Majesty, Volkoder, Will Taylor, Steven Lee, Lance Morgan, Arun Verone, Chloe Lopez, Emma Knight, Jack Dee, Limitless and The Mistaa and you have a 360 degree musical offering that will keep the moods and grooves flowing all night long.
FB Official: https://www.facebook.com/Audiowhore-265225376857493/
FB Event: https://www.facebook.com/events/1596280544012684/