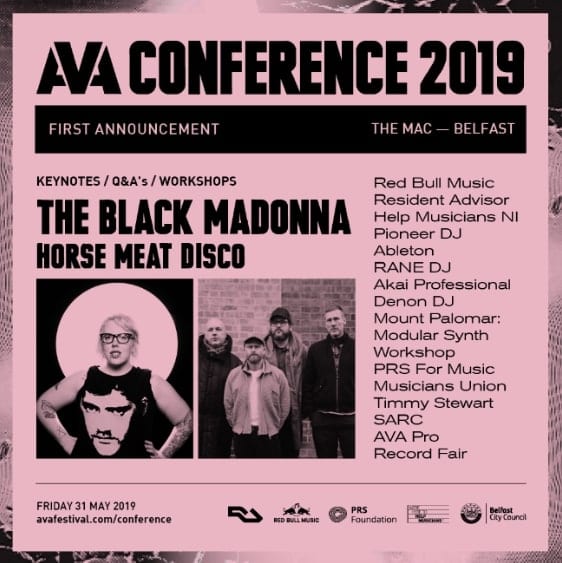 AVA announce first wave of names for day-time conference
Today, AVA announce the first wave of names to their free conference programme on 31st May – 1st June 2019. Heading back to its home of Belfast and celebrating 5 years strong in the city, AVA invites The Black Madonna, Horse Meat Disco, Resident Advisor, Help Musicians NI, PRS for Music.
Elsewhere, the Belfast mainstay also announce day splits to the main festival and have released day tickets for those wanting to head to Boucher Road to catch DJs such as Hessle Audio bossman Ben UFO, Len Faki, Motor City Drum Ensemble, Avalon Emerson and more.
On Friday, expect to hear the sounds of new school techno figure Avalon Emerson, Blawan, disco and feel good house crew Horse Meat Disco and one of techno's most notable legend – Len Faki. Mall Grab, Motor City Drum Ensemble, Palms Trax, Cromby, DJ Boring, Eclair Fifi, and HAAi will also line up for Friday's programme.
AVA have programmed yet another forward thinking line-up for Saturday as ultimate party DJ Honey Djion will play alongside Dublin born, New York based Krystal Klear, the ever popular London born, Berlin based Call Super and Aperon Crew member Courtesy will head to Belfast. Techno mainstay Daniel Avery, Randomer, Rebekah and Special Request will also join the programme. The Irish contingent as always is out in full force with Brame + Hamo, Or:la and Saoirse all flying the flag. Full day splits are below
Following the same vein of the London Printworks conference earlier this month, AVA Belfast will offer an insight into the music and arts industry from artists, agents, labels and innovators over two days of programming. AVA invites Resident Advisor back for another year, this time they will sit down with Kentucky's finest export, The Black Madonna as she will partake in an edition of their live Exchange series. She will examine the development of her music and will give an insight to her career as a touring DJ.
Elsewhere, Red Bull Music head back to AVA, this time with essential promoters come DJs Horse Meat Disco. Running club nights since 2003 starting home in Vauxhall, Horse Meat Disco have since been the backbone to LGBTQ+ clubbing in London and beyond. Now DJing all over the globe, they'll sit down with Red Bull Music to discuss the shift in night time culture across the capital and the changes they have faced since they started at the infamous pub The Eagle.
Also heading to AVA is Help Musicians Northern Ireland, as lead charitable partner, who will be hosting panels focussed around musicians welfare, funding and health. They will be on hand to offer to one on one support on their long term holistic services. PRS for Music will also advising on royalties and tips for licensing usage at the conference.
That's not all though, the conference will also play host to a Tech Masterclasses with a number of global key brands from the industry including Pioneer, Ableton, Akai whilst Irish native producer Neil Kerr (Mount Palomar) will host a synth workshop.
AVA will also welcome back the Tech Drop In that successfully featured at AVA London, where pro audio brands are on hand for questions including Rane, Akai, Denon and Pioneer. The Musicians Union will also host a stand, alongside Queens University of Belfast's Sonic Arts Research Centre.
With deposit scheme tickets starting at just £25, final release tickets £85 and flights from £32 viaskyscanner.net, from London the whole price of AVA can work out cheaper than a UK day festival for those that act fast – there's a whole host of hotels, apartments and Airbnb options to suit any group size and budgets.
The historical city of Belfast has a thriving creative community and is fast being labelled a mecca for electronic music heads the world over – AVA is the ideal chance to experience this for yourself.
ABOUT AVA
Founded 5 years ago in Belfast, AVA aims to celebrate, amplify and develop the strong of electronic music and digital visual arts through music events and conferences. AVA has been committed to supporting the most exciting emerging & established electronic arts since its inception and has since become an incubator for local talent across the North and the South of the country, fostering local scenes and providing emerging DJ's a platform.