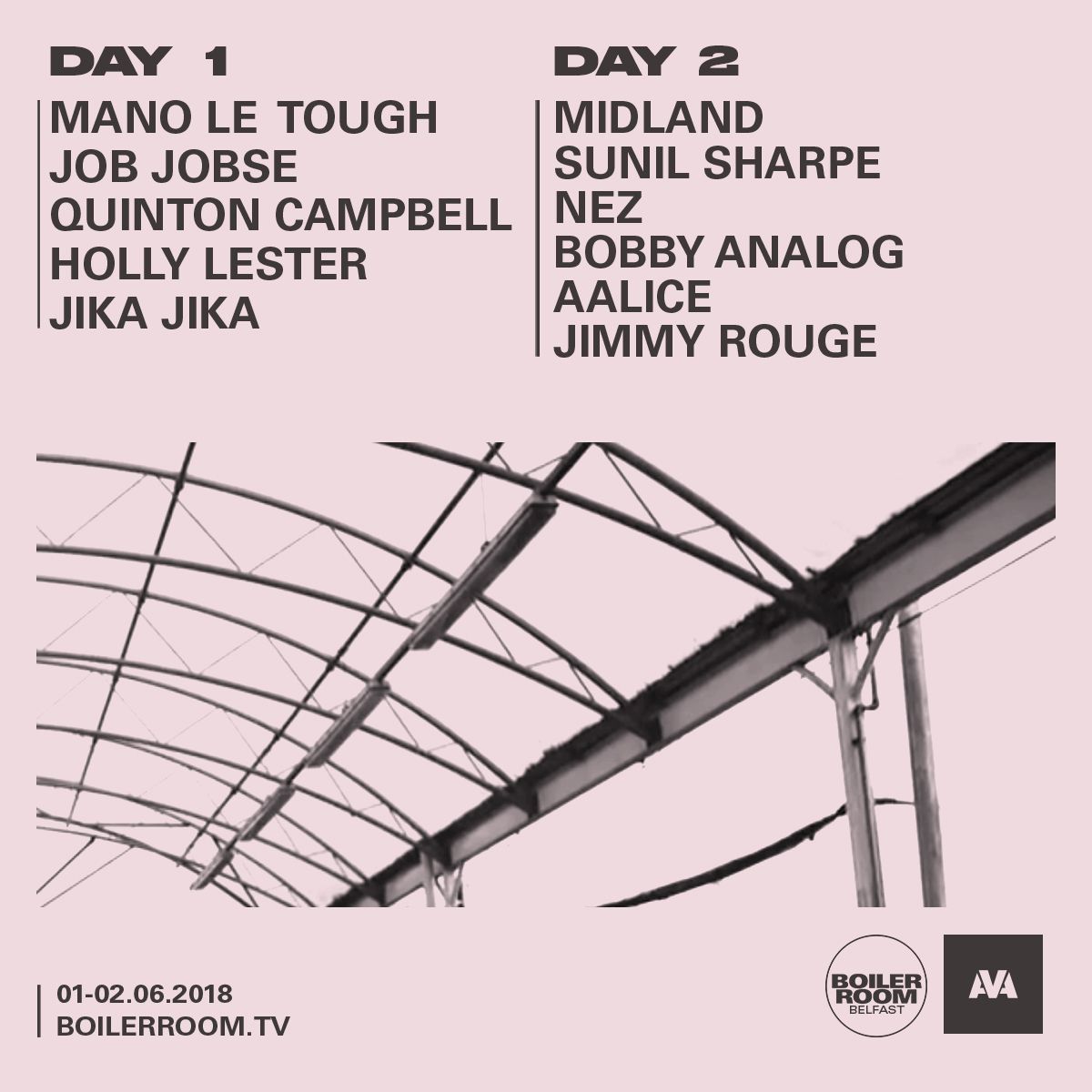 AVA FESTIVAL ANNOUNCE DAY SPLITS
With only two months to go, AVA reveal the full day splits across Friday and Saturday, plus the highly anticipated two-day Boiler Room schedule. With day splits now announced, plan your full weekend and catch unmissable sets. First up AVA's Conference element kicks off its 4th outing, with doors open at the MAC from 10am for talks from legendary artists including Larry Heard, Bicep, KiNK and panels from Native Sessions, Smirnoff Sound Collective and more. Headlining the Friday, Bicep make their highly anticipated, return home while house pioneer, Larry Heard (AKA Mr. Fingers) makes his Northern Ireland debut, and KiNK who's acclaimed live performance is modern legend. Alongside this you can also expect Helena Hauff, Denis Sulta, Rødhåd and many more. On Saturday, festival goers will be spoilt for choice. Detroit's Floorplan brings the festival to close with dusty disco through to acid jams following Berghain/Panorama bar resident DVS1 and Rush Hour affiliate Hunee, spinning rare gems, as well as house don Mall Grab. Jayda G, will also be gracing the decks, bringing her soulful selections of infectious disco and house to AVA Festival. Don't miss AVA woman of the moment, Or:la alongside a collection of local heroes and crews.
Boiler Room sets from AVA Festival are undeniably legendary – showcasing the unique spirit and vibe of Belfast's inimitable crowd. This year, Boiler Room delivers it's first ever two day broadcast, with a hefty set of selectors in tow. Ireland's own Mano Le Tough headlines, with Dutch selector Job Jobse in town – expect his unique selections of house, techno and disco. A stellar set of native artists follow – catch DJ on the rise, Holly Lester. Derry party purveyours, Jika Jika and AVA's past emerging producer competition winner Quinton Campbell rounding off the bill. The Saturday sees London based producer and DJ, Midland, a master at reading and moving with the crowd, joined by coveted techno maestro Sunil Sharpe, followed by Computer Controlled Records headhoncho, Belfast's Nez. Body Fusion label boss, Bobby Analog, will also be joining the line up, as well as Manchester based Meat Free crew member, Aalice. Dublin's own Jimmy Rouge completes the bill.
AVA FESTIVAL LINE UP
FRIDAY
Bicep – Larry Heard – KiNK – RØDHÅD – Helena Hauff, Mano Le Tough, Denis Sulta, Job Jobse, Overmono (live), Saoirse – Hammer – Stephanie Sykes, Myler, Timmy Stewart – Jordan – ELLL – Jika Jika – Misfit – Cailin – Lor – Carlton Doom – Brién – Holly Lester – Cave DJz B2B Dallas – Girl – Quinton Campbell
SATURDAY
Floorplan – DVS1 – Hunee – Midland – Mall Grab – Or:la – Jayda G – Sunil Sharpe – Moxie – Sassy J – Mella Dee – Brame + Hamo – Twitch – DJ Deece – Swoose and Cromby, Inside moves, High Hoops – Sally C – Long Island Sound – Mount Palomar (live) – Nez – Jimmy Rouge – Aalice – Bobby Analog – Mark Blair – Bekuz X Influx
BOILER ROOM
FRIDAY
Mano Le Tough – Job Jobse – Holly Lester – Jika Jika – Quinton Campbell
SATURDAY
Sunil Sharpe – Midland – Nez – Bobby Analog – Aalice – Jimmy Rouge