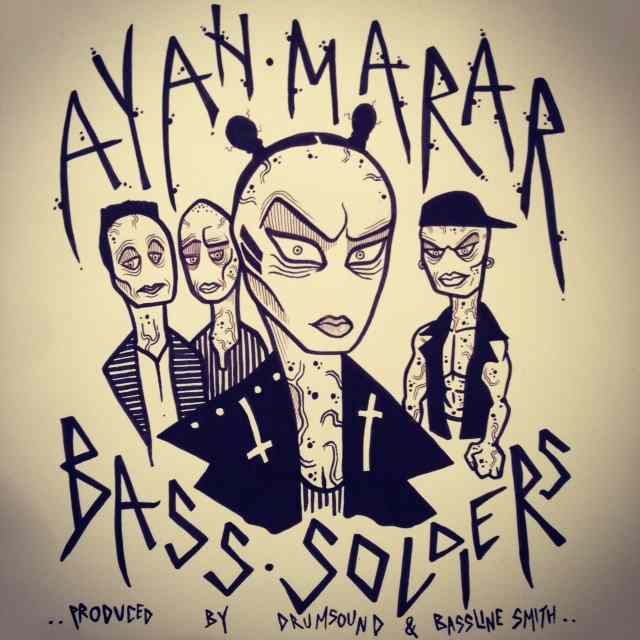 AYAH MARAR – THE BASS SOLDIERS
From the team that brought you AYAH MARAR'S 'THE REAL', comes the next instalment in the HUSSLE GIRL (HG) catalogue.
THE BASS SOLDIERS EP is a real labour of love. Following the success of my track with Calvin Harris last summer (Thinking About You), we decided that the next logical step would be to remind the fans who we are and why we do this.
The last few months have been spent putting together a team that best represents HG and this thing we love so much, bass music. The EP is made up of four tracks with established and successful bass artists including DRUMSOUND & BASSLINE SMITH and RACK'N'RUIN, as well as up and coming talent, to remind everyone that we are in this together. We are so lucky that bass music is flying high at the moment. Myself and HG hope to be fully involved in promoting and proliferating not only the music and artists that we love but also fashion, design, art and film. This is to support UK talent in various creative movements representing the UK.
Also included in this release is the official video of BASS SOLDIERS, directed by HG's very own MAGNOLIA GUINNESS. This is not only her directorial debut, but also a perfect example of the coming together of not only key players in bass music, but also fashion and film, all expertly handled by the HG crew. See who you can spot in the video! (Video link will be sent separately on release day, sharing and support would be much appreciated)
I truly hope you love this as much as we do, we plan to send this out to DJs, radio hosts, bloggers and anyone interested in helping us spread the word because, at the end of the day, we are all in this together … Please feel free to contact any of us to arrange appearances or interviews around release time.
Finally, please let us know when you play any of these records, host them on your blogs, or post the video on your sites by tagging us #HussleGirl and #BassSoldiers on social media and we in turn will help support your shows and sites, let's keep this thing going!