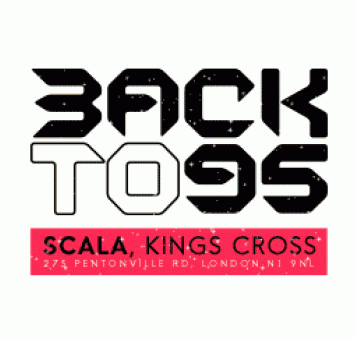 Backto95 Boxing Day Special – Scala
This Christmas we present our 14th annual Backto95 Boxing Day Special at London's iconic music venue "Scala" in Kings Cross. Once again we have spared no expense in bringing you yet another superb line-up of your favourite DJs and Hosts to take you back to the original Oldskool vibe and party atmosphere.
Headlining our main room will be the notorious Norris The Boss Windross, alongside Scott Garcia and many more, spinning the best Oldskool House and Garage with a PA from Richard Anthony Davis and Rose Windross! The Glass Bar is headlined by Top Buzz playing the best in Old Skool Jungle classics.
The Balcony Bar is headlined by Firin squad who will be playing the best in 80's, 90's Soul, RnB and Bashment. The Foyer Bar will be hosted by the one and only Housefm.net with the best in Soulful and Deep House music! As per usual, this event will be sold out in advance so please get your tickets early to avoid disappointment!
We will once again be using our Boxing Day event to raise money. This year, our chosen charity will be Stand Up to Cancer, in collaboration with Cancer Research UK and Channel 4.
MAIN ROOM : OLDSKOOL HOUSE AND GARAGE CLASSICS
Norris Da Boss Windross
Scott Garcia
Mike 'Ruff Cut' Lloyd
Ramsey N Fen
Listener
Jason H
Jerry Rankin
PA:
Rose Windross
Preforming: Funky Groove
Richie Davis
Preforming: Style & Reach For The Sky
Host:
Creed
Dt
Rankin
Psg
Buzzhard
Balcony Bar: 80's, 90's Soul, RnB & Bashment
Firin' Squad
Sammy Confunktion
Selly J & DJ Alton
Charlotte Devaney
CLK
Host:
Champs
Selly J
Glass Bar: Oldskool Jungle Classics
Topbuzz
Jumpin Jack Frost
Funky Flirt
Redlock
Ezm
Host:
Mad P
Shockin
Nu Flo
Foyer Bar : Soulful Deep House Hosted by housefm.net
Lex Luca
Funky Smith
Lady T
Brockney C
Roney J
+ live Percussionist
General Tickets:
Early bird £12.50 (+BF) available until midnight Sunday 6th Nov 2016
2nd Release £15.00 (+BF) available until midnight Sunday 20th Nov 2016
3rd Release £18.00 (+BF) available until midnight Sunday 4th Dec 2016
4th Release £20.00 (+BF) available until midnight Sunday 18th Dec 2016
5th Release £25.00 (+BF)
Members: £15 / £20 (+BF) available only from www.backto95.com
VIP & FAST TRACK:
1ST release: £40.00 (+BF) AVAILABLE UNTIL MIDNIGHT SUNDAY 4TH DEC 2016
2nd release: £50.00 (+BF)
Ticket outlets.
North:
Kricoss (Haringey) 0208 800 7528
East:
Zee & Co (Bow) 0208 983 3383
South:
Emporium (Peckham) 0207 3589920
Dnr Records (Croydon) 0208 4069905
Credit card booking:
www.backto95.com
www.skiddle.com
www.residentadvisor.net
DRESS CODE:
Smart casual No Hoods – Hats or Sportswear IE tracksuits allowed in the venue.
FOOTWEAR:
No Air Bubble Trainers! – Box Fresh Smart Trainers Are Kool
STRICT DOOR POLICY:
Full searches on arrival! – No entry after 2:30am You must be Queuing by 1:30am!
Age:
Ladies 21 Gents 21
Or 18 if in the company of adult
ATTRACTIONS:
Narni Shakers
Live Percussionist
Filmed for future broadcast
MORE INFORMATION
SVA 07050 617 301
[email protected]
www.backto95.com