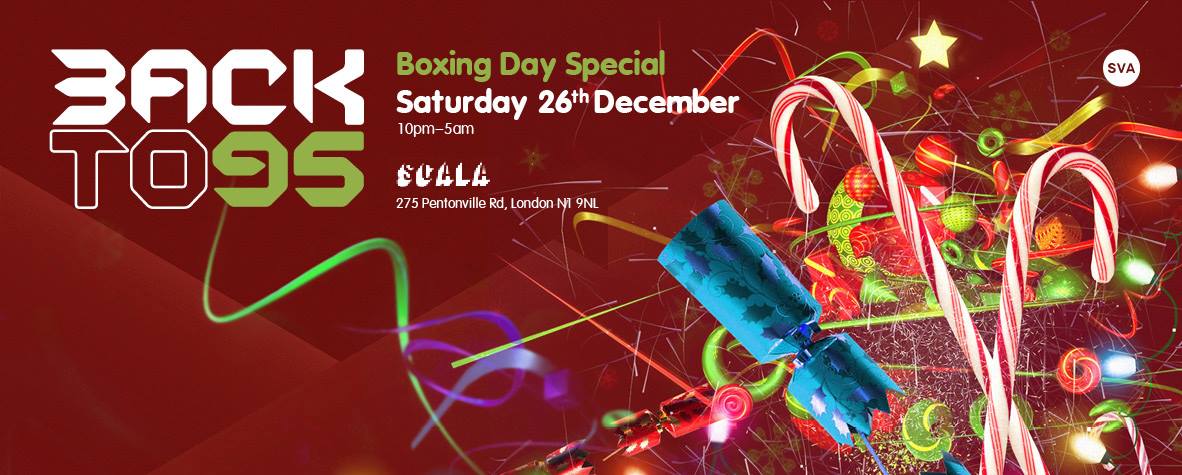 Backto95 Boxing Day Special
This Christmas we present our annual Backto95 Boxing Day special at London's iconic music venue "Scala" in Kings Cross. Once again we have spared no expense in bringing you yet another superb line-up of your favourite DJs and Hosts to take you back to the original Oldskool vibe and party atmosphere.
Headlining our main room, will be Tuff Jam's Matt Jam Lamont, alongside Luck & Neat, Masterstepz and many more spinning the best Oldskool House and Garage! The Glass Bar is headlined by Uncle Dugs playing the best in Old Skool Jungle classic.
The Balcony bar is headlined by Firin squad who will be playing the best in 80's/90's Soul, Rnb and Bashment.
Last but not least, the Foyer Bar will be hosted all night by housefm.net with the best in Soulful and Deep House!
Lineup
MAIN ROOM : OLDSKOOL HOUSE AND GARAGE CLASSICS
* Matt Jam Lamont
* Luck & Neat
* Masterstepz
* Hermit and Daniel ward
* Madness
* Jason H & Listener
Host:
* Creed
* DT
* Buzzhard
* Blakey
* CKP
Balcony Bar: 80,s 90's RnB & Bashment
* Firin Squad
* Confunktion
* Lloyd life
* Caspa.c
* Selly J & Alton
Glass Bar: Oldskool Jungle Classics
* Uncle dugs
* Funky flirt
* Redlock
* Ezm
Host:
* Shockin
* Nu Flo
Foyer Bar : Soulful Deep House Hosted by housefm.net
* Azi Robinson
* Shiloh
* Brockney C
* Sarah Finesse
* Mickey Star Lewis
+ live Percussionist
Ticket prices and dates changes:
£10 early bird tickets available until Sunday 22 Nov 2015
£15 2nd release tickets available until Sunday 6th Dec 2015
£18 3rd release tickets available until Sunday 20th Dec 2015
£25 4th release tickets