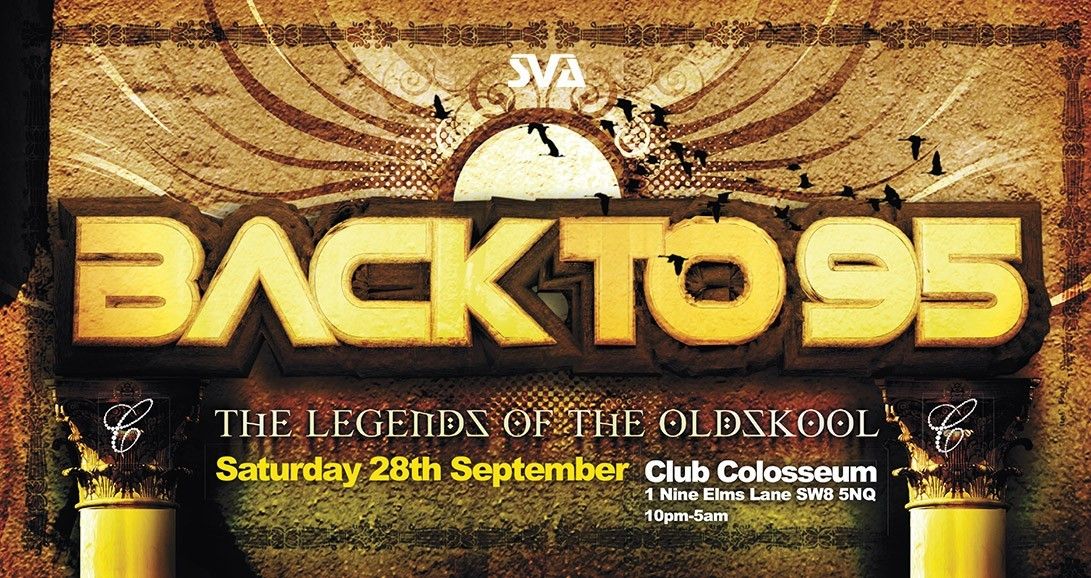 Backto95 returns with Legends of the Oldskool!
Backto95 returns to one of London's iconic landmark venues "Club Colosseum" as we present Legends of the Oldsool, to end the Summer season in fine style.
Once again we have spared no expense in bringing to you yet another superb line-up of your favourite PAs, DJs and Hosts to once again take you back to the original Oldskool vibe and party atmosphere.
We welcome back DJ EZ, the undisputed No.1 for UK House and Garage, with a 2hr set – alongside other legends in the main room spinning the best Oldskool flavours to keep you reminiscing on the dance floor. Performing live on the night will be Lifford, singing his garage anthem "Please Don't Turn Him On".
If that wasn't enough – we also have another 3 rooms of music, playing the best in Soulful and Deep House hosted by the one and only Housefm.net. Oldskool Drum and Bass is headlined by Nikki Blackmarket we have RnB /Bashment and 80's classics headlined by Firin Squad.
As per usual, this event will be sold out in advance so please get your tickets early to avoid disappointment.
LINEUP!
MAIN ARENA: old skool house and garage classics
DJ EZ 2HOUR SET
NORRIS THE BOSS WINDROSS
JASON KAYE
HERMIT
DJ RED
JERRY RANKIN
HOSTS: DT – BUZZARD – CREED – BLACKY – CKP
LIVE PA
LIFFORD
PERFORMING "PLEASE DON'T TURN ME ON".
ARENA 2: 80'S SOUL & RnB
FIRIN SQUAD
SAMMY CONFUNKTION
LLOYD LIFE
TWO FOUR SEVEN
SELLY J
HOSTS: CLARKIE – CHAMPAGNE
ARENA 3: OLD SKOOL JUNGLE CLASSICS
TOP BUZZ
NIKKI BLACKMARKET
DJ SL
FUNKY FLIRT
RIPS
HOSTS: DET – MAD P – SHOCKING MC
ARENA 4 : SOULFUL DEEP HOUSE – HOSTED BY HOUSEFM.NET
AZI ROBINSON
FUNKY SMITH
BROCKNEY C
LADY T
LEE MAJOR
+ LIVE PERCUSSIONIST
TICKET INFORMATION:
£15.00 + BF EARLY BIRD AVAILABLE UNTIL MIDNIGHT 8TH
£17.50 + BF 2ND RELEASE AVAILABLE UNTIL MIDNIGHT 22ND
£20.50 + BF 3RD RELEASE
£45.00 VIP & FAST TRACK (MIN BOOKING OF 4 PEOPLE)
£15.00 + BF DIRECT FROM HTTP://WWW.BACKTO95.COM
ONLINE TICKETS:
HTTP://WWW.BACKTO95.COM
HTTP://WWW.TICKETWEB.CO.UK
HTTP://WWW.VIEWTICKETS.CO.UK
HTTP://WWW.THETICKETSELLERS.CO.UK
TICKET OUTLETS:
NORTH:
KRICOSS (HARINGEY) 0208 800 7728
MADE MAN (HADLEY WOOD) 0208 440 8376
EAST:
ZEE & CO (BOW) 0208 983 3383
ZEE & CO (ILFORD) 0208 514 1617
SOUTH:
EMPORIUM (PECKHAM) 0207 3589920
DNR RECORDS (CROYDON) 0208 4069905
WEST:
BLACKMARKET 0207 4370478