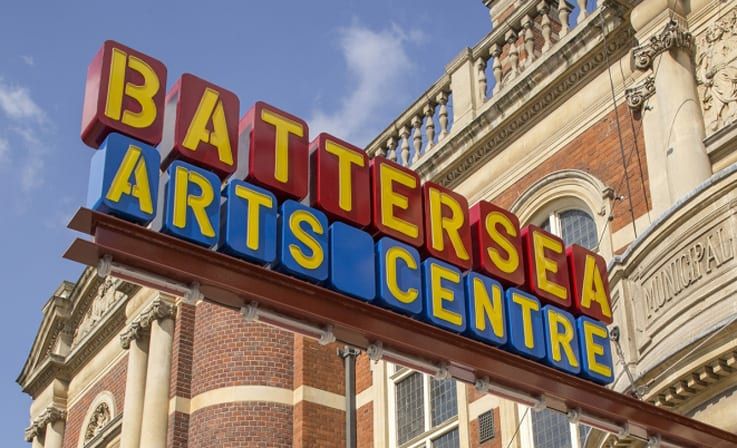 Battersea Arts Centre & GOAT Music Present Borderless
Each year Battersea Arts Centre welcomes over 160,000 people to its building, inspiring the local community, including 3000 young people, to get creative. They also work with over 400 theatre artists to put on over 650 performances.
In August & September 2016, Battersea Arts Centre and former Roundhouse music programmers GOAT Music will collaborate to present Borderless, a series of music gigs celebrating the UK's best homegrown talent, alongside unique artists from around the globe.
Borderless heralds the return of live music to Battersea Arts Centre, the venue for one of Time Out London's Greatest 100 Gigs of all time; The Jam in 1977. Other famous names that have played at the Grade II* listed old town hall include Fleetwood Mac (1968), poets Ivor Cutler (1976) and Alan Ginsberg (1979) and more recently The xx (2012) and Mercury Prize nominated Kate Tempest (2014), who developed her award-winning epic of every day Gods, Brand New Ancients with Battersea Arts Centre.
Borderless will take place in the intimate setting of the beautiful Council Chamber. Reached via grand marble stairs and adorned with wood panelled walls and a vaulted plasterwork ceiling, the venue has all the makings to create a tantalising music spectacle. Gig-goers will be able to enjoy food and drink in the Scratch Bar on the ground floor or visit from a private bar upstairs linked directly to the Council Chamber meaning there's no need to miss a beat. Expect to hear everything from Afrobeat to Reggae to Malian blues, in addition to some of the freshest artists currently sound-tracking the underground scene and playing the festival circuit across the year.
'Since working at Battersea Arts Centre, I have often heard stories of legendary gigs in the Grand Hall three and four decades ago, including The Jam and Fleetwood Mac. It's great to be working with Goat Music to bring live music back to Battersea Arts Centre, in the historic Council Chamber at the front of the building, starting out with a series of fresh musical talents for summer 2016.' David Jubb, Artistic Director, Battersea Arts Centre
'We are delighted to be working with Battersea Arts Centre to programme an exciting new series of music shows in the beautiful and intimate setting of the Council Chamber. It is a great privilege to be able to bring some of the finest emerging talent from around the globe to this wonderful room and look forward to re-establishing the venue as a major live music venue for London.' Dave Gaydon, Founder, GOAT Music
Tickets for Battersea Arts Centre members are on sale now, with general tickets on sale from 10am on the 18th May. Limited early bird tickets for under 25's are also available:
www.bac.org.uk/borderless