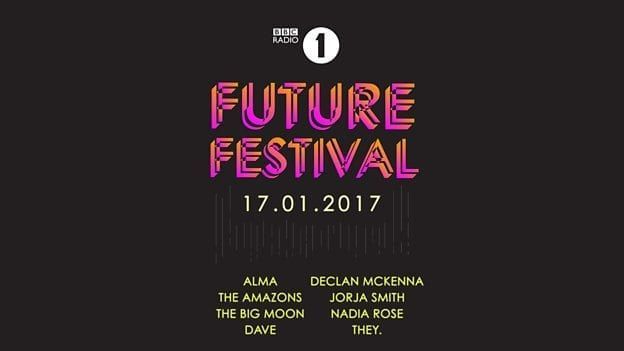 BBC Radio 1's Future Festival to showcase hottest new talent of 2017
BBC Radio 1's Future Festival returns on Tuesday 17 January to reveal the hottest new acts of 2017.

In an intimate gig co-hosted by Radio 1's MistaJam and Huw Stephens and broadcast live on BBC Radio 1 from the legendary BBC Maida Vale Studios, the three-hour show (7-10pm) will look ahead at the year to come, with performances from rising stars:
Alma
The Amazons
The Big Moon
Dave
Declan McKenna
Jorja Smith
Nadia Rose
THEY.

MistaJam says: "This year's Future Festival line-up features some of the most exciting and diverse new artists from around the world that have been championed across BBC Radio 1's specialist output for some time, all destined to break out in 2017. From the neon pop/R&B of Alma to the straight up rock of The Amazons via the South London street tales of Dave, be prepared to be introduced to your new favourite act."

Huw Stephens says: "Once again we've got some brilliant artists ready to play live for the Radio 1 listeners at the start of this year. With bands like The Big Moon and The Amazons who've been gigging hard for the last year to super talented emcees like Dave and Nadia Rose, it's going to be a great night. And all in the legendary BBC Maida Vale studios, unrivalled around the world!"
The Amazons say: "Thanks to BBC and Radio 1 for inviting us to play Future Festival. We've had the pleasure of doing a session for Huw at Maida Vale before but this time it's in front of an audience!!! We can't wait!"

Radio 1's Future Festival is the go-to show for hearing the most exciting new artists tipped for big things in the coming year. Previous artists to perform at the event include The 1975, Sam Smith, George Ezra, A$AP Rocky, James Bay, Disclosure, Royal Blood and Stormzy – who all went on to have successful years, with support from Radio 1 throughout.
Ticket registration opens at 19:30 on Tuesday 10th January and closes at 20:00 on Thursday 12th January.
For further details visit – http://www.bbc.co.uk/programmes/articles/54e974c1-8a96-4baa-92e6-18ced99d9271
http://www.bbc.co.uk/radio1