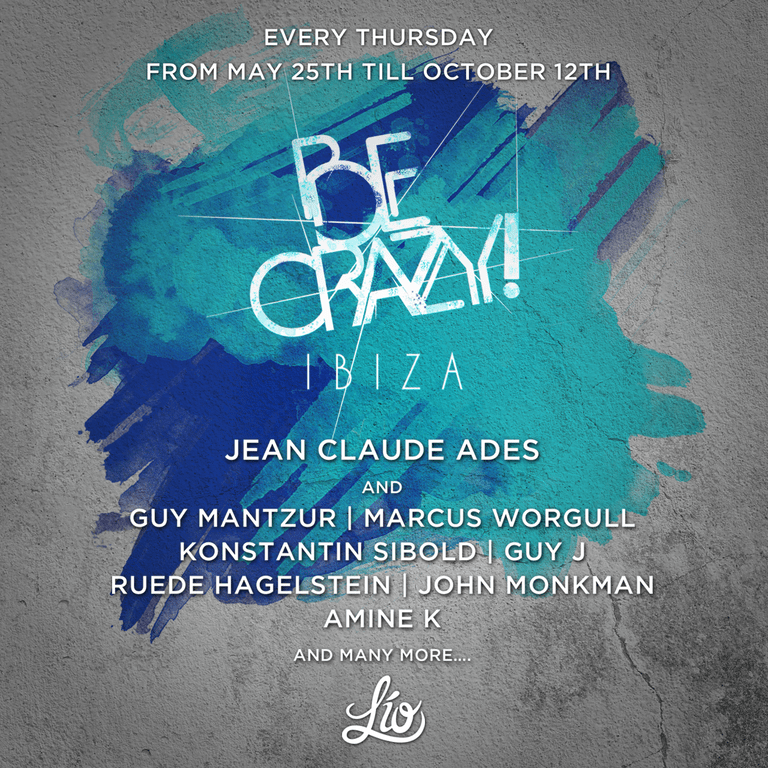 Be Crazy! Ibiza's most glamorous club night begins its 6th Season at Lio
Showcasing the world's leading DJ talent, delivering a Deep House and Tech House sound until dawn every Thursday
Each week Jean Claude Ades will DJ alongside one special guest including:
Guy Mantzur, Marcus Worgull, Konstantin Sibold,
Guy J, Ruede Hagelstein, Amine K
Be Crazy! Every THURSDAY at Lio Ibiza
from May 25 – Oct 12 2017. 01.00 h to 06.00 h
Be Crazy! has established itself as the island's most prominent Thursday club destination. On an island where you can party on any given night of the week, Be Crazy! stands out with a unique offering that has become respected by clubbers and fashionistas alike. Situated in the stunning Marina at Ibiza town, it is a place where the most contemporary Tech House sound track meets the glamour of a truly modern disco.
Jean Claude Ades is now becoming one of the best known emerging artists in Ibiza. He is an International DJ, producer and record label owner whose regular output of club tracks through his own imprint keeps him firmly in every clubbers mind. He has been working hard on his vision of the ultimate party for many years now setting the standard with a reputation of providing sublime soundtracks in extraordinary locations.
Lio itself is a beautiful venue located in the picturesque Marina at the foot of Ibiza's Old Town, built into the sea so you can enjoy stunning views directly from the dance floor.
This year Jean invites one select DJ to join him in the DJ booth every week. He has a tried and tested 'Me + 1' policy when performing, inviting an electronic artist to join him side by side at every Be Crazy! show.
Once arrived prepare for an all-out party full of beautifully costumed dancers and special performances paying respect to and taking inspiration from the hedonistic party vibe of the past.
Be Crazy every Thursday at Lio Ibiza with Jean Claude Ades and guests.
2017 FIRST ANNOUCEMENT Season Line Up.
25.05. Opening Be Crazy! Jean Claude Ades / Guy Mantzur
01.06. Jean Claude Ades / Marcus Worgull
08.06. Jean Claude Ades / Veronika Fleyta
15.06. Jean Claude Ades / Jerome Isma-Ae
22.06. Jean Claude Ades / Konstantin Sibold
29.06. Jean Claude Ades / Guy J
06.07. Jean Claude Ades / Amine K
www.jeanclaudeades.com
www.facebook.com/becrazyibiza
www.becrazy-ibiza.com
www.facebook.com/jca-music