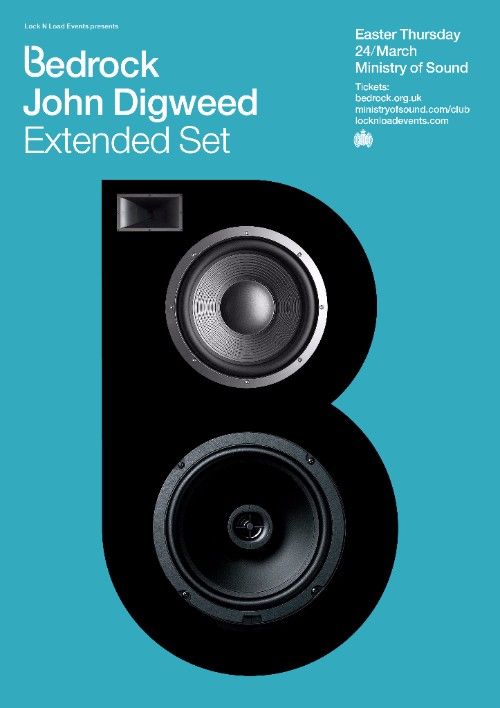 Bedrock with John Digweed 24th March
Easter 2016 will see Bedrock take over the legendary Ministry of Sound for the very first time as it prepares for its next party in the capital on Thursday 24th March.
Bedrock has become globally renowned for its unrivalled Easter parties, with each of them entering electronic music folklore thanks to fans from all over the world taking over the pilgrimage. For 2016's edition, the Bedrock boss will steer the landmark event in a brand new direction, as he prepares to bring his party to one of the most famous and respected clubs on the planet, London's very own Ministry of Sound.

John Digweed's talent behind the decks is unquestionable and continues to stand out in a very saturated industry. A man with over twenty years' experience under his belt, his defining role in helping to shape and elevate the scene into what it is today as well as evolving Bedrock into one of the most successful electronic record labels of all time. Since its creation in late 1999 alongside Nick Muir, Digweed's label Bedrock has churned out huge hits and led the way in underground music through its diverse offering from house to progressive techno and everything in between. Flash forward 16 years and the label has just celebrated its 166th release, from newcomers BOg and Jonas Sandbach, demonstrating its continued commitment to stay current.

"Bedrock has always been a brand you can benchmark quality against" – John Digweed.

As a club that has evolved from regular hotspot to global iconic brand, Ministry of Sound has a reputation that is firmly embedded in the history of dance music and has welcomed some of the of the biggest names in the world to Elephant and Castle. 2016 will see the club reach another milestone as it turns twenty-five, an accolade not many venues can boast. Whilst looking back over the years of success its had during its run, Ministry of Sound is also looking forward to building the brand and continuing to be at the forefront of global clubbing.

We hope to see you all there as John Digweed takes centre stage in one of the most famous DJ booth's in the world and deliver a truly special performance.
LOCK N LOAD EVENTS PRESENTS
BEDROCK
With
JOHN DIGWEED
(EXTENDED SET)

EASTER THURSDAY MARCH 24th 2016
MINISTRY OF SOUND
103 Gaunt St, London SE1 6DP
Tickets on sale now http://bit.ly/1RLV1OC