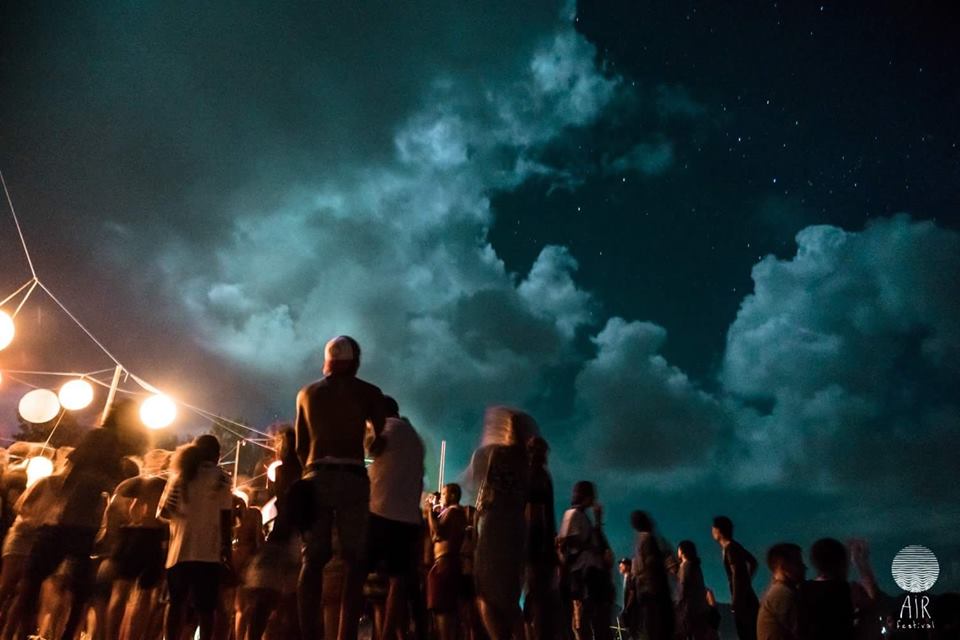 Beloved Air Festival returns to island home in Indonesia next March
On behalf of Team Air, we welcome you to Air Festival 2017!
Like something out of a dream about deserted islands, lush jungles, open sea and white sands, comes Air Festival – a gathering like no other, set on a tiny island off the coast of Indonesia.
For our third edition we are weaving in elements of performance, ceremony, activism and the sacred into our spaces. 2017 brings with it the acute need to wake up and tune in, to stand strongly in our best selves, to activate our fondest wishes and desires for the future. This year we come not just to have a good time, but to have the best time, understanding that when we raise our individual vibrations, we generate more joy for the collective. This year we create our righteous dancefloor under the stars with even more intention and love.

STAGES
Air Festival 2017 will leave as little trace as possible on its surroundings. We are committed to leaving the beautiful island of Gili Air better than we found it – offering support to the local community in the way of waste removal and reduction and renovations at the local school.
This year we are challenging ourselves to go completely plastic free!
The Air Stage

The main stage and the festival's point of origin, the Air Stage plays host to a multitude of international electronic music acts. Last year's highlights were Sonja Moonear, Sammy Dee, Dewalta and Azimute just to name a few. The Air Stage lights up at sunset and pauses for the morning call to prayer at 4:30am, when we create a 30 minute performance, before rolling back into the music and continuing through sunrise.
The Awan Stage
New this year, the Air Festival's other stage, the Awan, holds the possibility for connection with different forms of music from around the world— from Bali, to Morocco to the Americas, the Awan gathers musicians and artists from all directions. Here we find elements of ritual and the sacred, as well as organic sounds and grounded tones. Come here to relax, to dance at a different pace, and freshen up your vibe.

The Kapal Stage
Highly curated lineups from our friends and family around Asia and Australia, there will be cruises to from Serangan Harbor to Gilli Air and back, as well as sunset cruises on Saturday and Sunday.

THE ISLAND
Gili meaning island in the language of this place. Air meaning not air, but water. It's one of three tiny islands floating in the archipelago between Lombok and Bali. There are no cars here. Horse-drawn carriages and bicycles only. No combustion whatsoever. You can walk around the entire island in an afternoon, if that. Gili Air is unique amongst the Gilis, as it is the only island with its own fresh water. This is of particular significance to us as we seek to support the interconnectivity of all things, as all waters of the world are connected.
THE TEAM
Founded by a group of friends in 2015, The Air Festival started out as an even more intimate event. The original team, comprised of a group of friends— all of whom have virtually lifelong roots in underground dance music, started the party with a "let's just do this and see what happens" kind of attitude.
"We came from all different parts of the world— Portugal, Bali, Germany, the United States, but we all shared this certain kind of party aesthetic/ethic. There wasn't much of that going on anywhere nearby when we first started. So we just kind of did it ourselves. It's been super-challenging, but incredibly rewarding."