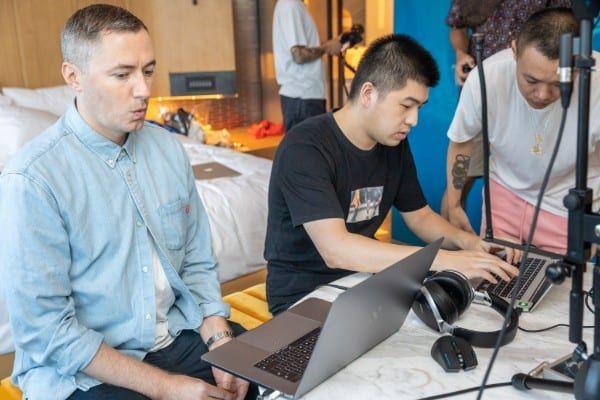 Benji B releases two track EP with rapper Bohan Phoenix and Lofimaker
In July of this year, radio star, DJ and curator Benji B coupled with Bohan Phoenix and Lofimaker in Shanghai, China for a unique project which brought to life a two track EP and short documentary following the artists on their journey of creation. In under a week, the three artists who were meeting for the first time collaborated and worked tirelessly under the experienced guidance of Benji B who acted as Executive Producer from their hotel room studio, within the innovative W Hotel. The tracks saw their debut at the Future Rising Shanghai open air party in August – played live to a local crowd of in-the-know music heads – and now for the first ever time, an exciting global premiere. See images HERE. Further information HERE.
The documentary follows the three artists during their Shanghai collaboration from first meeting, to the completion of their 2 track EP. This is a story about the power of music and synergy, following talent brought together from all over the world, to create against an inspirational backdrop. The documentary features exclusive footage of Benji B, Bohan and Lofimaker in the recording and hotel studio, in-depth interview pieces showing the people behind their public personas, as well as live performances on stage at W Shanghai – The Bund.
The EP and documentary show how music can bridge continents and language barriers and how chemistry combined with time constraints can create some of its best work. Benji B, Bohan Phoenix and Lofimaker present: the Future Rising series.
Bohan Phoenix says "The week working with Benji and Lofimaker was super insightful, I've never done any collaborating work like it before. Obviously I've been in studios with producers to create but never with people I'm meeting for the first time. I think in a time where we can make all the music just by ourselves in our bedrooms, it's more and more necessary to throw artists in the mix together, as more perspectives always lend way to more interesting products. The location was spot on as well, a city like Shanghai, which is a cultural mashup of people from all over the world. It was a perfect setting for the three of us, bringing three different cultural backgrounds together and sharing ideas"
Kazim Rashid, Mixcloud Creative Director says "It was so exciting to bring Benji B, Bohan Phoenix & Lofimaker together in Shanghai at W Hotel for our first Future Rising APAC edition. This is the second year of Future Rising and the first in Asia and we are very proud to bring such an esteemed collective of creative and musicians together for our first APAC Shanghai event. It was amazing to see Bohan and Lofimaker and Benji B work together and it's even more amazing to hear what they made and see performed at W hotel Shanghai for the first time ever so really happy to share it with the world"
Bruce Ryde, Vice President, Luxury Brands Asia Pacific, Marriott International/W Hotels says "Music has been integral to the W brand since its inception. W Hotels is committed to supporting future creative leaders and immersive experiences for our guests through our shared passions, including music. Our partnership with Mixcloud is just one way we bring the brand's new/next vision to life for travelers around the world."
Benji B is one of the UK's most respected DJs. Renowned worldwide for his radio shows and club sets alike, he's amassed a fan base who have come to see him as a leader in the future music movement. Having worked tirelessly since first falling in love with London's club culture at an early age, Benji B stands today as one of the UK's most respected broadcasters, DJ's and music curators. As renowned for his deep, crate plundering club sets (which take in everything from soulful electronic music to hip hop, house and beyond) as much as his eclectic, taste-making selections.
Bohan Phoenix was born in Hubei, China and moved to the United States when he was eleven. Not until Bohan took ownership of his heritage and put that into his work was he able to find the kind of success he could get excited about. Now, the blend of cultures that makes up Bohan's personality and music is putting him at the forefront of the Chinese hip-hop scene.
Lofimaker is a Chinese musician based in Shijiazhuang. His distinctive sound is characterised by the innovative way in which he combines traditional Chinese folk music with thoroughly modern production. Through his beats you can feel the evolution of one country, from its roots to its adaptation to modern life; a film soundtrack of an artist trying to connect the past and the future. Lofimaker spoke to us below.
ABOUT FUTURE RISING
Holding events in Hong Kong, Shanghai, Bangkok and Goa in 2018, FUTURE RISING is a creative platform, realised by Mixcloud and W Hotels, that engages and champions the creative leaders of tomorrow across the artistic sphere – from musicians and DJs to visual artists and videographers, creative entrepreneurs and innovators. Look out for more Future Rising events and music across Europe and Asia in 2019.