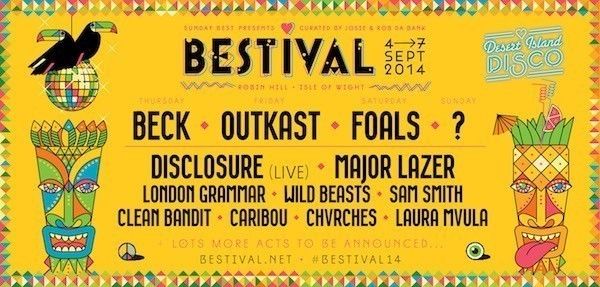 Bestival announce 2 more headliners & 9 more new acts
Like a million amazing Saturday nights packed into four mind blowing days, we're manically excited about all the fantastic things we've got lined up for Bestival 2014! Now that the cat is out of the bag about our totally tropical Desert Island Disco theme, and the incredible OutKast headlining Friday night, we thought it was about time to divulge just a few more of our secrets to keep the excitement building! So prepare yourselves as we reveal two brilliant headliners and an array of awesome acts who will be marooned with us, partying like there's no tomorrow this September 4th-7th.
Castaway in Chief Rob da Bank says: "Ahoy there shipmates and welcome to my desert island! Yes folks, HMS Bestival has set sail once more and we have finally landed back on the Isle of Wight for our 11th instalment – a Desert Island Disco. Foals were voted best live act of last year and I'm delighted they'll be headlining the Saturday night – there's no better indie guitar band in the UK right now. Also donning a grass skirt and mirrorball is a total icon of popular music and one of my favourite songwriters, Beck, plus disco darlings Disclosure, Diplo and his Major Lazer crew and all the hottest new bands from London Grammar to Clean Bandit. So get out of your deckchair and get ready to disco, my friends!"
Let's face it, what we've announced already is enough to tempt any sane party loving Bestivalite to join us, but we're only just getting started! We've long been believers in supporting brilliant bands from the start, so it's an utter joy to welcome back Bestival veterans and indie rock behemoth Foals, this time as Saturday night headliners! Since making their Bestival debut in 2007, Foals have gone on to become one of the biggest British bands of the past 10 years, with their third and most recent album, Holy Fire, charting across the globe and earning them acres of critical praise, including NME readers' best album and best track of 2013. Recently tagged as 'arguably Britain's greatest live band at the moment' by the Sunday Times, Foals are no strangers to wowing the crowds, and we can't wait to see them owning our Main Stage.
Commenting on their headline set Foals said: "We couldn't be more excited & honoured to be part of Bestival this year; it's the perfect end to our touring for Holy Fire. We promise a night of madness, mayhem & good times!"
Topping the bill on Thursday 4th September is the exalted Beck! With Morning Phase, his first album in six years, just about to drop and another one rumoured to be already done and dusted, Beck has a wealth of fantastic new material, as well as a treasure trove of favourites spanning R&B, hip-hop and folk at his command but no matter what he unleashes on us, you know it's going to be a perfect start to our Desert Island Disco. A mercurial talent with an uncanny knack of pulling at the heartstrings, Beck is guaranteed to get Bestival 2014 off to a flyer!
Dynamic sibling duo, Disclosure, have gone about this conquering the world malarkey in breathtakingly swift fashion and their return to Bestival is a reflection of their meteoric rise. Playing our Main Stage on Friday night before OutKast, the brothers will, no doubt, take the crowd to fever pitch and beyond with their already overflowing armouring of big hitters and dancefloor detonators, lifted from their number one album, Settle. One of the biggest attractions aboard HMS Bestival last year, you can bet that Disclosure are going to get our Desert Island Disco bouncing. Don't miss them.
Also guaranteed to send the Main Stage crowd into total frenzy, but this time on Sunday evening, will be the incomparable Major Lazer! Playing before our as yet to be revealed Sunday night headliner, Diplo, Jillionaire and Walshy Fire will be bringing the big cannons, firing off lashings of dutty dancehall and bountiful booty shaking bass. With their Apocalypse Soon EP due to drop later this month, you can expect plenty of super fresh and upfront behaviour to get you Pon De Floor from one of dance music's most adventurous live acts.
We're not stopping there though; this Desert Island Disco is just getting started! Joining in the throng of cool castaways will be the perfectly transfixing London Grammar, whose life-affirming brilliance really needs to be seen by absolutely everyone; Cumbrian four-piece Wild Beasts, whose imminent fourth album is already getting those in the know very hot under the collar; BBC Sound of 2014 winner Sam Smith, who will be returning to Bestival following a sensational set aboard HMS Bestival last year; genre-dodging sonic adventurers Caribou, whose main man Dan Snaith is in the form of his life; chart toppers Clean Bandit, whose electro-classical fusion is making them one of the most talked about bands around; synthpop trio Chvrches, whose beguiling pop hooks will captivate all our island's tribes and delectable chanteuse Laura Mvula, whose psychedelic tinged soul has already made her one of the UK's brightest new stars.
There's still plenty left to tell from dazzling headliners to your new favourite band and all the magic and mayhem you can handle, so point your peepers at www.Bestival.net and our Facebook and Twitter for all the latest Desert Island action.
BESTIVAL TICKET LINKS & INFORMATION:
www.ticketline.co.uk/bestival-tickets / 0844 888 4410
Adult Ticket with entry from Thursday 4th September – £195
Student Ticket with entry from Thursday 4th September – £180 (For full-time students only. Valid NUS or ISIC ID required at the box office. No other student ID accepted)
Teen (age 13-17) Ticket with entry from Thursday 4th September – £127
Child (age 12 & under) Ticket – Free (but you must obtain a ticket)
Caravan Tickets: £101 (per vehicle)
Campervan Tickets: £90 (per vehicle)
Advance Car Parking – £15
All Tickets: – will incur a booking fee. – there are No Day Tickets. – incur a £1 donation to the Isle Of Wight Youth Trust*.
THE WEEKLY PAYMENT PLAN
We're pleased to say that we are once again offering a 25 week payment plan which means that an adult ticket can now be bought at a payment of £7.80 per week over 25 weekly payments.
Only available online via: www.ticketline.co.uk/bestival-tickets
Once you have signed up to the payment plan, which basically means giving your agreement by ticking the bank mandate form on Ticketline's website, Ticketline will automatically debit your card on a weekly basis. They only accept Visa (credit or debit) or Mastercard for the payment plan.
NB: Booking fees will be charged with your initial transaction.
THE ISLE OF WIGHT YOUTH TRUST CHARITY DONATION
*This year we are adding on a £1 charity donation onto all Bestival tickets. The money raised will go directly to the Isle Of Wight Youth Trust (Reg Charity no. 1087163) to help fund their fantastic work offering counselling and support to young people aged 25 and under on the Isle of Wight. The Bestival Foundation is also a proud supporter of the Youth Trust.
Travel: Book Now For Best Early Prices
http://www.redfunnel.co.uk/
http://www.wightlink.co.uk/
www.bestival.net / facebook.com/bestivalfestival / Twitter: @bestival