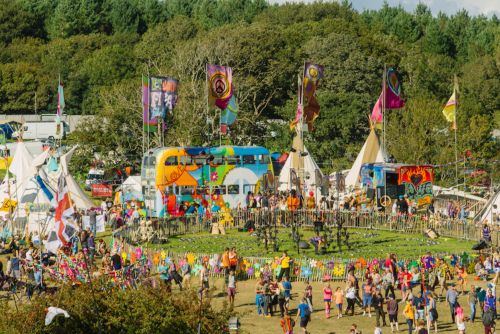 Bestival Announces Commune Activities
Bringing you the future of festival's now, Bestival 2016 will be a wonderland of dusk till dawn Spaceport raving, psychedelic adventuring, Slow Motion revitalisation and Mexican wrestling at the greatest party the future has ever seen. But every summer will always be a summer of love to us, with the eternal sunshine of peace and love guiding us across Robin Hill's rolling fields. And so, heading back to where our future started with flowers in our hair, we are very pleased indeed to announce the line-up for The Commune, our vibe central on the Isle of Wight that resonates with the spirit of Bestival.
Commune curator Bobby Lost says: "We're so excited to be bringing The Commune back. Last year it was all we dreamed it could be; a beautiful space to come and move outside your comfort zone without getting off your chops'".
Among a captivating convoy of vintage busses and peace wagons in the Magic Meadow lies The Commune, a realm of inner exploration where you can reveal yourself and Dance Your Naked Truth, find illumination at the Glow Show's UV underwear party, free your voice at the Eye C Open Mic, work your body courtesy of Hoop and Glory with Mela Wella, and let it all go by Kicking the Shit Out of Yourself.
You can also put a new perspective on gender with Men's Space, get in touch with your inner badass with Namaste Bitches!, celebrate the female at Sacred Sisters, rave and shine with Shake Awake, attain a heightened state with Shake Your Shakti, silent speed date at I See You, find The Quay to the Future and create genuine security for the future with CND.
But that's not all, The Commune is also home to Celestial Dreaming. An incandescent eye-opener designed by And Now: and visible far across Bestival's Elysian Fields, it will radiate the burnished light of 450 points of fire arranged in incandescent orbits, celebrating the majestic brilliance of the universe, helping to increase the peace.
Finally, while you're in the Magic Meadow don't miss the re-invention of the novel! Step right up and marvel at the miracle of the modern age at The Medicine Show by TooFar Media! Thrill to spectacular sights and sensational sounds as fiction, music, and art are amalgamated before your very eyes!
Explore your consciousness and feel the connection at The Commune.
Giving you the Future of festivals now, don't miss out on our Robin Hill adventures. Keep an eye out for the omens: www.Bestival.net, Facebook, Twitter, Instagram / Tumblr

#Bestival16
BESTIVAL TICKET LINKS & INFORMATION:
www.ticketline.co.uk/bestival-tickets, 0844 888 4410
ENTER IN TO THE SPIRIT OF BESTIVAL:
THE COMMUNE
FEATURING:
DANCE YOUR NAKED TRUTH / GLOW SHOW / EYE C OPEN MIC
HOOP AND GLORY WITH MELA WELLA / KICKING THE SHIT OUT OF YOURSELF
MENS SPACE / NAMASTE BITCHES! / SACRED SISTERS / SHAKE AWAKE
SHAKE YOUR SHAKTI / I SEE YOU / THE QUAY TO THE FUTURE / CND
PLUS:
CELESTIAL DREAMING / THE MEDICINE SHOW