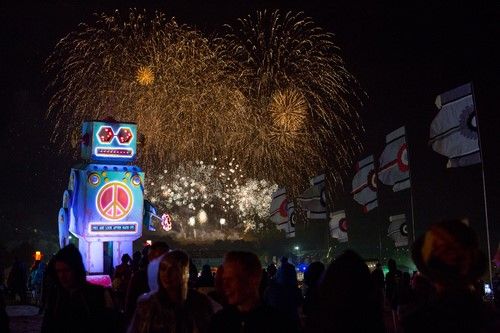 Bestival Crowned Best Major Festival
We are utterly, incredibly, massively, fabulously, overwhelmed and grateful to announce that Bestival has won Best Major Festival at this year's UK Festival awards!
Rob da Bank says: "Oh crikey, Bestival HQ is in a psychedelic hangover fug today as news sinks in of our win last night at the Festival Awards. To win Best Major Festival in 2015 is testament to our incredibly faithful Bestivalites who come back year in year out, but also the likes of Missy, the Chems and Duran Duran for lighting up the skies, and mostly our tirelessly devoted staff and crew who make it all come together. This awards for all you guys…my mantelpiece is full already! J"
Right from the kick off our Summer of Love was a total winner, featuring brilliant headline sets from Missy Elliott, Duran Duran, the Chemical Brothers and Underworld, with amorously excellent performances from Boy Better Know, Tame Impala, The Jacksons, Flying Lotus, Skrillex Annie Mac, Future Islands, Duke Dumont, Mark Ronson, Charli XCX, Action Bronson, our special guests House of Pain and so many more, and let's not forget the Chuckle Brothers, who basically created a new paradigm in festival entertainment!
From our beloved Bollywood, The Port and our brand new Slow Motion arena, to Temple Island, the Flower of Fire and our sentimental cyborg The Lovebot surveying the Grassy Hill, the whole thing was filled with love and beautiful people that made it the best Bestival ever. So we want to say a huge and heartfelt thank you to everyone who came for making it so brilliant. And thank you for voting for us, too, as an independent festival it means a lot to us to win such an accolade in amongst so many great festivals. Thank you!
Plans are afoot for 2016, keep an eye out for some mind-blowing news this January.
Lots of Love Bestival x