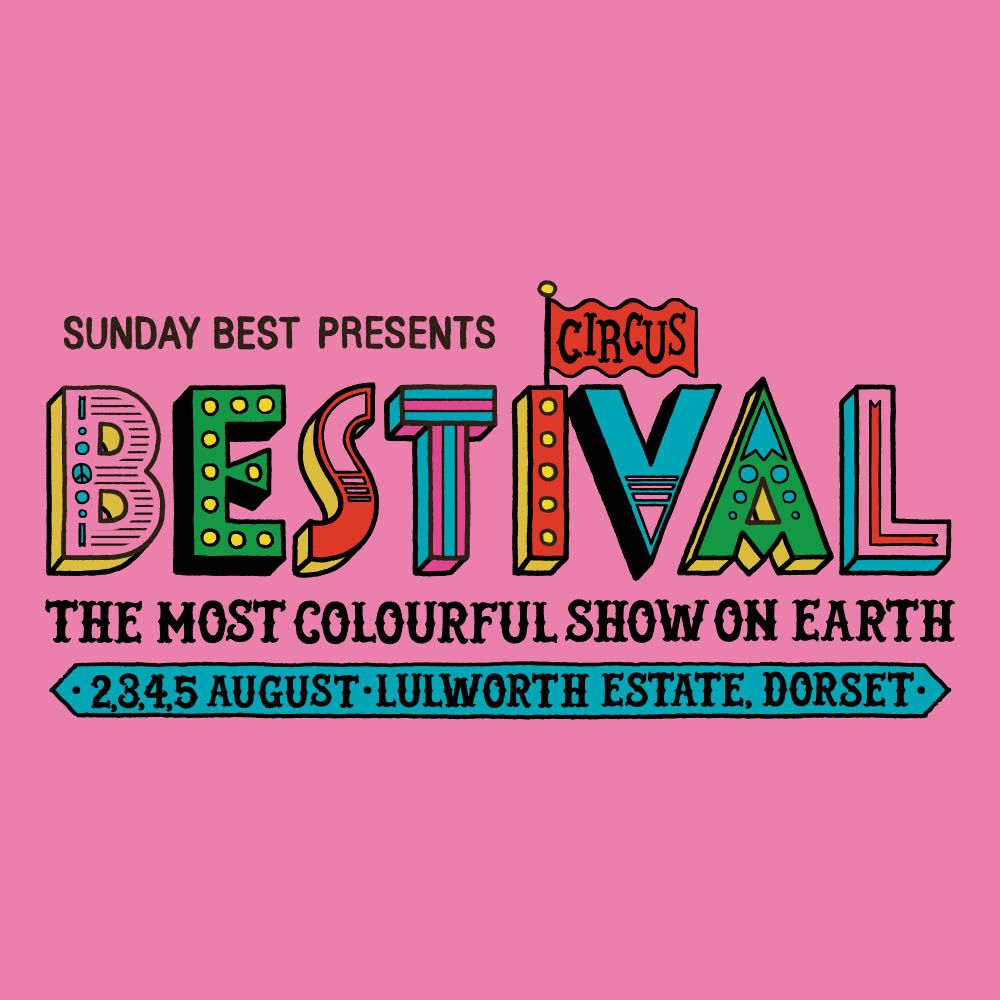 Bestival Line-up Announced
Behold the most audacious performers to ever have graced Bestival's green fields. From UK festival exclusive headliners, soul divas and sonic heroes to the 'must see' acts of 2018, these are the sights and sounds that will define four days of mind-altering music and circus trickery on over 20 stages and micro-venues in eight unique arenas, at the most colourful show on Earth, now in the heart of the summer, on the Lulworth Estate, Dorset.
Rob da Bank says: "Here come the girls…and a few boys too! Yes, it's Bestival 2018 and we're here with the first wave of our all-singing all-dancing line-up. With UK festival exclusive headliners London Grammar and Jorja Smith to legends in the game Chaka Khan, Jimmy Cliff and Grace Jones, and always representing the new blood from Mura Masa and IAMDDB to Mabel and Idles, we're covering all bases. As any Bestival veteran knows we don't just do music, so come and check our Hot Yoga, Dubstep Dodgem rides, wood-fired hot tubs, AmbientLand craft tent, East 17's Christmas Party!, and loads of circus-based trickery, including a Human Cannonball, high wire fire walking and a pretty buff strongman popping up on the Main Stage."
Commenting on their exclusive headline set, London Grammar's Dot Major said: "We are so excited to be coming back to Bestival this year! Our show there back in 2014 was one of our favourite shows we have done on home shores. I've been going along for years as it's such a magical festival and this time we get to headline! ? can't wait to see you all there."
Bestival 2018 will see UK festival exclusive headline sets from London Grammar on Saturday night, Jorja Smith on Thursday in the Big Top, and a huge and very special Friday headliner still to announce, with M.I.A. closing the show before our fireworks finale on Sunday evening.
There's no shortage of heroes, legends and bona fide superstars full of circus-themed swagger with standout sets from Grace Jones, Plan B, Chaka Khan and First Aid Kit plus Mura Masa, Sundara Karma, Thundercat, Jimmy Cliff, David Rodigan & The Outlook Orchestra and Stefflon Don among many others confirmed to appear on the Castle Stage. And our gargantuan and all-embracing Big Top line-up features Django Django, IAMDDB, Kelela, Mike Skinner & Murkage present Tonga and many, many more.
DJ sets and outlandish PAs include, in alphabetical order, 2Bears, Amelie Lens, Bez's Acid House, Bicep (DJ Set), Billy Daniel Bunter & Raindance, Chali 2na & Krafty Kuts, Craig Charles, Denis Sulta, East 17's Christmas Party, Faithless (DJ set), Gilles Peterson, Goldie presents Metalheadz, Honey Dijon, Hot Chip Mega Mix (DJ set), Jaguar Skills, Norman Jay, Ram Records, Rodigan presents Ram Jam, Rudimental (DJ Set), Sink the Pink, So Solid Crew a Vic Reeves reggae set and Wookie & Matt Jam Lamont, with many more selectors signed up to our unholy order of rhythm.
And there are psychedelic sideshows and extraordinary attractions to satisfy the soul in eye-popping venues including Temple, Bollywood, HMS Bestival (AKA The Port), Stacey's, AmbientLand, Caravanserai, Club Dada and a magnificent charm of stages and immersive micro-venues scattered across our boutique campsite wonderland.
As ever Bestival goes far beyond the music, and this year's circus-themed arcadia is no exception featuring an array of tableau and temptation with Fat Gay Vegan, Feast Collective, Free Haircuts, Slam Poetry Yurt, Gong Healing, 5k Campsite Run, Dubstep Dodgems, Black Light Forest Party, Yoga Nidra With Rob da Bank, Human Ball Pit, Musical Vegetable Orchestra, Wood Fired Hot Tubs, the WI, the World's Largest Confetti Cannon & Disco Ball, Fireworks, Witness The Fitness Tent, Lit Tent, Loop Sessions, the Love Bot, Rainbow Astronauts and much more. See below for the full line up so far.
Bestival 2018 Line-Up So Far:
Castle Stage: London Grammar / M.I.A. / Grace Jones / Plan B / Chaka Khan / Special Guest / Mura Masa / Sundara Karma / Thundercat / Jimmy Cliff / David Rodigan & The Outlook Orchestra / Stefflon Don / Kojey Radical / Dubioza Kolektiv / Gentleman's Dub Club / Songhoy Blues / The Cuban Brothers / IDLES / This Is the Kit / Chaka Demus & Pliers / OMG! It's the Church / L.A. Salami / Son of Dave
Big Top: Jorja Smith / Django Django / IAMDDB / Kelela / Mike Skinner & Murkage pres. Tonga: Holy Goof, Donea'o & Jaykae / Mabel / Not3s / Kojo Funds / Charlotte de Witte / Agoria (Live) / Ghetts / Mr Jukes / Casisdead / Lotto Boyzz / Sink the Pink / Phil Taggart pres. Slacker: Ratboy, Shame, Superfood, Black Honey, Confidence Man, Touts & whenyoung / We Are Scientists / Nilüfer Yanya / House Gospel Choir – Frankie Knuckles Special / Hak Baker /Adrian Sherwood / Caravãna Sun / Grace Carter / Mellah / The Correspondents / Kitty, Daisy & Lewis/ Blossom Caladron / Beans on Toast / Dutty Moonshine Band / Digital Love: A Tribute to Daft Punk / London Astrobeat Orchestra Perform Talking Heads / Elvana: Elvis Fronted Nirvana / Park Hotel
Temple: Rudimental (DJ Set) / Bicep (DJ Set) / Amelie Lens / Solardo / Denis Sulta / Mall Grab / Honey Dijon / Artwork / Camelphat / Flava D / Palms Trax / Objekt / Nastia / Eli & Fur / Alex Niggemann / Benjamin Damage / Amine K / Mella Dee / Moxie / Darkzy / FineArt / HAAi / Jamz Supernova / Goldierocks / Tasty Lopez / Bradley Gunn Raver
Bollywood: Goldie pres. Metalheadz / Rodigan pres. Ram Jam / Ram Records: Loadstar B2B DC Breaks B2B Mind Vortex / 2Bears / Billy Daniel Bunter & Raindance / Rob da Bank / Radar Radio / FooR / Happy Meals / Nathan Dawe / Biig Piig
HMS Bestival (AKA The Port): Faithless (DJ set) / East 17's Christmas Party / Jaguar Skills / Chali 2na & Krafty Kuts / So Solid Crew, Wookie & Matt Jam Lamont, Shogun Audio pres. Alix Perez, Technimatic, Pola & Bryson, Glxy & SP:MC & Visionobi / Bez's Acid House / Stanton Warriors / Big Freedia / DJ Brace / Jodie Harsh & Friends / Kiddy Smile / Savage / Schlachthofbronx / Buttmitzvah / Hard Cock Life
Stacey's: Gilles Peterson / Hot Chip Mega Mix (DJ set) / Norman Jay / Craig Charles / Donna Leake / Andy Blake / Reach Up – Disco Wonderland / JazzHeadChronic pres. The South London Soul Train / Shaka Loves You / Amy Alsop / Perry Kaye
AmbientLand: Chris Coco / Jane Fitz / Mix Master Morris / Flying White Dots / Flying Mojito Bros
Caravanserai: Temple Funk Collective / Urban Voodoo Machine pres. The Gypsy Hotel / Buffos Wake / Chainska Brassika / Ska V Goldsmith / My Baby / John Fairhurst / Junior Jungle / DJ Chris Tofu / DJ Penny Metal / DJ Ecklectic Mick / New York Brass Band
Club Dada: Vic Reeves (Reggae set) / Reggae Roast ft. Natty Campbell / DJ Shepdog (Nice Up!)
Ezra Collective / Jazz Re:freshed / Henge / King Lagoon's Flying Swordfish Dance Band / Tokyo Sex Wail / Captain Cumbia / Wara / Immigrant Swing / Movimientos / DJ Chris Tofu / Thrill Collins
White Mink Electro Swing Club / Choreograff: ft. Tension Breakers v. Swing Patrol with New York Brass Band, Natasha Khamjani & more. Pus Many More Stages & Micro-Venues Across the Lulworth Estate.
For more information head to head to www.Bestival.net