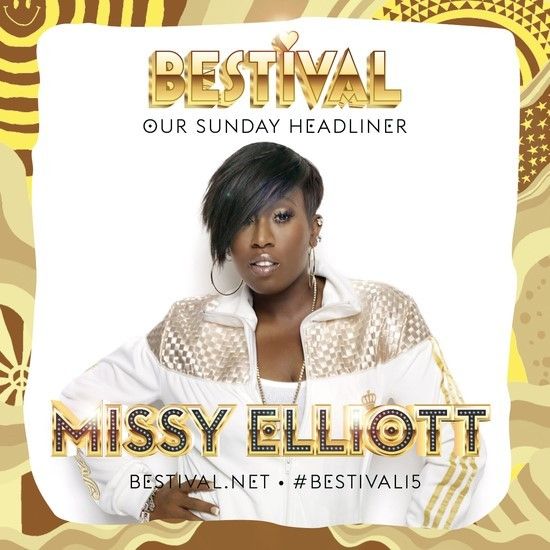 Bestival's Sunday Headliner Announced
She's the best around with the crazy style and her music makes us lose control, so we're unutterably excited to announce that the incredible Missy Elliott will be headlining Sunday night at our Summer of Love in a European festival exclusive. One of the greatest artists of all time, and a true musical innovator, we couldn't be more ecstatic that she's coming to Robin Hill for her first UK show in nine years, and what is destined to be one of the most epic Bestival finales of all time. Ever.
Commenting on her headline appearance, Missy Elliott said: "I'm very excited to be performing at Bestival this year! I can't wait to see all my fans I haven't seen in some time… new ones and my day one fans! We are gonna have a blast together! Bring your dancing outfits and kicks!"
Bestival b-boy Rob da Bank says: "So, putting the final pieces together for the world's most intricate jigsaw puzzle that is Bestival, I'm mighty proud to announce our Sunday headliner Missy Elliott. Needing no introduction Missy is the epitome of hip-hop royalty, the first lady of party-starting club bangers and a downright legend. I cannot wait to watch the most successful female rap artist ever to Work It at Bestival 2015!"

Hailing from Portsmouth (calm down Pompey crew, not that one) in Virginia, Missy Elliott is one of music's most successful MCs, songwriters, and producers. She's racked up five Grammy awards, one double platinum and four platinum albums, and over 166 awards from VMAs to MOBOs and beyond, but more importantly she drops bombs. With tight beats and sick flows, Missy is a one-woman hit machine, who has had pop music's greats including Mariah Carey, Whitney Houston and Beyoncé queueing up to work with her.
Her production innovation has had a huge impact on music globally, firing out guilt edged monsters by the truckload from The Rain (Supa Dupa Fly), Hot Boyz and Get Ur Freak On to Work It, Pass The Dutch and Lose Control the stamp of her influence can be heard loud and clear to this day. Her surprise guest appearance at this year's Super Bowl was mind-shatteringly amazing and blew us all completely away, proving that she's just as vital right now as she ever has been, and you know she really is gonna work it for the final Bestival main stage set of the year. Joining Underworld, Duran Duran and the Chemical Brothers to complete 2015s set of headliners, Missy's not just big in the game she's unparalleled, and we really couldn't be more ridiculously overjoyed that she's coming to Bestival. So don't you dare go home early, this is gonna be legendary.
More big love coming soon, until then keep checking: www.Bestival.net / Facebook / Twitter / Instagram / Tumblr
#Bestival15 / #SummerofLove
BESTIVAL TICKET LINKS & INFORMATION:
www.ticketline.co.uk/bestival-tickets / 0844 888 4410
Adult Ticket £195.00
Student Ticket £185.00
Teen (13-17) Ticket £130.00
Child (12 & under) Ticket Free (BUT you MUST obtain a ticket)
Campervan Ticket £92.50
Adult Wild Copse Ticket £325.00
Teen Wild Copse Ticket £165.00
Caravan £105.00 Car Park £15.00
All Tickets: – will incur a booking fee. – incur a £1 donation to the Isle Of Wight Youth Trust*.
There are no Day Tickets.
Lucky Cat Hospitality Packages are also available.
THE WEEKLY PAYMENT PLAN
We're pleased to say that we are offering a 10-week payment plan that allows you to buy an adult ticket for an initial deposit of £25 (plus booking fees) followed by a payment of around £19 per week over the next 9 weeks.
Only available online via: www.ticketline.co.uk/bestival-tickets
Once you have signed up to the payment plan, Ticketline will automatically debit your card on a weekly basis. They only accept Visa (credit or debit) or Mastercard for the payment plan.
NB: Booking fees will be charged with your initial transaction.
THE ISLE OF WIGHT YOUTH TRUST CHARITY DONATION
*This year we are adding on a £1 charity donation onto all Bestival tickets. The money raised will go directly to the Isle Of Wight Youth Trust (Reg Charity no. 1087163) to help fund their fantastic work offering counselling and support to young people aged 25 and under on the Isle of Wight. The Bestival Foundation is also a proud supporter of the Youth Trust.