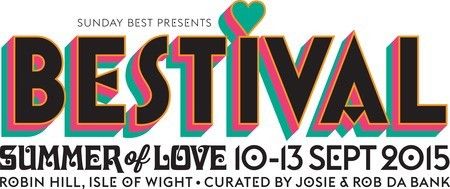 Bestival's Temple Island Line-Up Announced
A beacon of bacchanalia in a wonderland of ludicrously good times, our very own church of dance, Temple Island, is set to return with a litany of big guns to add even more passion to Bestival's Summer of Love. Curated by The Physical Network and now a firm Bestival fixture among over 25 stages, revolutionary soundsystems and psychedelic woodland-based adventures, Temple Island will be taking all-out partying to epic proportions this September 10-13 at Robin Hill on the Isle of Wight.
Bestival's principal dancer Rob da Bank says: "Bestival people! Man, I am so excited about the centre of our rave universe, Temple Island, and its line-up for 2015. Last year Temple Island, with its tiered stadium party vibe, was non-stop from Thursday till Sunday night, and one of my favourite places to hang out and get lost in my little pockets of downtime!
"This year I'm confident we've pulled some mega guests out the bag, from the mighty Hudson Mohawke to the incredible Madlib kicking it off on Thursday, chart botherers Disciples, Philip George and Alex Adair, plus our hardcore Friday night extravaganza, some vintage sounds from Sherwood & Pinch, and new blood Kurupt FM and B Traits, to name but a few. In fact, I can't see a duff act within 100 decibels of that stage. Tops off, whistles out and get ready to rave… Temple Island-style…"

Temple Island curator and director of The Physical Network, Liam Negus-Fancey says: "This is Temple Island's third year at Bestival, and this year we'll be back where we were in 2014, continuing to build on the massive success of the stage. As always our line-up is focused on what the ambassadors want. And this year, Robby and I, and all of Bestival's ambassadors will be selecting an up-and-coming DJ to join our amazing line-up. So please sign up for this once in a lifetime chance"
Getting it on from the get-go, Thursday will see hip-hop hero Madlib dropping the knowledge, and, transplanted from their Notting Hill Arts Club home, Juicebox presents underground house genius Jonas Rathsman, Ejeca, SG Lewis, Joe Hertz & Juicebox DJs, plus we'll have a set from firing house duo 99 Souls to boot!
Friday's dancefloor spanking action comes from Philip George, producer of chart-smashing hit Wish You Were Mine, with sets from bass explorers Disciples, plus TCTS, Shadow Child and Alex Adair. There might just be a whiff of the old vaporub in the air, too, as World of Rave & Music Mondays Presents: Altern-8, Liquid, Rat Pack, Baby D, Kaotic Chemistry, Slipmatt, Billy Bunter and Uncle Dugs. And we'll have escapism through live melody, courtesy of Idiot Savant.
Genre-swerving production powerhouse and seasoned floor destroyer Hudson Mohawke heads up Saturday's DJ business, with sets from drum n bassers DC Breaks and legendary beats purveyor Zinc, who will be performing a very special 'Trust Me I Was There' set. Plus there will be appearances from Novelist, Sherwood & Pinch, Klose One, Kurupt FM, Fono Barely Legal and Josey Rebelle.
Rinsing every last drop of love the weekend has to give, Sunday will see Digital Soundboy's leading lady B.Traits taking things higher with help from Paranoid London, and Moxie. While Hypercolour presents: Dense & Pika, Luke Vibert, Tom Demac, DMX Krew, 2 Bad Mice, A Sagittariun, & Cedric Maison, plus we'll have house & garage action from David Dabieh.
We're also giving one up-and-coming DJ the chance to play on one of Bestival's busiest stages with our momentous Temple Island DJ Competition! All you need to do to win a coveted slot on the stage is upload your finest floor-filling DJ mix (no more than 30 mins) to your Soundcloud/Mixcloud/YouTube channel and submit the link along with your name, age and location at http://bit.ly/BTIDJcomp. Bestival curator Rob da Bank and The Physical Network's Liam Negus-Fancey will select their favourite 10 mixes, and then our Bestival Ambassadors will vote for the winning mix! An unmissable epicentre of saturnalia, Temple Island will transport you to new and euphoric dimensions of love for the party. Don't miss it.
And, speaking of parties, we're delighted to be able to announce that we have three new names to add to The Port's insane line-up. All part of Annie Mac Presents' historic Masters & Makers back to back sessions, we're super-excited that techno genius Daniel Avery will be going up against his Phantasy label boss Erol Alkan, and Radio 1 resident Heidi will take on dancefloor destroyer Tom Trago, guaranteeing next level hands in the air action at our land-locked labour of love.
THE TEMPLE OF LOVE
TEMPLE ISLAND RETURNS FOR DANCEFLOOR LOVE-INS
THURSDAY:
MADLIB / JUICEBOX PRESENTS: JONAS RATHSMAN, EJECA, SG LEWIS, JOE HERTZ & JUICEBOX DJs / 99 SOULS
FRIDAY:
PHILIP GEORGE / DISCIPLES / TCTS / SHADOW CHILD / ALEX ADAIR / WORLD OF RAVE & MUSIC MONDAYS PRESENTS: ALTERN-8, LIQUID, RAT PACK, BABY D, KAOTIC CHEMISTRY, SLIPMATT, BILLY BUNTER, UNCLE DUGS / IDIOT SAVANT
SATURDAY:
HUDSON MOHAWKE / DC BREAKS / ZINC / NOVELIST / SHERWOOD & PINCH / KLOSE ONE / KURUPT FM / FONO / BARELY LEGAL / JOSEY REBELLE
SUNDAY:
B.TRAITS / PARANOID LONDON / MOXIE HYPERCOLOUR PRESENTS: DENSE & PIKA, LUKE VIBERT, TOM DEMAC, DMX KREW, 2 BAD MICE, A SAGITTARIUN, CEDRIC MAISON / DAVID DABIEH
PLUS:
DON'T MISS OUT ON OUR TEMPLE ISLAND DJ COMPETITION
AND:
DANIEL AVERY, HEIDI AND TOM TRAGO COME ABOARD THE PORT
BESTIVAL TICKET LINKS & INFORMATION:
www.ticketline.co.uk/bestival-tickets / 0844 888 4410
Adult Ticket £195.00
Student Ticket £185.00
Teen (13-17) Ticket £130.00
Child (12 & under) Ticket Free (BUT you MUST obtain a ticket)
Campervan Ticket £92.50
Adult Wild Copse Ticket £325.00
Teen Wild Copse Ticket £165.00
Caravan £105.00 Car Park £15.00
All Tickets: – will incur a booking fee. – incur a £1 donation to the Isle Of Wight Youth Trust*.
There are no Day Tickets.
Lucky Cat Hospitality Packages are also available.
THE WEEKLY PAYMENT PLAN
We're pleased to say that we are offering a 15-week payment plan that allows you to buy an adult ticket for an initial deposit of £25 (plus booking fees) followed by a payment of around £12 per week over the next 19 weeks.
Only available online via: www.ticketline.co.uk/bestival-tickets
Once you have signed up to the payment plan, Ticketline will automatically debit your card on a weekly basis. They only accept Visa (credit or debit) or Mastercard for the payment plan.
NB: Booking fees will be charged with your initial transaction.