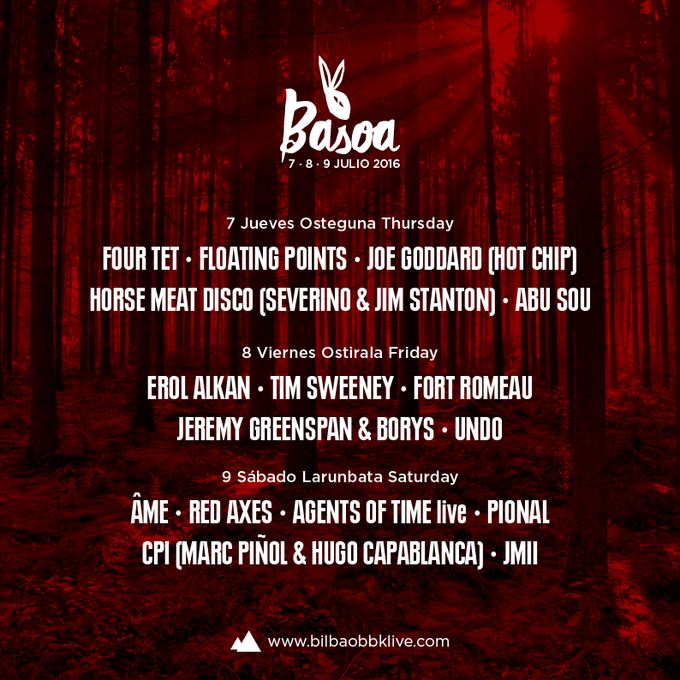 Bilbao BBK Live adds Four Tet, Ame, Erol Alkan, Floating Points & more
Bilbao BBK Live are excited to introduce 'Basoa', a new space for 2016 where discerning revellers can get lost to the finest in electronic and experimental sounds amidst the idyllic woodland surroundings of the beautiful Basque Country. 'Basoa' will boast an exceptional lineup of international DJs, including Four Tet, Âme, Erol Alkan, Floating Points, Joe Goddard (Hot Chip), Fort Romeau and many more.
With many of the world's most-respected names in electronic music set to perform, visitors will be immersed in nature and beats, with music and dancing from the moment the doors open for to the moment the doors close. The new acts revealed today join an already jam-packed lineup which includes Arcade Fire, Pixies, Foals, Underworld, 2Manydjs, Grimes, Years & Years and Tame Impala.
One of the most eclectic minds in electronic music today, Kieran Hebden's Four Tet moniker is responsible for a string of critically acclaimed releases. Widely regarded as one of today's great musical voices, his music feeds from diverse genres including jazz, folk, soul, rock, hip-hop and reggae to create something that is entirely his own. German production duo Kristian Beyer and Frank Wiedemann, better known as Âme, are pioneers of a future wave of new electronic music. The Innervisions co-founders have been turning out influential music for over a decade and with Âme at the helm, there's no doubt Basoa is in safe hands.
Founder of British indie label Phantasy Sound, Erol Alkan is without doubt one of the most influential DJ's of the last two decades. With his London club Trash he changed the perception of electronic clubs, mixing genres and formats. With energetic sets that mix rock, electro, house, techno and disco, his set is sure to be a festival highlight. Neuroscientist Sam Shepherd started composing in his free time while studying for his doctorate and consequently became the man behind Floating Points. Quickly becoming one of the most lauded names in his field, Shepherd is a master in merging soul, hip-hop, jazz and house.
Whether on his own or as one half of acclaimed DJ duo The 2 Bears, Joe Goddard has graced the booth of practically every sought-after club night in the UK. Best known as a member of Hot Chip, he's responsible for some of the most instantly recognizable synth pop of all time and is sure to offer one of the standout sets of the weekend. Also confirmed are Londoner Mike Green, a.k.a Fort Romeu, who belongs to a new generation of producers that are reinventing house music from classic Chicago sounds whilst forging their own paths; Red Axes from Tel-Aviv, representing everything that is amazing in the capital's underground scene.; and Beats in Space presenter Tim Sweeney.
London's Horse Meat Disco (Severino & Jim Stanton) also star, along with Italian trio Agents of Time, producer Jeremy Greenspan, best known as one half of Junior Boys, joined by Borys and Spain's very own Pional, who has travelled the world with John Talabot; opening shows for The XX all across Europe and the USA. Rounding off the lineup are C.P.I., the new project from Marc Piñol and Hugo Capablancas', along with fellow Spanish DJs and producers Undo, JMII and Abu Sou.
Offering a dedicated area for uninterrupted party sessions and located in a clearing in the beautiful Basque woodland, 'Basoa' promises to be an amazing new addition to the festival in an incredible, unique setting with some of the world's finest DJs and producers.
Set high upon the Kobetamendi Hill with views overlooking the beautiful city of Bilbao and inviting golden, sandy beaches, Bilbao BBK Live offers the perfect fusion of holiday and festival. With a huge musical lineup including joined by Arcade Fire, Pixies, Foals, Tame Impala, New Order, Underworld, Editors, Grimes, M83, Years & Years, 2manydjs, Father John Misty, Wolf Alice and many more this is going to be the festival's best year yet. Tickets, priced at £93.00 + bf are available now at www.bilbaobbklive.com.
'BASOA' LINE UP
Four Tet / Âme / Erol Alkan / Floating Points / Joe Goddard (Hot Chip) / Fort Romeu / Red Axes / Tim Sweeney / Horse Meat Disco / Agents Of Time / Jeremy Greenspan / Borys / Pional / C.P.I / Undo / JMII / Abu Sou
Listen to a playlist of the Basoa artists on Spotify here.
FULL LINE-UP TO DATE (A-Z)
2Manydjs / Abu Sou / Agents Of Time / Âme / Arcade Fire / Begiz Begi / Belako / Blood Red Shoes / Blossoms / Borys / C.P.I / C.Tangana / Chvrches / Courtney Barnett / Editors / Erol Alkan / Father John Misty / Floating Points / Foals / Fort Romeu / Four Tet / Green Class / Grimes / Hidrogenesse / Hola a todo el mundo Horse Meat Disco / Hot Chip / In Heaven / Jagwar Ma / Jeremy Greenspan / JMII / Joe Goddard (Hot Chip) / José González / Junior Boys / Leon Benavente / Little Scream / Love of Lesbian / M83 / New Order / Nudozurdo / Pional / Pixies / Red Axes / Rural / Zombies / Slaves / Soulwax / Tame Impala / Tim Sweeney / Triangulo de Amor Bizarro / Underworld / Undo / WAS / Wolf Alice / Years & Years / Yellow Big Machine
TICKETS
General Admission 3-Day Ticket from £93.00 GBP +BF
General Admission 3-Day Ticket + Camping from £100.50 GBP +BF
Book now at bilbaobbklive.com/en-us/tickets
Connect
Website www.bilbaobbklive.com
Facebook www.facebook.com/bilbaobbklive
Twitter www.twitter.com/bilbaobbkliveen
Spotify www.spotify.com/user/bilbaobbklive
Instagram www.instagram.com/bilbaobbklive