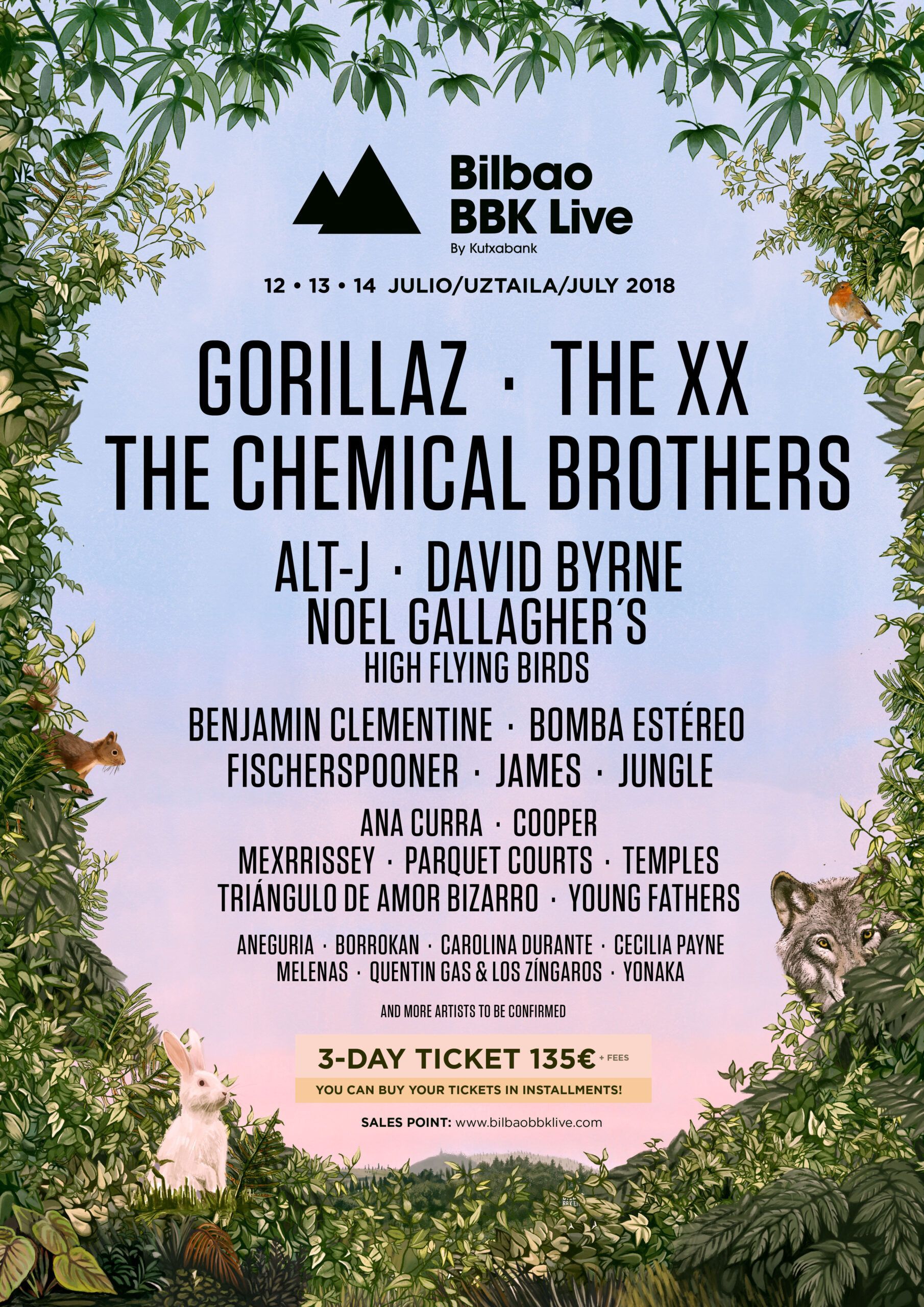 Bilbao BBK Live adds The Chemical Brothers, James, Fischerspooner, Young Fathers, Jungle and more
Bilbao BBK Live unveils the next wave of acts for 2018. The Chemical Brothers, Benjamin Clementine, Fischerspooner, James, Young Fathers, Jungle and more are set to join previously announced acts The xx, Gorillaz, Noel Gallagher, alt-J and David Byrne, on Bilbao's Kobetamendi Mountain in the heart of the Basque Country, from 12-14 July 2018.
Bilbao BBK Live continues adding leading artists to its billing as The Chemical Brothers are confirmed as the third headliner of the festival. With over two decades at the top of their game and countless hits to their name ('Hey Boy Hey Girl', 'Galvanize', 'Block Rockin' Beats', 'Let Forever Be' and many more), the block rockin' duo continue to deliver some of the best live shows in the game.
Mercury Award winner Benjamin Clementine, dazzled critics and fans alike with his debut album in 2014, with The New York Times marking him out as 'a genius' and The Guardian including him in its list of heroes of 2015. With new album 'I Tell A Fly', released earlier this year, the London singer-songwriter is deservedly back in the spotlight.
After almost a decade, New York duo Fischerspooner returns with an album co-written by Michael Stipe (R.E.M.). Warren Fischer and Casey Spooner, who helped popularize electroclash and electropop at the beginning of the century, will present forthcoming record, SIR at Bilbao BBK Live 2018 .
With a career that has seen them sell more than 25 million albums, James is one of the most influential bands to have emerged from the Manchester scene. Alongside '90s anthems like 'Sit Down' and 'Sometimes' and their charismatic frontman Tim Booth, the band are renowned for their fantastic live shows. Set to release a new album In the second half of 2018, the stage is set for a memorable performance on Kobetamendi.
Winners of the Mercury Prize in 2014, Young Fathers have garnered admiration from the outset, with their mix of pop, trip-hop, rap and gospel, which has led them to collaborate with Massive Attack, Simian Mobile Disco and even in the soundtrack of Trainspotting 2. At Bilbao BBk Live, they will present their third album, which will be released on Ninja Tune in 2018.
British soul collective Jungle will bring their irresistible funk, soul and old-school rhythms to Bilbao BBK Live in July. Yonaka also joins the line-up today, along with an array of Spanish talent including "Spanish queen of punk" Ana Curra, Cooper, Basque singer Aneguria, Madrid band Carolina Durante, Bilbao four-piece Cecilia Payne, garage-rock quartet Melenas, and Sevillians Quentin Gas & Los Zíngaros.
The new acts announced today an already impressive roster of talent for Bilbao BBK Live 2018, includingThe xx, Gorillaz, Noel Gallagher's High Flying Birds, alt-J, David Byrne, Bomba Estereo, Templesand Parquet Courts with lots more acts still to be announced.
With the festival taking place just moments from the city, there is plenty to explore before the music starts each day. Take a trip into culture-rich Bilbao to wander the winding streets of the old town, devour delicious pintxos, sample the famous michelin-starred Basque gastronomy scene, visit the impressive galleries and museums including the imposing Guggenheim, or soak up some sun on the beach. 3-Day Tickets start from just 135€. Book now at bilbaobbklive.com
BILBAO BBK LIVE
July 12, 13 and 14, 2018
Kobetamendi, Bilbao
LINE-UP (New acts in bold)
GORILLAZ
THE XX
THE CHEMICAL BROTHERS
ALT-J
DAVID BYRNE
NOEL GALLAGHER'S HIGH FLYING BIRDS
BENJAMINE CLEMENTINE
BOMBA ESTÉREO
FISCHERSPOONER
JAMES
JUNGLE
ANA CURRA
COOPER
MEXRRISSEY
PARQUET COURTS
TEMPLES
TRIÁNGULO DE AMOR BIZARRO
YOUNG FATHERS
ANEGURIA
BORROKAN
CAROLINA DURANTE
CECILIA PAYNE
MELENAS
QUENTIN GAS & LOS ZÍNGAROS
YONAKA
TICKETS
General Admission 3-Day Ticket | 135€ + booking fee
3 Day Campsite Access | 10€ + booking fee
You can also pay for 3-day tickets in 2 or 3 installments.
Book now at bilbaobbklive.com
CONNECT
Website http://bilbaobbklive.com
Facebook https://www.facebook.com/bilbaobbkliveoficial
Twitter https://twitter.com/bilbaobbklive
Spotify https://play.spotify.com/user/bilbaobbklive
Instagram https://www.instagram.com/bilbaobbklive