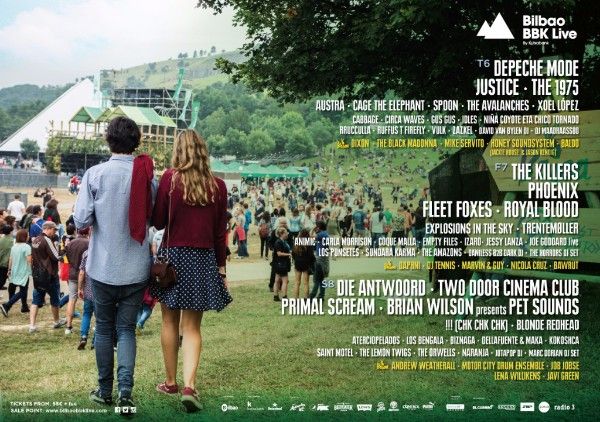 Bilbao BBK Live festival completes lineup with Primal Scream, Chk Chk Chk, Trentemøller and more
Bilbao BBK Live announces the final wave of artists for 2017! Taking place atop the Kobetamendi Hill in the heart of the Basque Country, just moments from the culture-rich city of Bilbao, the festival is set to welcome thousands of international revellers for a weekend of incredible music from 6th – 8th July.
Joining the line-up today are Glaswegian rock icons Primal Scream, Danish electronic producer Trentemøller, and dance-punk stalwarts !!! (Chk Chk Chk). Iconic alternative outfit Blonde Redhead and California indie pop band Saint Motel also star, along with Rufus T Firefly, Izaro Rrucculla and Empty Files, plus DJ sets from The Horrors and DJ Maadrassoo.
The new acts announced today join an already impressive lineup that includes headliners Depeche Mode, The Killers, Die Antwoord, Phoenix, Justice, Two Door Cinema Club, The 1975, Fleet Foxes, Brian Wilson presents Pet Sounds and Royal Blood. Other acts heading to the Spanish city this July include Austra, Cabbage, Cage The Elephant, Gus Gus, Idles, Jessy Lanza, Spoon, Sundara Karma, The Lemon Twigs and many, many more.
Following the success of last year's first edition, Basoa, the festival's carefully curated dance music space will also return for 2017. Located in a clearing in the beautiful Basque woodland, Basoa will play host to uninterrupted party sessions from many of the most-respected names in electronic music from sunset to sunrise. Acts confirmed to perform include electronic maverick Andrew Weatherall, Innervisions label head Dixon, DJ-of-the-moment The Black Madonna, Life and Death label head DJ Tennis, plus Motor City Drum Ensemble, Job Jobse, Daphni, Mike Servito, Lena Willikens and manymore.
With the festival taking place just moments from the city, there is plenty to explore before the music starts each day. Take a trip into culture-rich Bilbao to wander the winding streets of the old town, devour delicious pintxos, sample the famous Michelin-starred Basque gastronomy scene, visit the impressive galleries and museums including the imposing Guggenheim, or soak up some sun on the beach. Taking place from 6-8 July, Bilbao BBK Live 2017 is set to be the biggest edition to date. 3-Day Tickets start from just 115€. Book now at bilbaobbklive.com
BILBAO BBK LIVE 2017
6-8 July 2017
Bilbaobbklive.com
DEPECHE MODE – THE KILLERS
DIE ANTWOORD – JUSTICE
PHOENIX – PRIMAL SCREAM – TWO DOOR CINEMA CLUB
AUSTRA – BLONDE REDHEAD – BRIAN WILSON presents PET SOUNDS
CAGE THE ELEPHANT – !!! (CHK CHK CHK) – EXPLOSIONS IN THE SKY – FLEET FOXES
ROYAL BLOOD – SAINT MOTEL – SPOON – THE 1975 – TRENTEMØLLER – XOEL LOPEZ
ATERCIOPELADOS – CABBAGE – CIRCA WAVES – COQUE MALLA – DELLAFUENTE & MAKA
EMPTY FILES – GUS GUS – IDLES – JOE GODDARD live – IZARO RRUCCULLA
LOS BENGALA BIZNAGA – LOS PUNSETES – NARANJA – NIÑA COYOTE ETA CHICO TORNADO
RUFUS T FIREFLY – SUNDARA KARMA – THE AMAZONS – THE LEMON TWIGS – VULK – ZAZKEL
DANILESS B2B DARK DJ – DAVID VAN BYLEN DJ – DJ MAADRASSOO – JOTAPOP DJ
MARC DORAN DJ SET – THE HORRORS DJ SET
BASOA
ANDREW WEATHERALL – BAWRUT – THE BLACK MADONNA – DAPHNI – DIXON – DJ TENNIS
JOBJOBSE – LENA WILLIKENS – MARVIN & GUY – MOTOR CITY DRUM ENSEMBLE
HONEY SOUNDSYSTEM – MIKE SERVITO – NICOLA CRUZ – BALDO – JAVI GREEN
Tickets
General Admission 3-Day Ticket 115€ + Booking Fees
3 Day Campsite Access | 10€ + fee
3 Day Glamping service | from 75€
Book now at bilbaobbklive.com
Connect
Website http://bilbaobbklive.com/en-us/home
Facebook https://www.facebook.com/bilbaobbkliveoficial
Twitter https://twitter.com/bilbaobbklive
Spotify https://play.spotify.com/user/bilbaobbklive
Instagram https://www.instagram.com/bilbaobbklive