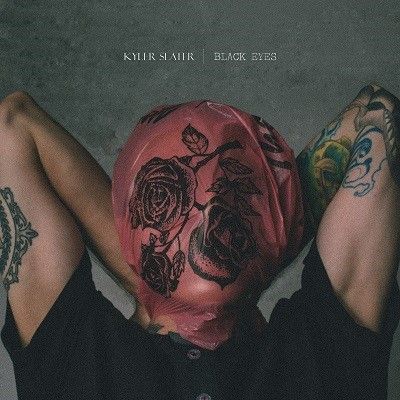 Kyler Slater - Black Eyes (EvE Remix)
Californian singer, songwriter and multi-instrumentalist Kyler Slater unleashes his new single 'Black Eyes' along with a visionary future bass remix from emerging producer EvE, set for release on 2nd October as a free download.

Offering an adventurous take on nu-R&B, Kyler infuses his indie-leaning songwriting with striking cut-up drums and agitated basslines. His enigmatic and entrancing sound is aptly illustrated in 'Black Eyes'; where the singer's raw, confessional and cinematic lyrics explore the corners of an unhealthy relationship. Imploring "take it slower," he carries an intense hook through an emotional lonely space whilst the sound effects of a jail cell opening and closing juxtapose an explosion of mesmerising beats and trembling reverb.

EvE, on remix duty, ups the tempo and adds a plethora of glitchy, Mario-Kart synths fused with pitch-shifted vocal cuts and bass-ridden effects, which lend the track a series of ebbs and flows reminiscent of San Holo's visionary production.

Initially inclined towards guitar-driven melodies and playing in a band, Kyler's current sound is the bold statement of an artist letting go of his past. The dark experiences of his youth influenced him to create a moody and industrial ballad, a song that is all at once honest, heartfelt, and intimate. Finding himself on his own from the age of 15, parting ways with his band and travelling across the U.S, this solitary time fed an uninhibited new musical focus: "When you are at the edge of destruction and loss, you are inspired to write songs that, without diving too deep, can help you process emotions and move forward."

Kyler Slater sits easily next to acts like Black Atlass (without the blend of soulful crooning) or The Weeknd (without the self-absorbed hedonism and the mysterious internet persona). Similarly to the latter, he works with a collective of sound designers he met through producing music for commercials, whose work ethic is inspired by a communal love for soundtracks.

Already signed to United Talent agency, Kyler will debut his live show supporting Jonny Craig at The Roxy Theatre in West Hollywood, California on October 13th. He may just be getting started, but 'Black Eyes' looks to firmly catapult him into people's consciousness.