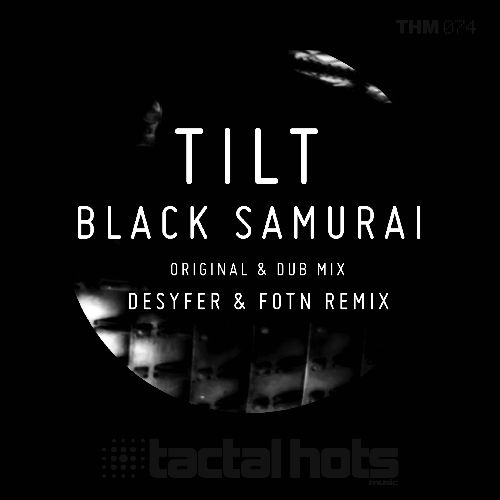 TILT - Black Samurai
The next release from Tactal Hots Music, the devoted North West (UK) underground label, is the spectacular 'Black Samurai' from label favourites TILT, who deliver an outstanding original and dub mix. The package is further augmented with a huge remix courtesy of Desyfer & FOTN.
TILT's 'Original Mix' is a deep progressive house journey with vocal hooks building and twisting throughout and leading into a lush breakdown. Their 'Dub Mix' goes in a bassline-driven, tech house direction, with additional pads and melodic elements that complement the vocal hooks perfectly.
Often tagged 'Mighty' or 'Legendary', TILT have been a huge part of the global club scene for the past 30 years. TILT became a major force in the international dance music revolution with their trademark tribal drums, booming bass-lines and unforgettable melodies, and have continually blurred genre boundaries to supply millions of clubbers worldwide with the soundtrack to their weekend. With their most recent remix of U2 'Summer of Love' just released worldwide, 'Black Samurai' perfectly illustrates their stylish creativity and panache in 2018.
Following on from their previous collaboration (the hugely popular remix of Mark Youssef & Novikoff's 'Elevation' THM072), Desyfer & FOTN (Manchester-based DJ/Producer David Fletcher) deliver another stunning collaborative remix. Their rework takes the vocal and synth elements from the original and develops them into a more driving, melodic techno direction with additional analogue synths and percussion.
Spencer Hickson (aka Desyfer) is a multitasking Music Producer/DJ/Tactal Hots label boss, who has been involved in the music industry for over 25 years. As an early pioneer of the underground scene his depth of knowledge and unbounded creativity have seen him continually develop and evolve as an artist. He is dedicated to carefully producing and releasing music that embeds itself into the listener's heart and soul – quality over quantity, every time.
TILT:
https://www.tiltofficialuk.com
https://soundcloud.com/tiltofficialuk
https://www.facebook.com/OfficialTILT
Desyfer:
https://twitter.com/desyfer
https://www.facebook.com/desyfer831
FOTN:
http://www.djfotn.com
https://soundcloud.com/djfotn
Tactal Hots:
http://www.tactalmusic.com
https://twitter.com/tactalhotsmusic
https://soundcloud.com/tactalhotsmusic